Thriving in uncertain times- Exams, placements, internship, jobs and COVID-19 by Mr. Prakash Iyer
COVID-19 has dramatically affected the way we all live. There is a general fear among students these days and it is not only due to the coronavirus pandemic but also due to the impact of this pandemic on their upcoming career decisions. No one is aware when it's going to end or how it's going to end. Exams have been postponed, internships are cancelled, job offers got rejected and more situations like these have stressed students. They have started questioning, if their career is at stake?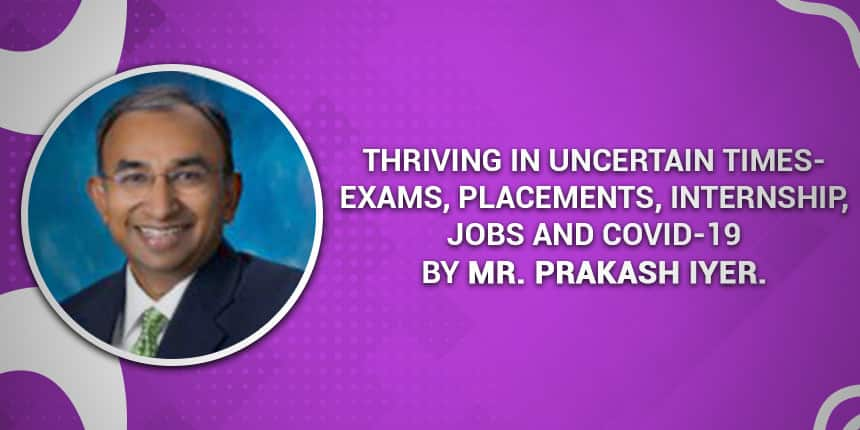 Careers360 had conducted a live session with Mr. Prakash Iyer on April 20th on Facebook and Youtube where many students posted their questions on exams, placement, internships, and COVID-19. During the session, Mr. Iyer not only answered the questions but also tried to explain how to stay positive under the ongoing crises. According to him, it is important to understand two points. Firstly, remember that you are not alone. One of the most common mistakes in crises is thinking that you are the only one who has got affected. Each one of us has been affected. Secondly, don't lose hope. We will all come out stronger.
Mr. Prakash Iyer believes that there is only one you. It's just a matter of believing in yourself. There is no shortcut. A success can't be bought on a credit card. You have to work hard. Don't try to think that everything has ended.
Q. My parents want me to go through formal education and get into a good company whereas I want to study and create something of my own. What advice would you like to give to me and my parents?
Ans. My first piece of advice would be to respect your parents. If your parents are asking you to do something you don't want to do that does not mean that you should not respect or love them enough. They are doing this because they love you and want you to succeed. In their understanding of the world this is probably the most assured route of success. The truth is we live in a world where there is no single road to success. Nothing can guarantee success. Therefore, I would say that you should be able to pursue what you want to do. Work hard and say that I want to do a different thing. Make sure you do the following three things:
Don't take a path because it looks easy

Do what you are passionate about

Ensure that you work hard and also be mindful of whatever you are choosing to do has a potential end game which will pay your bills.
Q. In these uncertain times, how does one go about and find a job?
Ans. In not just uncertain times but even in good times, finding a job is not easy. You should try to put yourself out there. If you are trying to catch fish in a sea, the wider you cast your new, the better will be the chances of catching fish. If you just sit somewhere because it is comfortable, it won't work. If you are going fishing then you have to roll up your sleeves, get deep into the water, and spread the net far and wide. Therefore from a job hunt prospective, you have to be proactive. Don't wait for an opportunity. Don't wait for someone to reach out to you through email with job opportunities. Keep learning and keep reaching out.
These days on social media, there are a lot of opportunities for you to connect with other people, to reach out, to learn what's happening in industries and to put yourself out there. If you do that, you will improve your chances. Don't sit and wait for the ideal job. Don't worry about other things such as position and payscale. It's better to get into a job and learn.
Q. Hello, I am from IIM Jammu. My internship got cancelled. The situation is very bad. What should I do?
Ans. First of all just remind yourself that you must have done something right to have got admission into IIM Jammu. Everybody knows that these are difficult times and the summer internships and placements will be in mess this year, but people will understand this. I think no one will turn around one or ten years from now and question you on why you didn't do a summer internship in 2020? They can ask you how you made use of your time. What else did you do?
I would strongly advise you to try to put your hand in other options. You can learn an online course or any new skill. Try to become a better person. Don't worry too much about your internship getting cancelled.
Q. I am pursuing b.tech last semester. I am confused about what will happen next?
Ans. No one knows what will happen next. You have to look for what you want to do in the future. You are a B.tech student. Just think about what you can do in this new world to make a difference. Everything is changing in terms of technology, education, health care. The need for people who understand technology is going to be huge. In the coming years, people who are willing to find solutions to new problems with a fresh mindset will be welcomed. Think that somebody is hitting the reset button and you with zero experience will have many opportunities.
Q. All the examinations are postponed, how do you keep yourself motivated to continue studying for an examination which has an uncertain date?
Ans. Don't complain about it. I think you have got to stay fit, ready and waiting for your exam. Whenever you will get that chance to appear for the exam, you will have to make the most of it. In this uncertain situation, don't obsess with the uncertainty. Recognize and be prepared for the exam. In the meantime, don't waste your time. Find more things to learn and do. Keep yourself busy.
Q. I just passed my 12th exams but I'm really confused about what to choose? Whose guidance should I follow?
Ans. Firstly, ask yourself, what do you want to do? Instead of coming up with an idealistic answer, get a sense of what makes you happy. Know your strengths and what you enjoy doing. Try to understand what kind of people a world will need in future. Talk to people who might have walked that path.
Q. How to keep ourself motivated after getting rejected in all the interviews?
Ans. It's easy to start thinking that you are a failure but these are times when you are tested. You have to get your back and be confident in yourself. Instead of just thinking about rejection, think of the reasons for it. Was the job right for you? Where did things go wrong? Before you go for the next interview, learn how you can get better. The minute you get better, the confidence will boost. Also, reach out to people and talk about it with a positive attitude.
Q. My family has a business background and they are insisting on me to do an MBA. So, after MBA should I join a family business and job?
Ans. Family business is an opportunity to go back and make it bigger. It's a great idea to do an MBA for business but consider it to be a five year programme. You should study for two years and then work for 3 years outside. Working in a different organisation where you are answerable to other people will help you to understand what it is to be an employee. This will help you learn the practices in a good business.
Q. I have recently graduated as an interior designer with a gold medal from JU. Shall I opt for an MBA to prosper a business?? Currently I am a freelancer.
Ans. Try to ask yourself what do you want? Don't rush into an MBA. Go out and work for a couple of years as an interior designer. Understand the nuts and bolts of the interior designing. Give it some time and then it will be a right time to think about it.
Q. I am an engineer of Batch 2016. I took a year gap to prepare for an MBA but the exam didn't go well. What should I do?
Ans. Try to find a job and go back to work. While working continue to prepare for an exam. Taking a year gap to study for an entrance exam is not recommended.
Q. How to deal with an interview?
Ans. The first thing to remember is that this is not the end of the world. It's as much a chance for that company to hire a good candidate as much as it is a chance for you to get that job. Don't take too much pressure. Don't think that people get hired because they have answers to all the questions. It's better to spend time thinking of what drives you to success.
We have two problems in our life. Firstly, we get too caught up in the right answer such as text books, mugging up, getting the right answer, answering the questions. That's not required. Sometimes you get a job because you said at the right moment " I don't know the answer but I think I will find the answer". Organisations are not looking for people who have all the answers but they are looking for people who have the kind of minds who are capable of finding answers. Remind yourself what good things you have done. Be confident.
Q. What are the new opportunities that will open up in the current crisis?
Ans. What's happened in this crisis has forced us all to reevaluate our lives. What do we really want?
Healthcare, Hygiene, Medicine & Allied Industries will become far more important and we suddenly discovered that all the money in this world & education can't really prevent us from this one little virus. Also, this means that a lot more dollars will flow into research, Medicine and Healthcare. It is going to fundamentally change the way we live or the way we consume. So, we will all start to do things on our own. This means that the technology will become extremely important. For example, it will suddenly be discovered that more people will want to get fit working out with a TV screen instead of going to a gym.
Q. Can you explain the presence of mind with a few examples?
Ans. Presence of mind is really feeling comfortable about yourself and not allowing your mind to think too much about other people, or the future. It's about being confident. It helps you to not to take yourself too seriously. Many of us have problems getting too caught up in ourselves. It is advisable to just relax, chill and try to laugh and smile a little bit and then you might find that presence of mind will look allusive.
Q. I'm presently working with an unrelated line and I'm not prepared for it. Is it time to study further or what to do?
Ans. Decision which is a negative vote is generally not a good decision. If you are saying that you are working in a line which is unrelated and that's why you want to study then no. Your decision to study should be unrelated to what you are doing right now. You should figure out if it makes sense or not. Due to the ongoing crises, many people have got rejected. You are lucky to be there, don't try to throw it away. Try to make it work and show yourself that you can survive in a different place and then look to try and move out.
Q. What do you look in while hiring a Sales Manager?
Ans. When I am hiring a sales manager, I look for a person who speaks politely to everyone irrespective of their status and position. The major focus while hiring a sales person is his communication skills. I imagine how a person talks to an uber driver, a lift man or a waiter. I look for people who are good to others.
Q. Apart from Scholarships, is there any other way for Fee waiver for students who are unable to afford the fees of the Institutes but they are better in study?
Ans. When it comes to education, you have to worry about profitability and viability. I have always believed that education probably plays a bigger role in building a nation or people than anything else in the country. It's a pity that education doesn't quite get the resources or attention that it needs. For example, I feel sorry when I look at how little school teachers get paid. They play an important role in molding the character of the country. It's time for institutions to realize why they exist and should find ways to constantly make it easier for right people to get access to education. If it is possible to waive off the fees, try to take a step. People will always remember the institute.
Q. How is the study abroad going to plan out in the next few years?
Ans. People will increasingly look for ROI in education and will quickly discover that going abroad is offering very bad ROI. I think many people do not go out to study because of the course and curriculum being better than India, but to experience learning in a new environment. A lot of that is going to change. Finding a job out there will be very difficult. Also, parents will not prefer spending a lot of money in an American University. In general, I believe that COVID-19 will make us hyper local. We will start to stay close to family rather than leaving the country and going out.
Q. How to win office politics?
Ans. I have always believed that the world outside is what you see inside your head. I don't think organisations are all filled with politics and you need to be politically savvy to get ahead in life. Increasingly, people who work desire to get good people and be rewarded for work. Young people have no tolerance for politics. Nowadays, people leave jobs due to politics. This is no longer like old days where people say I will retire from this job no matter what. Young people have the ability to change the environment.
Q. When we will be getting Mr. Prakash Iyer's next book?
Ans. Hopefully by the end of this year, the book will be out.