Taste Success with a Career in Food Technology
Food Technology is a science that deals with the processing of food materials and techniques that are used to transform raw materials into food. More specifically, it deals with the processes involved in production, processing, preservation, packaging, labeling, quality management, and distribution of food products. Students having a degree in food science or food technology have multiple options for jobs ranging from food inspector, toxicologists, quality assurance manager to becoming a chef, or food marketing manager. Courses in food technology involve studies about the technology and processing methods used to develop, research, manufacture, produce, preserve, process food and related substances. As a discipline, Food Technology is the combination of engineering, food science, hotel management, and home science.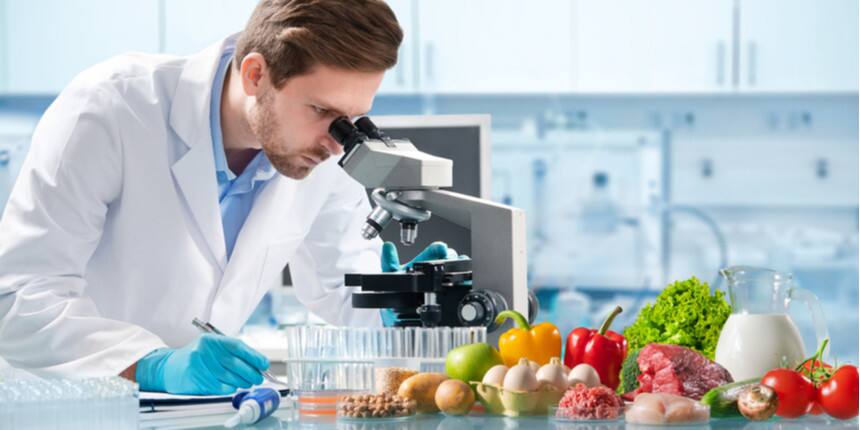 What Job will I Get after a Food Science Degree?
The main employers of food science graduates are food manufacturers, producers and retailers. Technical service providers and government departments concerned with developing food policy and enforcement processes also offer employment. Food science graduates also work in a range of areas in the land-based sector, which encompasses agriculture and animals as well as fresh produce, food service and retail. Other employers operate in the industrial and scientific sectors. The National Health Schemes (NHS) and private healthcare organisations offer employment opportunities - particularly for roles such as a nutritional therapist. Some of the job prospects for food science graduates and their profiles are provided here
Institutes offering Courses in Food Technology
There are many reputed institutes across the country which offer UG and PG courses in food technology/ food science. A list of few such institutes is provided here.
Courses Available in Food Technology
Institutes offering courses in food technology or food science offer these courses at both undergraduate as well as postgraduate level. Most institute offers a Bachelor in food science while some technical institutes offer B.E./B.Tech degree. Some institutes also offer certificate courses of one year or shorter duration in food technology/science. List of popular courses in food technology/science are
B.Tech in Food Technology

B.Sc in Food Science

M.Tech in Food Technology

M.Sc in Food Science

Certificate Course in Food Technology/Science
Jobs for Food Science Graduates
Food is one of the quintessential things in life, which is the reason why the food industry is thriving and food technologists are fast becoming the necessitate part of food processing industries. Career in food technology offers abundant opportunities that are challenging as well as fulfilling. Read more about food technology and the career prospects after a degree in food technology.
Food Inspector: Students having a degree in food science or technology can go on to become a food inspector. The profession of a food inspector is to check the quality of food in restaurants, hotels, and other places where food is served. A food inspector checks the food for adulterations, standard and quality of ingredients, preservation, storage, expiry and many other facets. Food inspectors are primarily recruited by government bodies while many private industries also have these positions for quality checking in their food outlets and stores.
Toxicologist: Toxicologists are experts on poisons and poisoning. Food toxicologists study for the presence of toxic materials in food and how they affect humans, animals and the environment. They conduct studies on food, air, water and soil to determine how different chemicals and biological substances alter them and assess any risks or potential harmful effects.
Quality Assurance Manager: Quality assurance managers are about as close as you can get to a food inspector in the government food department. Individuals working in quality assurance ensure that food products meet the correct standards set out in the regulations and comply with all internal and external requirements. The role also requires you to collect and interpret data on current standards and procedures, reporting any findings to senior management with suggestions on how to improve them. This career requires you to have a logical mindset, and be very organised and strategic, with excellent problem-solving abilities. As you get higher up in your career, leadership skills are essential, and you must be able to work well in a team in order to solve any multitude of problems that may arise!
Marketing Manager: For those looking for a more creative role, a career in food marketing is the right choice. Whether you focus on packaging, social media, consumer research or advertising, marketing encompasses many different aspects of building and maintaining the company's brand and image, as well as marketing new and existing products on a specific selling point. Food marketing can be quite challenging, as you're dealing with perishable products that are often reliant on supplier conditions and changing consumer trends. However, it really is a career you can shape to your creative interests and is an excellent way to use the knowledge you have gained from your degree in a slightly unconventional way.
Nutritional Therapist: If you're good at understanding and interpreting potentially complicated facts and concepts and explaining them in a clear and informative way, then perhaps you should look at becoming a nutritional therapist. As a nutritional therapist, you will typically work privately, helping individuals on a one-on-one basis by making personal dietary recommendations based on their personal circumstances. This could be to help healthy individuals prevent illness, or ill individuals to prevent symptoms worsening.
Food Scientist: In this role you will work closely with the production team to research and develop innovative recipes using new and existing ingredients. These recipes may need to satisfy a specific condition, such as having a low fat or low sugar content, or be suitable for a specific purpose, such as lunchtime takeout foods or ready meals.
You will need to make sure that all food products are at an acceptable safety and quality, and that all legal requirements are fulfilled. This role demands extremely high standards of cleanliness and safety, excellent problem-solving skills, and the ability to work well in a team, as well as being creative! Although this job demands a lot, it can be incredibly rewarding, especially when you see a product you have created out on the shop floor.
Chef: Although a food degree isn't essential for this role, it can be incredibly useful to gain an understanding of the food quality, nutrient value and preservation. Experience here is a necessity, and anything you can do to get your foot in the door will help. You will most likely start off as a trainee chef/apprentice/commis, where you will learn the tricks of the trade, such as how to correctly use knives and prepare food. You'll also be expected to assist the section or senior chef. As you gain more experience you will move on to become a senior chef, then on to a second in command and then finally a head chef.