TANCET Cutoff 2021 - Anna University will release the TANCET 2021 cutoff for admission in M.Tech programs offered by the participating institutes. TANCET cutoff 2021 will be the minimum scores required by the candidates to be eligible for admission. Candidates willing to get admission in M.Tech courses offered by the TANCET participating institutes will have to qualify for the TANCET 2021 cutoff. It must be noted that admission to M.Tech programs in Tamil Nadu is done through GATE/TANCET. Students having valid GATE scores need not appear for TANCET. However, students having a GATE score in XE and XL papers have to appear in TANCET 2021. Students must note that the TANCET cutoff 2021 will vary as per different institutes and courses. TANCET 2021 cutoff will also vary for various categories under which admission is offered. Read the full article to know more about the TANCET cutoff 2021.
Latest Updates for TANCET
Stay up-to date with TANCET News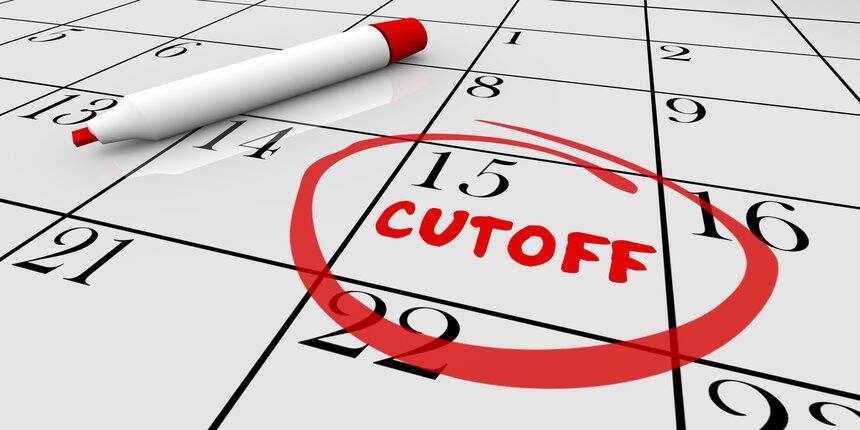 TANCET Cutoff 2021
The authorities will release the TANCET 2021 cutoff on the official website. Candidates who will qualify the TANCET exam 2021 will be eligible to get admission to the participating institutes. TANCET 2021 cutoff has not been released by the authorities yet; it will be updated here as soon as it is released by the authorities.
Factors Determining TANCET 2021 Cutoff
The authorities will consider various factors while preparing the TANCET cutoff 2021 for various courses and categories. The factors which are considered for determining TANCET cutoff are -
The difficulty level of the exam (GATE / TANCET)
Number of applicants in the exam
Total number of seats on offer for various institutes
Category for which admission is desired
Previous years cutoff trends
Previous Years' TANCET Cutoff
Here we have compiled the previous years' TANCET cutoff. Students can check the following tables to know how TANCET cutoff has changed over the years.
TANCET Cutoff 2018 for GATE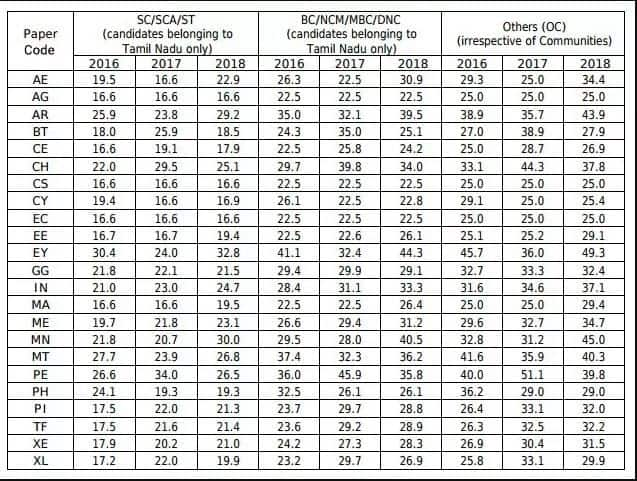 TANCET Cutoff for GATE 2017
Paper

SC/SCA/ST

(candidates belonging to Tamil Nadu only)

Tamil Nadu

BC/BCM/ MBC & DNCTitle-

Others (OC)

(irrespective of communities)

AE

16.6

22.5

25.0

AG

16.6

22.5

25.0

AR

23.8

32.1

35.7

BT

25.9

35.0

38.9

CE

19.1

25.8

28.7

CH

29.5

39.8

44.3

CS

16.6

22.5

25.0

CY

16.6

22.5

25.0

EC

16.6

22.5

25.0

EE

16.7

22.6

25.2

EY

24.0

32.4

36.0

GG

22.1

29.9

33.3

IN

23.0

31.1

34.6

MA

16.6

22.5

25.0

ME

21.8

29.4

32.7

MN

20.7

28.0

31.2

MT

23.9

32.3

35.9

PE

34.0

45.9

51.1

PH

19.3

26.1

29.0

PI

22.0

29.7

33.1

TF

21.6

29.2

32.5

XE

20.2

27.3

30.4

XL

22.0

29.7

33.1
TANCET Cutoff for GATE 2016
Paper

SC/SCA/ST

(candidates belonging to Tamilnadu only)

Tamilnadu

BC / BCM /

MBC & DNC

Others (OC)

(irrespective of

communities)

AE

19.5

26.3

29.3

AG

16.6

22.5

25

AR

25.9

35

38.9

BT

18

24.3

27

CE

16.6

22.5

25

CH

22

29.7

33.1

CS

16.6

22.5

25

CY

19.4

26.1

29.1

EC

16.6

22.5

25

EE

16.7

22.5

25.1

EY

30.4

41.1

45.7

GG

21.8

29.4

32.7

IN

21

28.4

31.6

MA

16.6

22.5

25

ME

19.7

26.6

29.6

MN

21.8

29.5

32.8

MT

27.7

37.4

41.6

PE

26.6

36

40

PH

24.1

32.5

36.2

PI

17.5

23.7

26.4

TF

17.5

23.6

26.3

XE

17.9

24.2

26.9

XL

17.2

23.2

25.8
TANCET Cutoff for GATE 2015
| | | | |
| --- | --- | --- | --- |
| Paper | SC/SCA/ST (candidates belonging to Tamilnadu only) | Tamilnadu BC / BCM / MBC & DNC | Others (OC) |
| AE | 17.68 | 23.87 | 26.52 |
| AG | 16.67 | 22.5 | 25 |
| AR | 30.11 | 40.65 | 45.17 |
| BT | 17.39 | 23.47 | 26.08 |
| CE | 16.67 | 22.5 | 25 |
| CH | 18.34 | 24.77 | 27.52 |
| CS | 16.67 | 22.5 | 25 |
| CY | 20.15 | 27.2 | 30.23 |
| EC | 16.67 | 22.5 | 25 |
| EE | 16.67 | 22.5 | 25 |
| EY | 25.72 | 34.73 | 38.59 |
| GG | 23.36 | 31.54 | 35.04 |
| IN | 16.96 | 22.9 | 25.45 |
| MA | 17.06 | 23.03 | 25.59 |
| ME | 21.82 | 29.46 | 32.73 |
| MN | 25 | 33.75 | 37.5 |
| MT | 39.65 | 53.53 | 59.47 |
| PE | - | - | - |
| PH | 18.1 | 24.44 | 27.15 |
| PI | 17.88 | 24.14 | 26.82 |
| TF | 21.25 | 28.69 | 31.88 |
| XE | 19.66 | 26.54 | 29.49 |
| XL | 18.99 | 25.63 | 28.48 |
Questions related to TANCET
Showing 2604 out of 2604 Questions