TANCET Cutoff 2020 - Anna University will release the cutoff of TANCET 2020 for admission in M.Tech programs offered by the participating institutes. TANCET cutoff 2020 will be the opening and closing ranks within which admission will be offered. Students seeking admission in M.Tech programs in TANCET participating institutes have to secure ranks within TANCET 2020 cutoff . Admission to M.Tech programs in Tamil Nadu is through GATE/TANCET. Students having valid GATE score need not appear for TANCET. Students having a GATE score in XE and XL paper also have to appear in TANCET 2020. Students must note that TANCET cutoff 2020 will vary for different institutes and courses. TANCET 2020 cutoff will also vary for various categories under which admission is offered. Students are also provided below previous year TANCET cutoff to get an idea about the cutoff ranks under which admission had been offered. More information about TANCET cutoff 2020 is provided in the below article:
Latest: TANCET 2020 rank list for candidates of GATE and TANCET categories.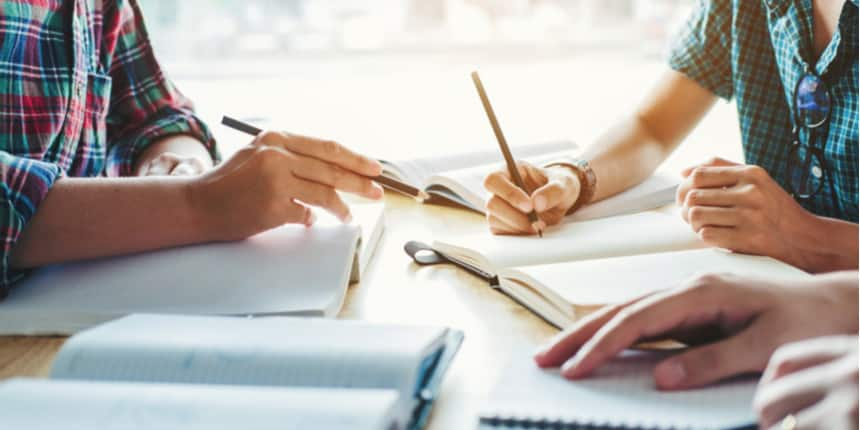 TANCET Cutoff 2020 - Important Dates
| | | |
| --- | --- | --- |
| S.No. | Events | Important Dates |
| 1 | TANCET 2020 Exam | March 1, 2020 |
| 2 | Declaration of TANCET 2020 Result | March 11, 2020 |
| 3 | Registrations for TANCA 2020 | August 28 to September 30, 2020 |
Factors Determining TANCET 2020 Cutoff
The official authority prepares TANCET cutoff by considering several factors while preparing the cutoff for various courses and categories. The factors which are considered are as follows
Difficulty level of the exam (GATE / TANCET)

Number of applicants in exam

Total number of seats in offer for various institutes

Category for which admission is desired

Previous years cutoff trends
Previous Year TANCET Cutoff
Students are provided below the previous year cutoff of TANCET for various years. Students can check the opening and closing ranks under which admission has been offered in past years.
TANCET 2018 Cutoff for GATE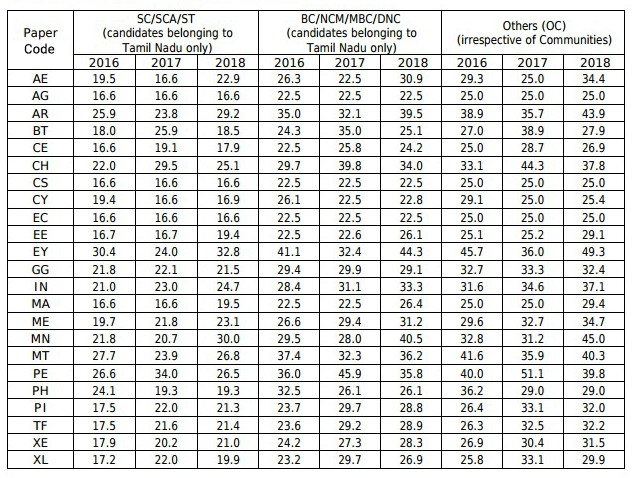 TANCET 2017 Cutoff for GATE
Paper

SC/SCA/ST

(candidates belonging to Tamil Nadu only)

Tamil Nadu

BC/BCM/ MBC & DNCTitle-

Others (OC)

(irrespective of communities)

AE

16.6

22.5

25.0

AG

16.6

22.5

25.0

AR

23.8

32.1

35.7

BT

25.9

35.0

38.9

CE

19.1

25.8

28.7

CH

29.5

39.8

44.3

CS

16.6

22.5

25.0

CY

16.6

22.5

25.0

EC

16.6

22.5

25.0

EE

16.7

22.6

25.2

EY

24.0

32.4

36.0

GG

22.1

29.9

33.3

IN

23.0

31.1

34.6

MA

16.6

22.5

25.0

ME

21.8

29.4

32.7

MN

20.7

28.0

31.2

MT

23.9

32.3

35.9

PE

34.0

45.9

51.1

PH

19.3

26.1

29.0

PI

22.0

29.7

33.1

TF

21.6

29.2

32.5

XE

20.2

27.3

30.4

XL

22.0

29.7

33.1
TANCET Cutoff for GATE 2016
Paper

SC/SCA/ST

(candidates belonging to Tamilnadu only)

Tamilnadu

BC / BCM /

MBC & DNC

Others (OC)

(irrespective of

communities)

AE

19.5

26.3

29.3

AG

16.6

22.5

25

AR

25.9

35

38.9

BT

18

24.3

27

CE

16.6

22.5

25

CH

22

29.7

33.1

CS

16.6

22.5

25

CY

19.4

26.1

29.1

EC

16.6

22.5

25

EE

16.7

22.5

25.1

EY

30.4

41.1

45.7

GG

21.8

29.4

32.7

IN

21

28.4

31.6

MA

16.6

22.5

25

ME

19.7

26.6

29.6

MN

21.8

29.5

32.8

MT

27.7

37.4

41.6

PE

26.6

36

40

PH

24.1

32.5

36.2

PI

17.5

23.7

26.4

TF

17.5

23.6

26.3

XE

17.9

24.2

26.9

XL

17.2

23.2

25.8
TANCET Cutoff for GATE 2015
| | | | |
| --- | --- | --- | --- |
| Paper | SC/SCA/ST (candidates belonging to Tamilnadu only) | Tamilnadu BC / BCM / MBC & DNC | Others (OC) |
| AE | 17.68 | 23.87 | 26.52 |
| AG | 16.67 | 22.5 | 25 |
| AR | 30.11 | 40.65 | 45.17 |
| BT | 17.39 | 23.47 | 26.08 |
| CE | 16.67 | 22.5 | 25 |
| CH | 18.34 | 24.77 | 27.52 |
| CS | 16.67 | 22.5 | 25 |
| CY | 20.15 | 27.2 | 30.23 |
| EC | 16.67 | 22.5 | 25 |
| EE | 16.67 | 22.5 | 25 |
| EY | 25.72 | 34.73 | 38.59 |
| GG | 23.36 | 31.54 | 35.04 |
| IN | 16.96 | 22.9 | 25.45 |
| MA | 17.06 | 23.03 | 25.59 |
| ME | 21.82 | 29.46 | 32.73 |
| MN | 25 | 33.75 | 37.5 |
| MT | 39.65 | 53.53 | 59.47 |
| PE | - | - | - |
| PH | 18.1 | 24.44 | 27.15 |
| PI | 17.88 | 24.14 | 26.82 |
| TF | 21.25 | 28.69 | 31.88 |
| XE | 19.66 | 26.54 | 29.49 |
| XL | 18.99 | 25.63 | 28.48 |
Questions related to TANCET
Showing 2306 out of 2306 Questions