'Study engineering in India and abroad without break' - Prof. Dr. Radhakrishna S. Aithal, MAHE
Engineering aspirants who are planning to go abroad for academics are facing a tremendous dilemma at the moment, and are at a risk of losing a semester or even a year. With a lot of ongoing turmoil due to the pandemic, aspirants are left confused regarding the next step to take. Careers360 spoke to Prof. Dr. Radhakrishna S. Aithal, Director of International Centre for Applied Sciences (ICAS), Manipal Academy of Higher Education (MAHE) to know more about the International Engineering Transfer Program offered by ICAS.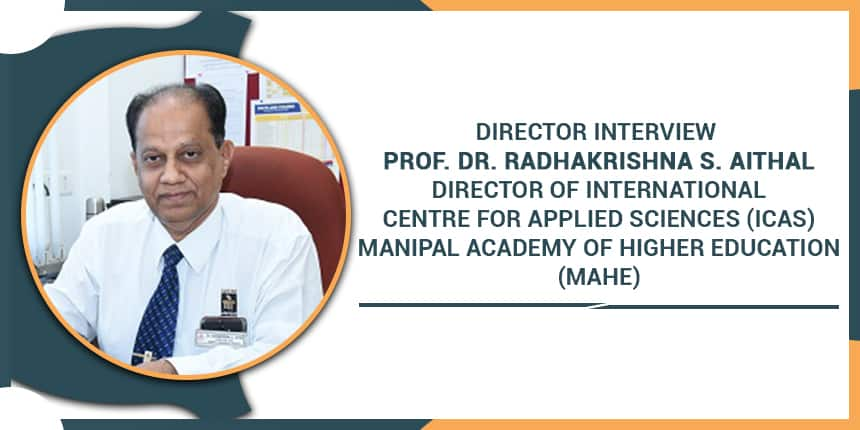 Careers360: Why should engineering aspirants go for the International Engineering Transfer Program?
Professor Aithal: It could be a great opportunity for the student to pursue his education without any breaks or intervals. The student can enrol in this program, complete his first 2 years of Engineering at Manipal, and then transfer to a university abroad.
Since enrolling in International Engineering Transfer Program by ICAS Manipal does not require an entrance test, the student can get conditional admission based on his/her 10th, 11th marks and get a confirmed admission after the submission of 12th marks.
The International Engineering Transfer Program by ICAS Manipal is a transfer program where the students can complete their first two years of engineering at Manipal Academy of Higher Education (MAHE), India and the following two years in a premium university in USA, UK, Australia, Ireland, UAE etc. On completion of the program, the student can obtain an engineering degree awarded by the destination international university. So far, over 150 universities have accepted ICAS credits and ICAS also has officially partnered with 38 universities in seven countries.
Careers360: What are the programs offered?
Professor Aithal: This program is currently offered in Computer Science & Engineering, Aviation/Aeronautical Engineering, Electrical & Electronics Engineering, Mechanical Engineering, Mechatronics Engineering, Civil Engineering & Chemical Engineering branches. This program has been offered since 1994 and so far over 2000 alumni have successfully graduated from top universities across the world.
Careers360: How will this course now help students make the right career choice in Engineering?
Professor Aithal: This program is for each and every student who is aspiring to study engineering at a top university in either India or abroad. The students experience two years of engineering education at Manipal, then based on his or her aspirations and choice, apply for a credit transfer and they then get a chance to complete their 3rd and 4th year in a university abroad. The student graduates from the destination university and will also be eligible for the work options applicable in that country.
The students are also given a choice to re-look at their branch of Engineering after 1st semester. Therefore students have a flexibility or option of taking a call based on their experience after 1st year if they would like to opt for a branch change or continue in the existing branch of engineering.
Careers360: What are the kind of affiliations and collaboration ICAS has with other foreign universities?
Professor Aithal: Over the years, about 100+ foreign universities have been accepting ICAS credits, thus offering a wide range of universities from which the ICAS students can pursue their final two years and specialise in Aeronautical/Aviation, Chemical, Civil, Computer Science, Electrical & Electronics, Mechanical, Mechatronics.
ICAS, Manipal has partnered with 38 universities in USA, Australia, UK, Ireland, France, Germany & UAE and it's a hassle free process to transfer to these universities. In addition, there are close to 120 universities that accepted ICAS credits and have issued offer letters to ICAS students in the recent past.

ICAS also has a dedicated pathway program with Deakin University, Australia where the students are automatically transferred to Deakin University after successfully completing their 2 years at ICAS, Manipal.

In case the student wants to continue in the Manipal network, then the student can choose either MAH (Dubai Campus), where he/she can get an Indian Engineering degree or the student can choose Manipal International University, Malaysia where the student shall be awarded a Malaysian Engineering Degree upon successful completion of 4 years.
Careers360: What will be the prospects for students opting for the course?
Professor Aithal: The student can choose to study among any of the top universities that accept ICAS credits. The student can also choose to work based upon the work options available in that country or can continue to pursue Master's in their respective areas of specialization. ICAS alumni are working for top companies in the world like Microsoft, BMW, L&T, Volvo etc. in various technical and managerial roles.
Careers360: Considering the situation, how does the university plan to take classes for students?
Professor Aithal: The classes were supposed to begin on August 3, 2020 and ICAS plans to stick to that. However, depending on the lock-down situation, a decision would be taken at a later stage if required.
Careers360: How will the International Engineering Transfer Program be beneficial to engineering aspirants during these uncertain times?
Professor Aithal: With the coronavirus outbreak around the world, the hope and dream of many aspiring students have been impacted considerably. Last year, over 7.5 lakh Indian students opted to study at universities abroad with the US, Canada, Australia remaining the top aspirational destinations followed by UK and Germany. For the academic year starting August-September, students should have ideally started visa applications by now. But that has come to a grinding halt at present.
Manipal University Updates and Articles
Manipal University is Organizing 2nd International Conference ...
03 Dec 2018
Questions related to Manipal University
Showing 517 out of 517 Questions