Students Speak: JEE Main Preparation During COVID -19; Khushi Kumari talks about her experience
COVID-19 has resulted in the postponement of the JEE Main 2020 April session exam and now the exam will be held in June. Many students who are appearing for the April session of the exam are taking this as an opportunity to make their JEE Main preparation stronger, some are worried, some think that JEE Main 2020 may get cancelled. So, in order to know about the experience of JEE Main aspirants during COVID-19, Careers360 team interacted with Khushi Kumari who is going to appear for the April session and is doing her preparations during this lockdown. She also attempted the JEE Main 2020 January session but was not able to get good scores. So, she is determined to utilise this additional time available to her due to COVID-19 and ace the April session of the exam. Read the full article to know about Khushi's JEE Main preparation and her experience during COVID-19.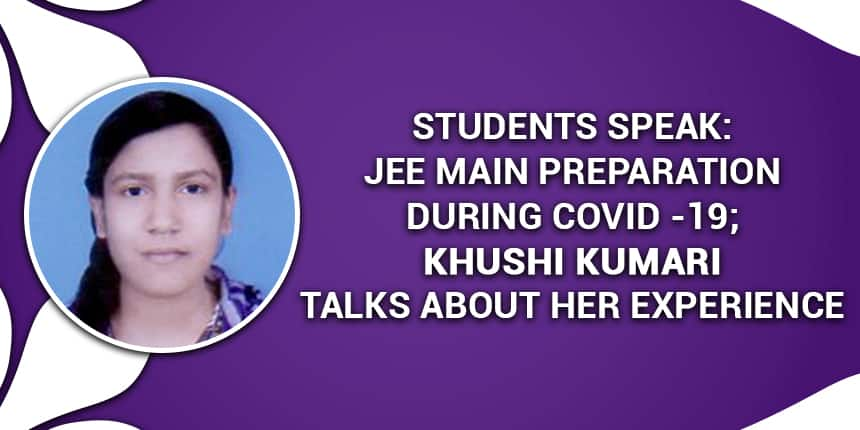 Careers360: Tell us about your JEE Main preparation strategy amid lockdown?
Khushi: My preparations are going well and I am trying to be confident. I am practicing previous year questions to make my JEE Main preparation stronger.
Careers360: How are you coping up with the anxiety and stress?
Khushi: As it is complete lockdown, I am coping up with anxiety and stress by staying with family. Earlier, I was not able to give much time to my family but during this lockdown, I make sure to give ample time to my family. Being with my family is itself the biggest stress buster for me. Other than this, I listen to music to keep myself stress free.
Careers360: Which topics are you focusing primarily in Physics, Chemistry and Mathematics?
Khushi: I am right now focusing on questions that were asked in previous years. If I talk about topics, I am focusing more on Rotational Motion, Modern Physics in Physics. I am also giving time to class 11th topics. In Chemistry, I study Inorganic Chemistry daily as it is very important. Along with this, I am also giving time to Organic Chemistry, I am practicing reactions, understanding structures, etc. For Mathematics, I have problems in Probability, Permutation and Combinations and Statistics, so I am focusing on these topics more.
Careers360: How often do you practice JEE Main mock tests?
Khushi: I attempt 2 to 3 JEE Main mock tests in a week. I take many online tests along with the Careers360 mock test for JEE Main 2020.
Careers360: Do you follow any time table for preparation?
Khushi: Yes, I do follow a time table. I prepared a special timetable for this lockdown. As my syllabus has already been completed, I am just focusing on important topics and topics which I think need time.
Careers360: How much time do you study every day?
Khushi: I give 8 to 9 hours daily to my studies. I wake up at 6.30 and start studying from 7.00 am. I give time to each subject and take proper breaks.
You may also like:
JEE Main 2020 Preparation Tips
Questions related to JEE Main
Showing 97839 out of 97840 Questions