Students Speak: JEE Main 2020 Preparation During COVID -19; Devshree Singh talks about her experience
JEE Main 2020 April session exam has been further postponed to June from last week of May due to the increasing number of positive coronavirus cases in the country. This has also led to lockdown in the country. Although the lockdown is creating problems for the general people, it can be beneficial for JEE Main aspirants if utilised wisely. However, the further postponement of JEE Main 2020 has created various queries among the students like will the exam be cancelled, will it be further postponed and much more. These queries and confusions will definitely have some effect on students. In order to know the effect of postponement of the exam and experience of students during this lockdown, Careers360 team interacted with Devshree Singh who is appearing in the JEE Main 2020 April session. Devshree also appeared in the January session of the exam and secured a NTA score of 97.86. When asked about her preparations, she said that her basic aim is to score better than her January attempt. For this, she is following a special 1 month time table and is taking up difficult topics first. Read the full article to know about Devshree's JEE Main 2020 preparation strategy during COVID-19.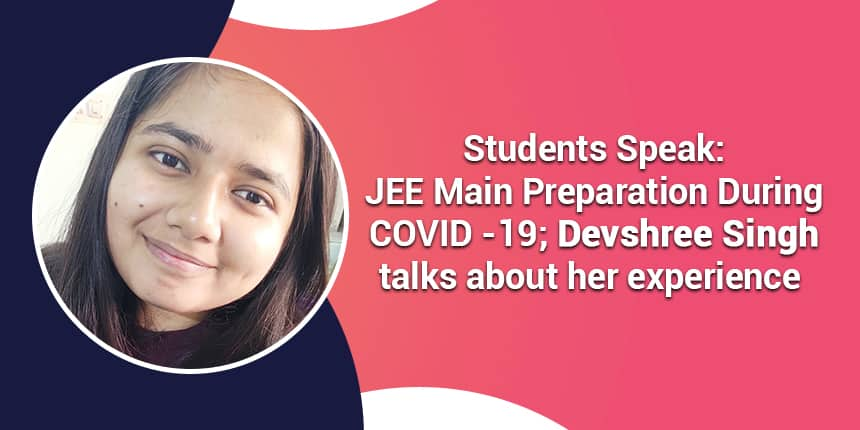 Careers360: Tell us about your JEE Main preparation strategy amid lockdown?
Devshree: At present, my strategy is to focus on the topics that are difficult and which take more time. I am giving proper time to these topics to understand them well and boost my JEE Main preparation.
Careers360: How are you coping up with the anxiety and stress?
Devshree: I am not taking any kind of tension at present rather I am spending more time about how to reach my ultimate goal. I want to achieve a better score than my January attempt and I think this additional time will help me a lot. For taking a break from studies and refreshing my mind, I read novels.
Careers360: Which topics are you focusing primarily in Physics, Chemistry and Mathematics?
Devshree: I already mentioned that I am focusing on difficult topics during this time. Topics which I am currently focusing on are-
Physics- Mechanics, Electrostatic, Electromagnetic Induction (EMI) and Optics.
Chemistry- P block elements, Electrochemistry, Salt Analysis, Chemical Bonding and Coordination compounds.
-->
Mathematics- Calculus and Coordinate Geometry
Careers360: How often do you practice JEE Main mock tests?
Devshree: I attempt one JEE Main mock test each alternate day. I think practicing mock tests is very important during this time as I can analyse my performance every time I give the test.
Careers360: Do you follow any time table for preparation?
Devshree: Yes, I do follow a time table. I have prepared a special timetable for 1 month and also following it seriously. As the syllabus is already completed, I am taking up chapters which I think deserve more attention.
Careers360: How much time do you study every day?
Devshree: I am giving 8 to 9 hours daily to my studies. I have divided my time such that I give proper time to each subject every day.
You may also like:
Students Speak: JEE Main Preparation During COVID -19; Khushi Kumari talks about her experience
How to Prepare JEE Main 2020 at Home: Tips by Saurabh Kumar, Director Academics, Vidyamandir Classes
Questions related to JEE Main
Showing 112397 out of 112398 Questions