Student's Speak: Campus Interview at Rama University with Prabhakar Singh
College life is the most looked forward phase for students and many of them find it the most unforgettable experience. There is learning, hard work, friends, fun, responsibility. Careers360 reduces the effort for future aspirants who are interested in pursuing engineering at Rama University, Kanpur and need some guidance on experience at the campus. With personal experience explained by Prabhakar Singh (B.Tech Computer Science final year student at Rama University), one may check the realtime picture of what it is like to be at the institute pursuing B.Tech course. This will help them decide well considering the crucial factors like faculty, placement, etc.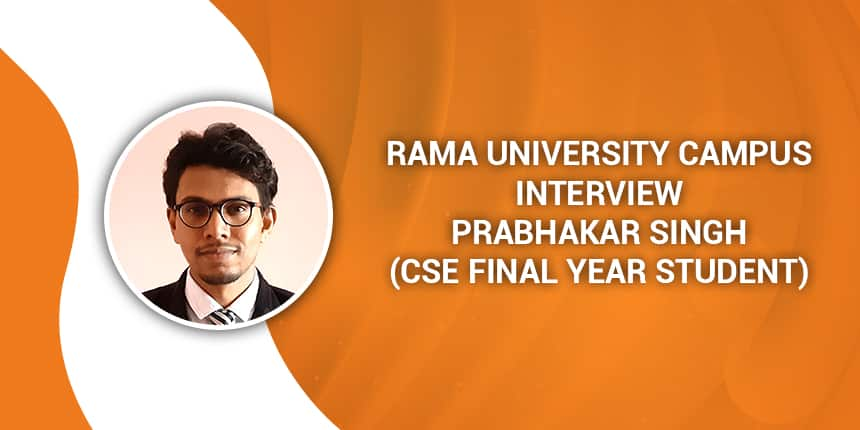 Interview with Prabhakar Singh (B.Tech Computer Science Engineering final year student)
Careers360 - Tell us something about yourself. Where are you from, your branch of studies, the year of course and more.
Prabhakar - Hey! I'm Prabhakar Singh. I am from Mau, Uttar Pradesh. I'm a final year student pursuing B. Tech Computer Science Engineering from the Faculty of Engineering & Technology, Rama University. I will be completing my course in 2020. I am a dedicated personality with integrity in blood and always look forward to spreading positivity around me.
Careers360 - Describe a complete day in Rama University.
Prabhakar - Usually, I wake up at 6, now go for daily routines. As I am the final year student, I get my breakfast at 8:30. Every year there is a fixed slot for breakfast. Then from 9 to 4, we are in the F.E.T building doing our studies - every day 7 periods, 4 for theory class, and after recess 3 periods for practicals, as a computer science student. We enjoy a lot during the practicals. We are back at our hostel at 4:30.
At 5 in the evening, I take the snacks then go for sports sessions in the campus playground. At 8:30, I take my dinner, then go to my room for study and other project work.
Careers360 - Were there any initial problems or hiccups you faced during the initial months at the institute?
Prabhakar - When I was in the first year, we usually had to follow strict rules like being on time in the mess, in class, and respecting seniors. But from second year onwards it went quite normal pertaining to everything.
Careers360 - How was the support from the college and seniors?
Prabhakar - I am satisfied with college and senior's support, especially from seniors.
They helped me in my studies, as well. One thing that should be done by students is if they have any problem, they should discuss it with any of the staff and faculty members, they positively responded to it. Eg. in my semester examination of third year, I couldn't attend my sessions due to illness and was well supported by my seniors in providing me notes and practical sessions in evenings to brush up my knowledge which resulted in good outcomes.
Careers360 - Tell us about the faculty-student ratio here and about the teacher-student relationship in your understanding.
Prabhakar - Well, the faculty-student ratio is reasonably good at FET, it is approx 35:1. In my opinion, the teacher-student relationship is good enough to interact and learn. I was always supported by all the faulty that I know, especially my HOD in all instances.
Careers360 - What all facilities do you have in the campus? What do you like here the most which you feel is unique and differentiating?
Prabhakar - An awesome cricket ground, well maintained basketball courts, state of the art computer labs, Central Library with immense count of books. Uniqueness is in the blood of Rama University. They do not believe in wasting time but in investing time. Like other colleges, they have all support and facilities. And the unique thing about my campus is valuing student's time. They always respond quickly and resolve the problems.
Careers360 - How comfortable are your hostels and how about the cleanliness factor over there?
Prabhakar - It's beautiful, and clearness is extraordinarily impeccable. It feels good to be at the hostel.
Careers360 - What is the situation of medical facilities? Can you avail requisite medical attention if needed in an emergency?
Prabhakar - Rama is well-known for its medical college and facilities also. Yes, whenever it was required it was readily available.
Careers360 - What activities are offered in the institute? Are there any clubs etc. for the various extracurricular activities?
Prabhakar - There are various clubs and extracurricular activities like Robotronics Technical club, Data Science club, Cultural club, and so on.
We people also participate in different competitions and arrange the event. Most of them are held on our campus, but we also go to other university events and matches. Tech Manthan is the annual event where all engineering students participate. It commences at inter college level. Rama Fest is the annual sports meet which also happens at Inter College Level.
Careers360 - Have you taken up or are you a part of any club?
Prabhakar - I'm actively participating in a lot of them, but my most favourite is the technical club.
Careers360 - How do you balance your studies, projects, exams and other activities?
Are the clubs and societies at the campus significant from your point of view in overall development of a student?
Prabhakar - It's a question that I really want to answer, managing studies, projects, exams, and other activities is really a tough task for me.
I do and manage a little well. But our seniors play a significant role. For our study and academics project, we follow the seniors' footprints. Yes, for overall skill development, it is essential. Along with technical skills, we have to develop our soft skills as well. I follow the 60-40% law in skills development.
Careers360 - Is there any in-house magazine or journal for the latest events or happenings at the institute?
Prabhakar - Yes, there are in-house magazines or journal for the latest events or happenings at the institute. We have our own radio and news channels managed by the Faculty of Journalism & Mass communication.
Careers360 - What are the popular hangouts at the institute? What, according to you, are the most-visited places nearby?
Prabhakar - Well, the best hanging out place is the cafeteria which is very much present at our FET Building. IIT Kanpur is the nearest knowledge-able place (7kms) for me to visit and Blue World Amusement Theme Park (3 kms) to enjoy.
Some more are Iskcon Temple, J.K Temple, Kanpur Greenpark Stadium and so on.
Careers360 - How do you spend your leisure time at the campus?
Prabhakar - I am a movie freak. I used to watch videos and sci-friction videos during my free time. We have good connections to the internet on our campus.
Careers360 - What type of companies come for campus recruitment and what percentage of students get placed every year? How is the recruitment process here?
Prabhakar - The campus placement is quite good. I was lucky to sit for Tech Mahindra, Thoughtworks & Capgemini & apart from these our T&P cell supports immense mid size companies as well to ensure at least 80% departmental level of placements. For Technical students, there are generally four rounds:
a) Aptitude test
b) Technical Round
c) Personal Interview Round
d) HR Round for which rigorous mock sessions are given by the Training cell.
Careers360 - How has your journey been so far at the Rama University?

Prabhakar - Overall, it's good, great learning and great support. I am really fascinated to be here. Will recommend the same to my juniors as well.
Rama University, Kanpur Updates and Articles
In Rama University placement, total 39 companies participated,...
12 Aug 2020
Rama University has started the procedure for B.Tech 2019 admi...
02 Aug 2019
Questions related to Rama University, Kanpur
Showing 3 out of 3 Questions
28 Views
rama university kanpur is good for civil engineering and for a good placement
hello, from my research and knowledge i think the best university in kanpur for civil engineering are :
Indian Institute of technology,  kanpur
Harcourt Butler Technical University, kanpur
Rama university , kanpur
so may be Rama university is best for civil engineering
hope it is helpful for you .