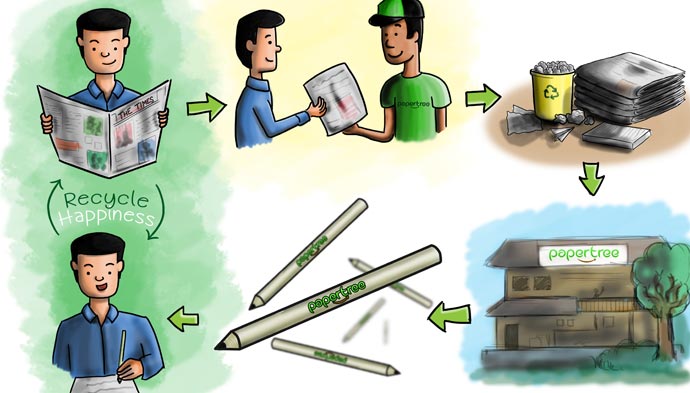 "CALLING something as trash is nothing but failure of one's own imagination," says 21-year-old Shashank Tulsyan, co-founder of Papertree Creations India Pvt. Ltd., a company which converts waste paper into pens and pencils. India faces tremendous waste management crisis and Papertree's product is an innovative initiative to counter this problem.  Along with other co-founders, Siddharth Bhasin (21), Sumeen Garg (22), Shashank reaches out to various places (schools, colleges, corporate houses) and organizes a paper collection drive, converts waste into product used by the same set of people who are generating waste. "So dump your waste paper on us and enjoy a green product - pencils for free!," expresses Siddharth. Papertree run by trio is a student initiative, who are  pursuing BTech Industrial Production Engineering at Manipal University. You will never find a papertree pencils on retail stands as the entire business model revolves around collection drive. 


Their pencils have the standard dimensions of an ordinary wooden pencil: uses waste paper as raw material unlike its competitors who use wood. There are two marketing mediums; either conduct a unique paper collection drive which will be traded for free pens and pencils or customers can give direct orders for customized pens (Rs. 3 to 5) and pencils (Rs. 5 to 8).    

Market response
They are not just saving millions of trees from being cut down but at the same time reusing thousand of kilograms of waste paper. So far they have sold off their product to Manipal Institute of Technology (MIT), Manipal School of architecture and planning (MSAP), Welcome group school of hospital administration (WGSHA), WLS solutions Pvt. Ltd., Isa Technologies, Add-on Gyan Educational Services Pvt. Ltd.  In addition, they are in the initial stages of association with at least 20 more organizations. Just a month ago, Arko Provo Basu, studying Master's in Tourism at WGSHA called Papertree for a collection drive, "I gave away 3 kgs of household paper waste, and in return got 2 pens and 2 pencils free of cost. It's such a unique transaction. I used those pens, pencils while jotting college notes."  Papertree is trying all ends to make the paper collection process more efficient.

Institutional support
Stationed at MUTBI, Manipal University Technology Business Incubator (MUTBI), Papertree founded the company in April 2013. The team was working on their unique business model since last September and their ideas came into limelight during annual B-Plan competition called Provenance, organized by Maniapl University in January 2013. They presented their ideas before venture capitalists, angel investors and won the third place in the competition. Their triumph allowed them to get both free office (100 sq. ft.) and plant (500 sq. ft.) space and seed money of 2 lakhs from MUTBI. They also received a soft loan of Rs. 12 lakhs from TDB (Technology and Development Board) to continue their business. Their plant is fully equipped by all manufacturing machinery required from cutting paper to finished product.

 "With increasing emphasis on corporate houses going into ISO14000 which focuses on care for environment, Papertree comes as a good source to reduce the utilization of papers, " Prof. Vasant Kamath, MIT, Manipal, who coaches about how to approach customers, suppliers and negotiate with vendors at MUTBI. Currently, Papertree has about 20 employees (mostly college student interns) who are focusing on product development, marketing and creative division of the company. 
Marketing challenges
"Our pencil has evolved a lot in last 6 months and is still evolving with each passing day," says Sumeen another co-founder. Now the next big challenge is to find suppliers. There is no fixed supplier in India who gives raw material for paper pencils; so they tried to create their own suppliers. "Another big challenge is to increase the production capacity. There are no trained personnel who have expertise in making paper pencils. So we train our employees which involves a lot of time." In the future, Papertree aims to reduce the training time and automise the manufacturing process.They are reaching out to paper recycling industry as well. Sameer Mohammad, MD, Papyrol, a paper board industrialist says, "Papertree will soon tie up with us. After collection, Papertree will supply their collected paper waste and Papyrol will only provide required raw materials for pencil making."

Way forward
They started their sales in October, and so far sold about 5000 units. And for next two months, they are already packed by orders for another 50,000 units.Their close competitor in the market is Care-India. What sets Papertree apart? "CareIndia imports raw materials and machines from China, but we want to be experts of our machines. In next 6 months we are coming out with our own patented assembly line paper making machines."  In addition, they plan to soon launch paper-colour pencils in future. Their major mission is to conduct a nationwide school-contact programme where students can donate waste paper in return for pens and pencils. The drive will be launched in Karnataka, Jharkhand, Madhya Pradesh and Punjab. 

*****

MUTBI, Manipal
Website http://www.mutbimanipal.org
Established 2010
Current Incubatee 12 (including 1 at Satellite Centre: Manipal University campus, Jaipur)
Graduated 1
Offerings: Open for all; provides seed funding; short-term and long-term internships; infrastructure support in terms of office space, PCs, internet connection, telephone lines and common facilities; Central Instrumentation Facility (CIF) is also extended to incubatees for their R&D; CIF houses instruments like Scanning Electron Microscope (SEM) & Energy Dispersive Analysis of X-rays,Nuclear Magnetic Resonance (NMR), X-ray Diffractometer, Ion Chromatography, NIR-UV-VIS Spectro-photometer; Assistance in IPR consultancy; networking, mentoring, arranging interactions between students, entrepreneurs, venture capitalists and others from industry.

Residency Three years extendable by a year.

Exit Policy On completion of incubation period, raising substantial investment from other investors for Rs. 2 crores or more; underperformance or unfeasibility of the business proposition; when the number of employees of the company exceeds 10; when annual revenues exceeds Rs. 2 crores or when a company achieves a Profit Before Tax of Rs. 60 Lakhs; the company enters in an acquisition, merger or amalgamation.

Events/ Programmes Entrepreneurship Awareness Camps; Faculty Development Programs in Innovation &Entreprneurship; Provenance (Business Plan competition); Workshops/ lectures/ seminars by experts on topics related to entrepreneurship.