Sastra University Entrance Exam 2013
Conducting Institute: SHANMUGHA ARTS, SCIENCE, TECHNOLOGY & RESEARCH ACADEMY University


Commonly Known as: Sastra University


About Sastra University Entrance Exam 2013: Shanmugha College of Engineering which is now renamed, SHANMUGHA ARTS, SCIENCE, TECHNOLOGY & RESEARCH ACADEMY. SASTRA offers various undergraduate and post graduate courses in Engineering, Science, Education, Management, Law and Arts besides various Doctoral programmes.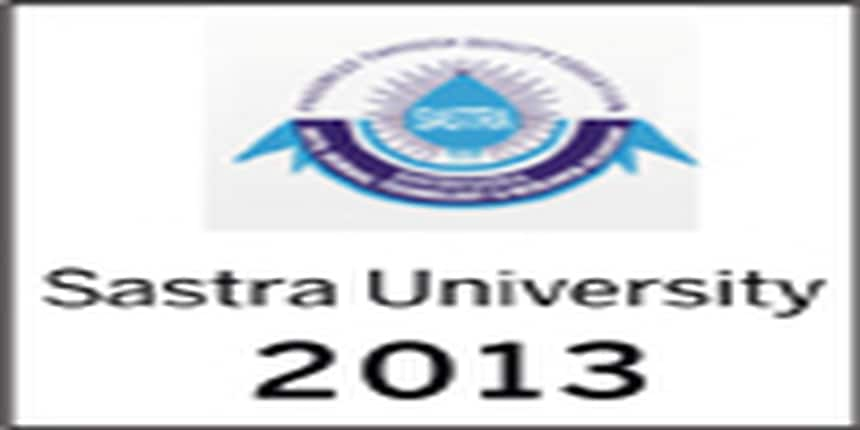 Sastra University 2013 Eligibility Criteria:
A pass in the +2 examination with Mathematics & Physics as compulsory subjects with either Chemistry / Bio-Technology / Computer Science / Biology and recognized by any State Board / Central Board or any other accepted by SASTRA as equivalent to 10+2 examination, with a minimum aggregate of 60% marks in Physics, Chemistry and Mathematics obtained in a single sitting.

Eligibility for vocational students is based on the theory subjects taken.

Students with diploma in Engineering / Technology are eligible for direct admission to the second year of the relevant B.Tech., Programme.
Sastra University 2013 Selection Procedure:
70% of the total seats based on the qualifying higher secondary examination marks.
Admissions to the I year B.Tech., Programme will be based on the marks secured in the +2 qualifying examination following the normalization process.

To bring all candidates from different examining Authorities / Boards in the same scale of comparison and to create a list in the order of merit, the +2 marks will be normalized. A first rank student of each board is considered to have obtained 100% mark and aggregate mark of all other students of the board is normalized with reference to that of the first rank student. For example, if the first rank is 97% and an applicant's aggregate is 90% then the applicant's normalized percentage is 92.78 (90/97 x 100). A merit list is drawn based on the normalized percentage for making admissions. 

Admissions for students from the vocational stream to the respective B.Tech. programme will be done from within the same category of applicants. 
30% of the total seats by MHRD based on the JEE Main ranks
Sastra University 2013 Paper Pattern: There is no separate exam, admission will be based on higher secondary score and JEE Main 2013 result.


Sastra University 2013 Application process:
Application forms can be obtained from:
In person from the Office of Admissions at SASTRA University campus in Thanjavur or Kumbakonam or at Regd. Office in Chennai (9, Karnan Street, Rengarajapuram, Chennai 600 024) on payment of appropriate amount

Application forms can also be downloaded at www.sastra.edu

Applications can also be sent by post on receipt of DD for appropriate amount favouring SASTRA payable at Thanjavur. DD must be sent to Office of Admissions, SASTRA University, Thanjavur – 613 401, Tamil Nadu.
* Please keep visiting the page information will be updated soon as notification would be out.


Sastra University 2013 Application Fees:  Information will be updated soon.


Sastra University 2013 Application fee can be paid via: Demand Draft


Sastra University 2013 Important Dates:

Start sale of prospectus: Tentatively from last Week of March 2013.

Last date for receipt of application: Tentatively from Second week of June 2013.

Release of Rank List: Tentatively from Second week of June 2013 on official website
Website:  www.sastra.edu


Sastra University 2013 Counselling Process:  Counselling for admissions to B.Tech programmes will be held tentatively during 3rd Week of June 2013. Seats will be allotted based on the ranks secured by the applicant and the entire admission process will be displayed in a giant screen in the SASTRA campus to ensure transparency.


Contact Info:
SASTRA UNIVERSITY ,Tirumalaisamudram
Thanjavur – 613401, Tamilnadu, India.
Phone: +91 4362 264101- 108, 304000-010.
Telefax: +91 4362 264120.
Email: admissions@sastra.edu