Sahila Bahra Interview: Vice President, Rayat Bahra University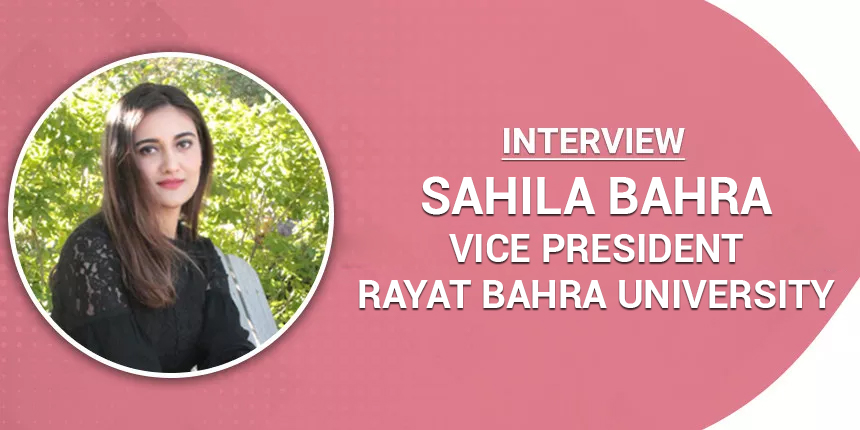 Rayat Bahra University is a private university founded in the year 2014 located in Sahauran, Punjab. The University offers various programs for the students like Diploma, B.E/B.Tech, M.E/M.Tech, etc. in various fields. As the Careers360 team always tries to provide the best information about various universities, our team conducted an exclusive interview of the Vice President of Rayat Bahra University, Sahila Bahra to know about the vision, mission of the university along with its collaborations and various study programs. The interview has highlighted different types of programs offered by the university through collaboration with foreign universities. Read the complete interview here.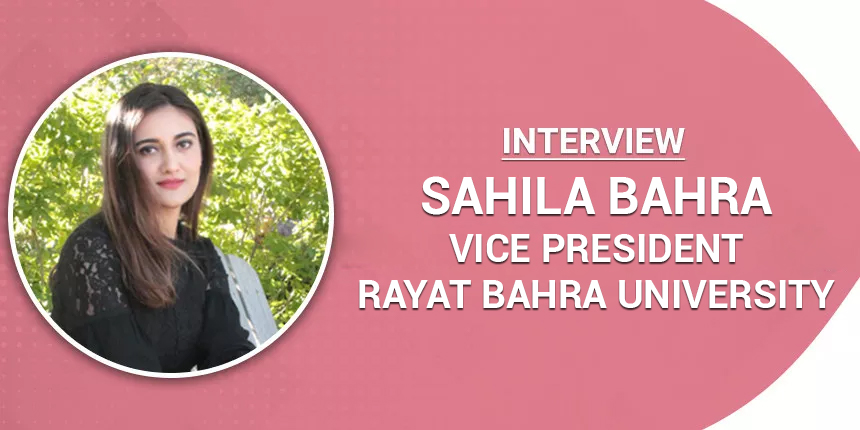 Careers360: Tell me something about the institute, when it was set up, vision and mission?
Sahila: Rayat-Bahra Group has been providing education for over 19 years in the field of Medical, Technical and Professional education across 2 state universities and different affiliated campuses in North India.
The organization incorporates:
2 Global Universities in India
Rayat-Bahra University, Mohali (Pb.) and Bahra University, Shimla Hills (H.P)
1 Multi-Disciplinary Campus
Rayat-Bahra Hoshiarpur Campus (Hoshiarpur, Pb.)
1 Skill Development Centre (Mohali, Punjab)

1 Super Speciality Hospital (Upcoming)

45+ Institutes

15000+ Full-Time Students
The University has made Domain Skills, Soft Skills, and Industry Interface an integral part of its Curricula. Besides, the University aims to develop world-class Entrepreneurs with its focus on Entrepreneurship Skill Development with International Exposure.
MISSION:
Talking about the mission of the University, Sahila said that Rayat-Bahra Group aims to become a channel for giving a national and international voice to innovation and ultimately play a lead role in placing India on the global forefront by providing skilled human resources for the job market.
VISION:
To provide value-based and affordable education to those who are keen to learn, discover, explore and to develop the talents of those who are desirous of outstanding achievements in all fields, thus building one of the world's great educational set up for the 'Good of All'.
Careers360: What kind of infrastructure can students expect at the institute? Please elaborate.
Sahila: We believe that 'infrastructure' is not only restricted to buildings, construction and technologies, but also includes soft 'infrastructure' such as communication, language skills, commerce and information technology. It has been a thrust area for the University to provide adequate infrastructure to our students to explore new-age technologies on campus. In this regard, apart from the usual labs on various technologies, we are coming up with a "Technology Experience Center" on campus which will host 6 high-end technology labs focused on new-age technologies. This center will help students to do hands-on application based research on campus and prepare themselves for industry specific jobs.
Careers360: Industry interaction is being stressed by the AICTE as well as companies that recruit. What are the steps being taken by the institute in this direction?
Sahila: University has taken following steps in ensuring a strong industry interaction on campus for the students:
1. Curriculum has been revamped (in consultation with industry experts) to embed / integrate industry specific technologies. This is the first step where industry interaction happens on campus.
2. Faculty Development Programs (FDPs) have been planned / organized on new-age technologies so as to enable them to take up challenging projects with students on those technologies. They have been encouraged to take up global industry certifications so as to get accepted by the academic ecosystem as technology SMEs.
3. Regular hands-on workshops have been organized on the latest technologies to be delivered by industry experts so as to prepare our students for the futuristic placement opportunities as soon as they graduate from our University.
Careers360: Internships are now mandatory as per AICTE guidelines. Does the institute help students with this? If yes, how?
Sahila: Yes, the university facilitates the activity of Internships for the final year students. We have a list of industries who have been approved by us where students can do their internships. Career center has been working with USET to ensure 100% internship opportunities to be provided by the University from the academic year 2020.
Careers360: Can you please share details if there is any collaboration with universities abroad?
Sahila: RBU presents an opportunity to experience global education. The University sponsors advanced learning for interested students, through its links with foreign universities – helping them experience an international education and a different culture – thereby raising their calibre to be at par with the best in the world. Students of RBU University who avail this opportunity will acquire an enriched experience.
The university offers various programs under this scheme:
Semester Abroad Program
Under the Semester Abroad Program the students are allowed to take-up a few courses and /or a Major project in reputed foreign universities for one semester. The credits earned in the foreign university through the semester exchange program will be translated into RBU credits, by an approved conversion procedure, and taken for consideration for the award of the degree by Rayat Bahra University. After the study period at a foreign university, the students return to RBU to continue with the degree program for which they were enrolled, and after fulfilling all the necessary conditions laid out in the regulations of RBU, the student will become eligible for the award of the degree.
Duration of the program: 6 months.
Credit Transfer
Credit Transfer / Transfer programs allow Partnering Universities to offer Bachelor's (UG) and Masters (PG) degree programs which will have their regular curricula. The existing curricula may be supplemented by additional curricula of the partnering universities if desired by RBU. Through twinning / transfer programs, RBU students will be able to earn several credits during the course of their normal study in RBU. Students will have the opportunity either to complete their studies in RBU or to transfer their credits to the partnering universities at any time after completing two year of their studies in RBU. Students, who opt for transfer, can then finish their degree programs by completing the remainder of credits in residence at the partnering universities.
Duration of the program: 1-2 years.
Summer School Program/ Summer Camp
Summer study abroad programs are a fantastic opportunity to travel, experience another culture and earn academic credit in a shorter period of time than a full semester. For students with rigorous academic schedules and limited budgets, RBU offers summer programs. Often students who choose to do summer programs end up studying abroad again for a second summer, a semester or full-year.
Duration of the program: 7-30 days.
International Internships Program
An internship abroad could be a great opportunity to not only develop professional knowledge but also expand your academic and cultural horizons. During your international internship, you could be placed in a field relevant to your studies. There, you may have the chance to participate in the day-to-day work environment and use your abilities in a real-world setting.
Duration of the program: 30-45 days.
Voluntary International Internship Program
These internship programs are offered through AIESEC. It's a non-political, independent, not-for-profit organisation run by students and recent graduates of institutions of higher education. Since we were founded in 1948, we have engaged and developed over 1,000,000 young people who have been through an AIESEC experience.
Duration of the program: 30-45 days.
Higher Studies with RBU Partner Universities
RBU offers you a variety of programs to pursue your master's and doctorate programs in different universities across the globe. With this collaboration, students will get different academic and non-academic scholarships.
Currently, the university is collaborated with the following partners:
Existing partners:
1. Pepperdine University, USA.
2. Clemson University, USA.
3. Ural Federal University, Russia.
4. CIMT College,Canada.
International Internships partners:
1. AIESEC.
2. PAX Edutainment.
Ongoing partners:
1. Lakehead University, Canada.
2. University of Huddersfield, UK.
3. Cardiff Metropolitan University, UK.
4. Virginia International University, USA.
5. Swinburne University, Australia.
Rayat Bahra University, Mohali Updates and Articles
Careers360 presents the placement statistics of the Rayat Bahr...
17 Mar 2020