Revision Tips for JEE Main 2020 by Brajesh Maheshwari, Director, Allen Career Institute
Revision Tips for JEE Main 2020 by Brajesh Maheshwari- National Testing Agency will conduct JEE Main 2020 April session exam from July 18, to 23. So, now around 2 months are left for the exam. Since the exam is approaching, candidates are looking for a revision strategy or plan for JEE Main 2020. As Careers360 team have been interacting with different experts to solve your queries, in the same series we conducted a live interview with Brajesh Maheshwari, Director, Allen Career Institute. Mr Maheshwari spoke about JEE Main 2020 revision plan for 2 months along with providing other preparation tips for the exam. Read the full article to know about the JEE Main 2020 revision tips provided by Mr Maheshwari.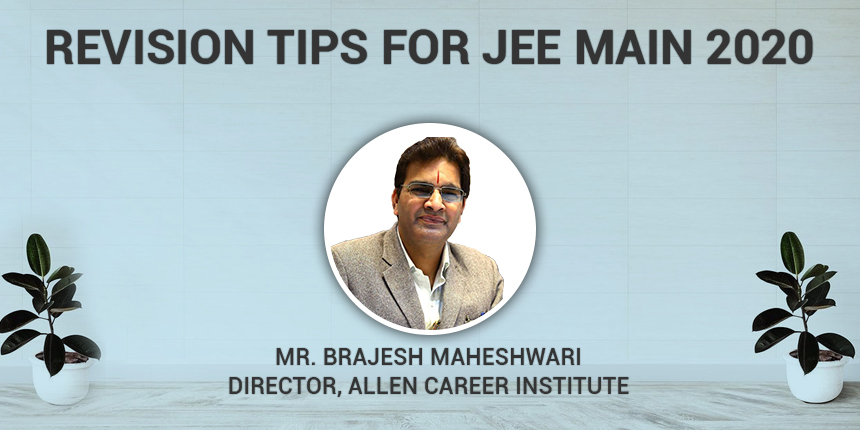 Check the live interview here
JEE Main 2020 Revision Plan by Brajesh Maheshwari
According to Mr Maheshwari, JEE Main 2020 revision is just a reverse cycle i.e. exactly opposite to what candidates did in the beginning of their preparation. Revision is all about moving from questions to theory again. Following are some of the revision tips suggested by him-
Previous Year Papers- According to Mr Maheshwari, candidates should start their JEE Main 2020 revision by attempting previous year papers and understanding the type of questions and level of questions asked in the exam in the previous years. Practicing these questions will boost the confidence of the candidates.
Moving from questions to theory- Now, when candidates have solved previous year papers, they should start to move towards theory from the questions. It means now candidates should focus on the theory of the chapters, it will help them to memorize the theoretical part.
Go through your notes- Revision simply means to go through the notes once. Candidates should just read everything again so that they can recollect everything. Also, it is impossible to study everything the way they started so revising through their notes is more beneficial. Also, candidates have many important short notes with them like important formulas, concepts, etc. It is advised that candidates should revise these short notes thoroughly.
Focus on Weak Chapters-During revision, candidates should focus on their weak chapters and should start their revision with weak chapters first. This is because even if you are unable to complete the revision of the entire JEE Main syllabus, you will be done with your weak chapters.
Sample Tests or Mock Tests- Practice more and more JEE Main 2020 mock tests and sample papers during revision. These mock tests and sample papers are based on the actual pattern of the exam. Mock tests give the real feel of the examination to candidates along with increasing their speed and time management skills. Candidates are also able to analyse their performance by attempting these tests.
Mr Maheshwari said that this JEE Main 2020 revision plan is also applicable to candidates who were earlier not preparing for the exam or have not joined any coaching. They can follow the same plan as they have completed their class 11th and 12th syllabus. Such candidates should focus more on previous year JEE Main question papers.
You may also like-
JEE Main Revision Tips by Pramod Maheshwari (CMD, Career Point Group & Chancellor, Career Point University)
Questions related to JEE Main
Showing 96601 out of 96605 Questions