Principal Interview: R.S Kumar, Easwari Engineering College
Choosing an engineering is not an easy task; candidates have to look for different aspects while choosing a college for them. Due to the large number of colleges, candidates often confuse which one to choose and which not. But, what is the right way to select an engineering college? How does a student choose the right college for him/her? Well, only proper research can only help students to make the right decision. Careers360 team have been providing various information about the top colleges of the country through different interviews and in the same series here we present a Principal Interview. We conducted an interview with Dr. R.S Kumar, Principal, Easwari Engineering College, Chennai to know about the institute, its facilities, international collaborations, placements and much more. Read the full interview below.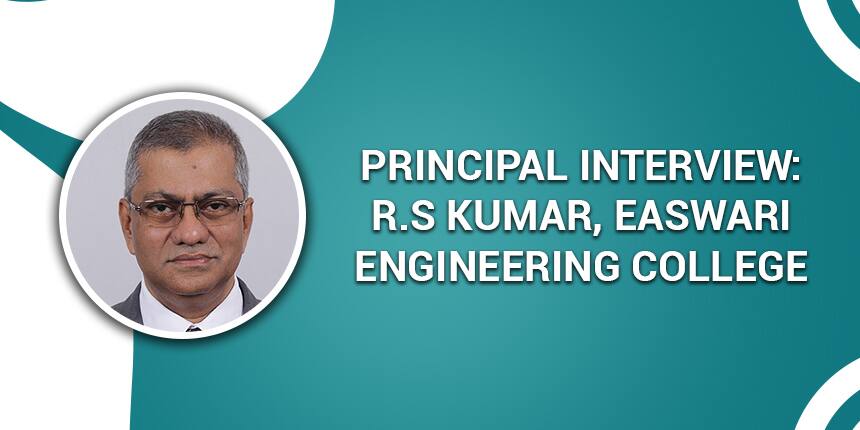 Careers360: Tell us something about the Institute, when it was set up, vision and mission?
R.S Kumar: Easwari Engineering College was set up in 1996. All the eligible UG courses are accredited. We have also introduced 3 new courses to meet the current industry requirements- B.E in Robotics and Automation, B.E in Biomedical Engineering and B.Tech in Artificial Intelligence and Data Science.
Vision :
To accomplish and maintain international eminence and become a model institution for higher learning through dedicated development of minds, advancement of knowledge and professional application of skills to meet the global demands.
Mission :
Easwari Engineering College strives to set high standards of comprehensive education by developing the intellectual strength of students and guiding them towards technical advancement.
Synergize the efforts of various departments, inspire creativity and foster excellence and innovation in teaching and learning so as to realize our vision as a Premier Engineering Institution.
Nurture the development of mind, skill, and attitude and core competence of students and produce graduates of International distinction, committed to integrity, professionalism and lifelong learning by widening their knowledge horizons in range and depth.
Careers360: Tell us something about the admission process ?
R.S Kumar: Easwari Engineering College is an autonomous, self-financed college affiliated to Anna University. 50% of the strength is admitted through a single window system managed by DOTE (Directorate of Technical Education). Rest 50% seats are filled through Management Quota. A student needs to register through the official website of the college.
Careers360: What kind of infrastructure can students expect at the institute ? Please elaborate ?
R.S Kumar: The institute is within the city of Chennai and is well connected by more than 100 air-conditioned (A/C) buses on multiple routes. This is a green campus. All the eligible UG courses are accredited by the NBA. The institution is accredited by NAAC.
Careers360: There is a lot of stress that is being created with regard to interaction with the industry as well as companies that recruit. What are the steps being taken by the Institute in this direction?
R.S Kumar: Placement of the college is more than 90%. The institute and the departments have a healthy relation with different industries. All the departments have signed many working MOUs with relevant industries. Students can go for internships. There is a continuous engagement with the industries, faculty and the departments. In addition to this, Industry personnel also conduct co-learning which is part of the syllabus handled by the industry. Students undergo industry visits. Students and faculty also do joint projects with the industries.
Careers360: Internships are now mandatory as per AICTE guidelines. Does the institute help students with this ? If yes, how ?
R.S Kumar: In the Autonomous Regulations R-2019, major impetus is given to internships. Students can do 2 weeks / 4 weeks / 6 weeks internships with industries. Autonomous Regulations R-2019 enables the student to drop one professional elective in lieu of 6 weeks internship.
Careers360: Can you please share the details if there is any collaboration with universities abroad?
R.S Kumar: We have exclusive international relations departments that take care of collaborations with abroad universities for our students' benefit. At present we have collaborations with 18 universities such as Taylors, Le CNAM, UCAM and etc., across the world.
Careers360: Please share the placement statistics with information on the average package, highest and lowest package, and number of students placed and details of the companies that have recruited.
R.S Kumar: Average package – 3.5 LPA
Highest package – 28 LPA
Lowest package – 1.8 LPA
| | | |
| --- | --- | --- |
| Year | No. of Companies visited | No.of Offers |
| 2019-20 | 310 | 701 (on Progress) |
| 2018-19 | 275 | 920 |
| 2017-18 | 251 | 1102 |
Easwari Engineering College, Chennai Updates and Articles
Questions related to Easwari Engineering College, Chennai
Showing 45 out of 45 Questions