In the late 17th century, electricity became a subject of scientific interest with the work of William Gilbert. A number of important discoveries, including the incandescent light bulb and the voltaic pile were made over the next two centuries. Most importantly, the greatest discovery in the field of Power Engineering can be traced back to times of Michael Faraday. According to Michael Faraday, a change in magnetic flux induces an electromotive force in a loop of wire. This principle is known as electromagnetic induction. It helps to explain how generators and transformers work. Since then, power has been proved as lifeblood of any organization. Power is not only required for keeping the lights on but also required for all mechanical, electrical and electronic operations. For effective and efficient generation, delivery, and utilization of electric power, energy remains one of the most challenging and exhilarating fields of electrical engineering.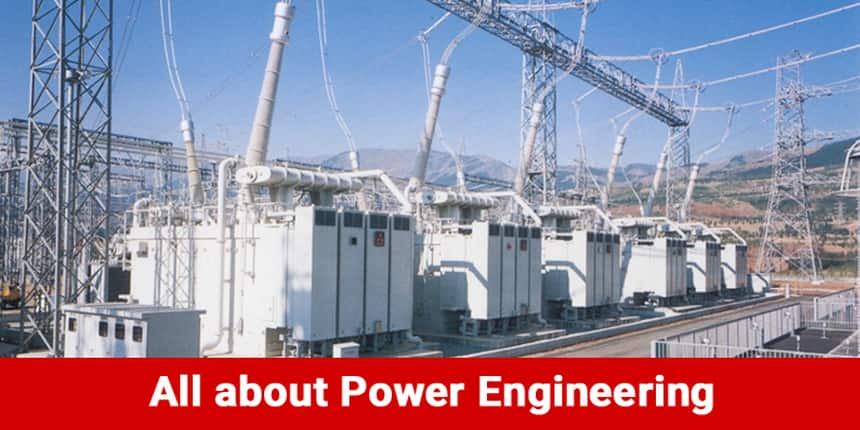 Power Engineering focuses on network of interconnected components for conversion of different forms of energy to electrical energy. Power Engineering has been divided into four main subsystems, including:
Generation subsystem

Transmission subsystem

Distribution subsystem

Utilization subsystem
Global issues like climate change, scarcity of water and energy have compelled the individuals to take the last resort of electrical energy generated with sustainable technologies. Certified power engineers are highly required for operational management, maintenance, renovation, and repair of boiler systems and other mechanical systems.


Speaking on "Smart Grid", F.C. Kohli, founder, Tata Consultancy Service described the concept as the one to achieve intelligent power system, optimum efficiency, reliability, security and stability in generation planning, transmission and distribution.


Curriculum
The course curriculum for Power Engineering is primarily designed to prepare the students for leading edge positions in various fields, including electric power, power electronics, motor drives, and electric machines. The course content also focuses on a wide range of vital concepts, including structure of power systems, fundamentals of AC circuits, mathematical notations, balanced three-phase systems, components of power systems (generators, transmission lines and transformers), etc.


Eligibility
Candidates who wish to pursue Power Engineering should have passed Higher Secondary Board Exam from a recognized board in India with aggregate 50 percent marks in Mathematics, Physics and Chemistry.


Personal skills required for pursuing Power Engineering
Problem solving skills

Monitoring skills

Troubleshooting skills

Attention to detail

Analytical skills
Core Subjects
Fluid machinery

Engineering thermodynamics

Materials science and technology

Renewable energy systems

Hydro power generation

Theory of machines

Nuclear power generation

Digital electronics & integrated circuits

Heat transfer

Electrical machines

Microprocessor and microcontroller

Generators and its auxiliaries

Electrical equipment in power station

Transmission and distribution

Control system

Advance power generation technology

Protections & instrumentation

Internal combustion engines

Power system operation

Thermal power plant operation & Maintenance

Operations research and industrial Engineering
Higher Education
After completion of B.Tech/BE, one can also opt for M.Tech/MS in various specializations. For M.Tech/MS degree course, candidates are selected on the basis of GATE score. However, candidates with exceptional performance in their qualifying degree are offered direct admission in some institutes. Many engineering colleges also offer M.Tech/MS programme in Power Engineering with different specializations. PhD programmes are another option. The IITs and NITs are among the top premier institutes that offer M.Tech courses in Power Engineering .
Job prospects
Job prospects for Power engineers are growing tremendously. As an emerging economy, India's power sector is gaining momentum. In terms of electricity generation, India is the 5th largest producer of electricity in the world. For India's economic growth and development, electricity will continue to remain a key input. By 2016-17, the demand for electricity is likely to reach 155 GW.
India has a huge hydro power potential of 148 GW. To revive hydro power segment, the Government of India has introduced Hydropower Purchase Obligation (HPO) plan to obligate the power distribution companies to purchase power from hydro power plants. Many private players are also actively engaged in the generation and distribution of the power.
For effective solutions, the sector needs professionals from various subjects of study, including Engineering, Finance, Commerce, Logistics, Human Resource and Law. Most of the public sector companies, including National Thermal Power Corporation, Power Finance Corporation and Power Grid Corporation of India Limited etc. require professional with degree in Power Engineering.
In the next 10 years, the power sector will have a fabulous growth, says Jayaprakash Gandhi, Career Consultant and Analyst. To cope with the changing demands, the State Electricity Boards are engaged in structuring themselves efficiently.
If you have successfully completed your degree in Power Engineering, you will get job opportunity with reputed Indian companies like BEL, BHEL, DRDO, HAL, DMRC, ISRO, NTPC, Power Grid Corporation, NHPC, Jindal Steel & Power, Reliance Energy, etc. Some top international recruiters include Alstom, ABB, Ameren Corporation, American Electric Power, Areva, Babcock & Wilcox, Bechtel, Black & Veatch, Burns & McDonnell, etc.
Job Profile
Steam engineer

Stationary engineer

Operating engineer

Steam plant operator

Boiler operator

Refrigerator plant operator

Project Head

Chief Engineers

Workshop Manager

Operations Manager

Verification Engineer

Engineering Technologist

Development and Test Engineers

Electrical Product Design Engineer
Top Institutes
Top recruiters
Bharat Electronics Limited

Bharat Heavy Electricals Limited

Defence Research and Development Organization

Hindustan Aeronautics Limited

Welcome to Delhi Metro Rail Corporation

Indian Space Research Organization

NHPC Limited

Jaypee Group

Jindal Steel & Power Ltd

Reliance Energy