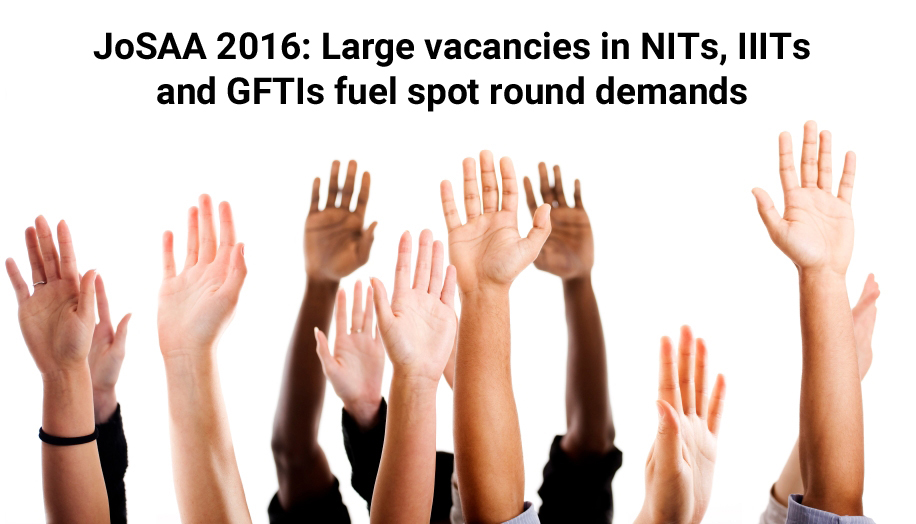 With more than 3000 seats remaining vacant in NITs+System after sixth and final round of counselling, many candidates and parents have demanded a spot round which can bring opportunities for thousands of students to get coveted seats in the top engineering institutions. According to officials, the large number of vacancies were caused as candidates who had been allotted the seats online in the last round didn't turn for the final reporting at their respective allotted institutes.


"I missed admission opportunities in NITs as my rank was a few hundreds below than the cutoff for NIT admissions. Now, since thousands of seats have remained unfilled, I must get admission chance against the vacant seats," said Pratik Seal who is still hopeful for an NIT seat.
Careers360 helpline has already received hundreds of queries regarding possibilities of spot round for admission into NIT+System.
As per the available records from JoSAA authorities, as on July 29, NITs have a total vacancy of 1518 seats after the 6th and final round of seat acceptance. Similarly, the total vacancies in IIITs and GFTIs are 407, 1174 respectively.
While this year, two more rounds of seat allotment were done under JoSAA as compared to last year, it does seem to have hardly helped the seat vacancy crisis at NITs, IIITs and GFTIs. In the similar situation last year, JoSAA had announced a special round of counselling for 'NIT+System' for the large vacancies after 4th and last round of scheduled counselling.
Ramesh Parihar, who is still to decide on engineering admission for his son, argued that there is no reason why government should not announce a special or spot round this year. "The seat vacancy is huge at NITs, IIITs and GFTIs this year as well. In a similar situation last year, the MHRD had announced a spot round which benefitted thousands of students. The government must be announcing spot round again this year so that thousands of meritorious students who waited in the rank list can get admission opportunity."
Anushka Sahu from Kota is also hoping for a spot round, she said, "As per the business rules given on the JoSAA's website, no spot round is scheduled. But last year also, the officials did the same. They had specified that no spot round would take place, but owing to the large number of seats remaining vacant, that too in the top branches (CSE, ECE, etc.), they had come up with it. And finally, though late, it was conducted. So, it can be conducted this year too."
Many candidates said they are formally writing to MHRD and JoSAA authorities for a spot round which can save their precious academic year. "I am also going to write to MHRD and JoSAA for immediate announcement of a spot round. The large number of vacancies at NITs, IIIts and GFTIs is a process flaw and for now the spot round is the only solution that can help candidates like me," said Gaurav bhatt, who missed the cutoff for an IIIT in the 6th round of seat allotment by just a few ranks.
Last year, the seat allotment was restricted to 3 rounds for IITs and 4 rounds for NITs, IIITs and GFTIs. With more than 3000 seats remaining vacant in NITs, IIITs, and GFTIs after fourth round of counselling under JoSAA, Central Seat Allocation Board (CSAB) had announced a special round of counselling from August 9 to 11, 2015. The 'Special Round of CSAB 2015 for NITs+ systems' was announced after MHRD intervened into the matter and asked CSAB Core Committee to find feasibility for the same.


As per the earlier announced schedule, JoSAA had allowed 6 rounds of seat allocation for IITs and 'NIT+System'. There was no additional round for NITs, IIITs, GFTIs. The sixth round of seat allocation was announced on July 19 and subsequently the seat acceptance deadline ended on July 20.
This year, JoSAA has conducted seat allocation process for a total of 34,895 seats at Indian Institutes of Technology (IITs), NITs, IIITs and GFTIs. While the total number of seats for 23 IITs was 10,572, the 31 NITs had a total seat capacity of 18,013.
Also Read:
JoSAA 2016: 3,100 seats remain vacant at NITs, IIITs, GFTIs, say officials
JoSAA 2016 Admissions: Over 1,500 seats remain vacant across NITs
IIT admissions 2016: Vacancy increases by 100 per cent at IITs

Stay tuned to engineering.careers360.com for more news and updates on NIT Admissions 2016.
JEE Main Sample Paper
Download Free Sample Paper for JEE Main
Download Now
Questions related to JEE Main
Related E-books and Sample Papers