Nano Technology Engineering


Nanotechnology is the formation of structures at a molecular level and testing the complex machines at the level of molecules which are measured in nanometers only. In other words 'Nanotechnology' also refers to the estimated capability to build items or products by using scratch and making use of various tools and techniques to make and complete, high quality performance products. Research in the field of nanotechnology has been rising by leaps and bounds over the years, though the technology is only in its emerging stage. It has found its usage in various fields including electronics, power generation and many other industrial segments. The possible applications of nanoscale devices in the field of medicine are mind-boggling and make one wonder if they are caught in the middle of a science fiction movie.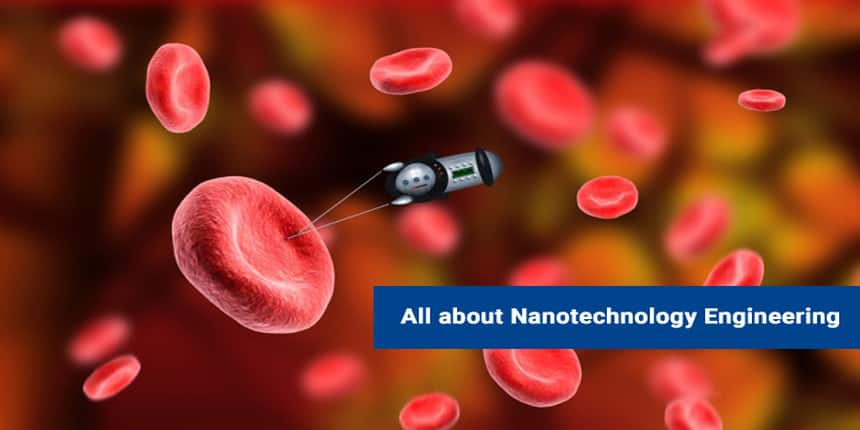 Nanotechnology is one of the promising fields in science and technology and is also bound to bring wide range of changes around the sphere. In India the impact of technology is estimated to be larger than both IT and internet. The Indian government has initiated many policies and programs to widened the scope of Nanotechnology.
Curriculum
The curriculum for Nanotechnology Engineering is designed to train the aspirants to inculcate knowledge on various concepts including, fundamental chemistry, physics, and engineering of nanostructures and nanosystems. The students are also taught four fundamental concepts of Nanotechnology Engineering, including micro and Nano-instrumentation, Nano-electronics, Nano biosystems, and Nano-engineered materials.


Eligibility
Candidates who wish to pursue Nanotechnology Engineering should have passed Higher Secondary Board Exam from a recognized board in India with aggregate 50 per cent marks in Mathematics, Physics and Chemistry.


Personal skills required for pursuing Nanotechnology Engineering
Keen interest in science and engineering

Excellent positive attitude

Analytical skills

Communication skills
Core Subjects
Materials Science

Principles of Environmental Science

Biology for Engineers

Elements of Nano science and

Nanotechnology

Statistical Mechanics and Thermodynamics

Fundamentals of Solid State Technology

Properties of Nano materials

Quantum Mechanics

Synthesis of Nano materials

Foundation of Nano scale Science and Technology

Electronic and Optical Properties of Material

Material Science

Non-conventional Energy Sources

Nano Measurement

Atomic and electronic structure of matter

Experimental Methods In Nanotechnology

Bioengineered Nano materials
Higher Education
A majority of the institutions in the country offer M.Tech in Nano science. Bachelor's degree in Nanotechnology or Nano science is not mandatory. You have to either be a B.Tech or BE or hold a first class Master's degree in basic or applied sciences. Depending on the research specializations, institutions prefer either science or engineering graduates. Private universities mostly offer Master's in nanoscience.


Some of the NITs offer M.Tech programmes, which are relevant for Nanotechnology engineers especially if you are GATE/CSIR/ JRF qualified candidates. Naresh Yadav, an alumnus of NIT, Bhopal says that in terms of facilities, one can never beat the IITs or IIScs. But still his institute did have a very good faculty. You can always enroll for a PhD programme at the IITs. A few private universities like Amrita, Amity and SASTRA offer good facilities, but are relatively expensive. The expenses can be met to a certain extent if you manage to work as a project/research associate. But these positions are available only for PhD programmes.
Research interests can be pursued after completing Bachelor's Degree studies by enrolling for Master's/Doctorate programmes at several centres. Some of such centres are: IISc (Indian Institute of Sciences) in Bangalore, CRNTS (Centre for Research in Nanotechnology & Science) at Indian Institute of Technology – Bombay, IIT Roorkee etc.
Job prospects
Nanotechnology offers jobs in diverse sectors from medical to agricultural. The technology offers green and clean alternatives to the existing ones. Government and private institutions in both India and abroad are taking huge initiatives to promote the technology. For instance, Department of Electronics and Information Technology took up "Nano Mission" in 2007 to encourage research collaborations and education in this field. TERI (The Energy and Resource institute) in Delhi envisages it as a cleaner technology to address environmental concerns.
Nanotechnology graduates are skilled to join companies as scientists or executive managers. Specialized knowledge is essential to acquire any professional role in this field. The major areas where qualified professionals are in great demand such as nanomaterial, Nano electronics and Nano biotechnology. These sectors manufacture over USD 100 billion worth coatings and composites for applications in sectors like automobiles, textiles, aerospace, and consumer durables amongst others.
In Nanobiotechnology, some of the areas where research is going on are Nano medicines, non-invasive surgery, suture less surgical applications, targeted surface medical applications, Nano probes etc.
Thus, career choices depend on your interest and area of specialization. Candidates with an M.Tech/PhD in material sciences stand a good chance of a vibrant career in all these sectors. Job opportunities could either be in firms that develop nanomaterial or in the user sectors or as a specialist involved in application development.
Job Profile
Nanotechnologist

Microfabrication Engineer

MEMS Device Physics Engineer

Principle Scientist

Nanotech Senior Researcher

Near Field Semiconductor Engineer

Research Scientist: Nano scale Thermal Transport
Top Institutes:
List of Major research centres
| | |
| --- | --- |
| 1. | Agharkar Research Institute, Pune |
| 2. | Bhabha Atomic Research Center, Mumbai |
| 3. | Centre for Nanoscience & Nanotechnology (U.I.E.A.S.T.), Panjab University,Punjab |
| 4. | Centre for Nanoscience and Nanotechnology, Bharathidasan University, Tiruchirappalli |
| 5. | Centre for Nanoscience and Nanotechnology, Jamia Milia Islamia University |
| 6. | Centre for Nanoscience and Technology, Chennai |
| 7. | Centre for Research in Nanotechnology & Science, IIT Bombay |
| 8. | Department of Center for Nanosciences and Nanotechnology, University of Mumbai |
| 9. | DRDE (Defence Research and Development Establishment), Gwalior |
| 10. | Indian Institute of Science, Bangalore |
| 11. | |
| 12. | |
| 13. | National Centre of Biological Sciences, Bangalore |
| 14. | National Chemical Laboratory, Pune |
| 15. | National Institute of Pharmaceutical Education and Research (NIPER), Chandigarh |
| 16. | National Metallurgical Laboratory, Jamshedpur |
| 17. | National Physics Laboratories in Delhi |
| 18. | SN Bose National Centre for Basic Sciences, Kolkata |
Top Recruiters