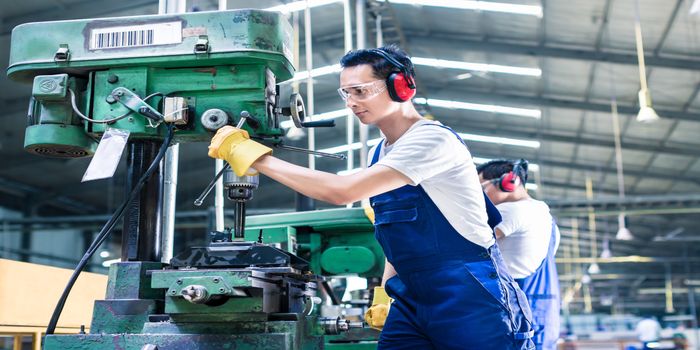 In the olden times, you could hear the din from a factory from a long way off, and its chimneys spewing black smoke; but not any more. Skilled employees, advanced technology and high-tech tools mark the present-day manufacturing units. Engineers and managers are the movers and shakers of this sector, but there has been a change in what is sought from them. The sector has moved on with times and so has the skills-sets and qualifications it requires. "Students today need industry-aligned programmes which employ special teaching methodologies that include online learning, practical training, industry tours, internships, research projects and live projects, to stay relevant as per future needs," says Dr. Deependra Kumar Jha, Vice-Chancellor of University of Petroleum and Energy Studies, Dehradun.
Demand for jobs in manufacturing

Manufacturing sector constitutes about 15 percent of India's GDP and the government aims to take this figure to 25 percent by 2022, which will further boost demand for jobs in this sector. With the push towards developing smart cities and boosting infrastructure, the manufacturing ecosystem of India is looking forward to a phenomenal shift, not just from policy corridors, but also the talents which fuel this industry.
Manufacturing sector covers a range of industries, including electronics, aerospace, automotive, cement, steel, textile, leather and footwear and many more. One can choose a career with core manufacturing companies such as Telco, TISCO, Maruti or IT-based manufacturing companies of the likes of TCS, Wipro, Accenture and IBM.
The manufacturing conglomerates are beefing up their talent acquisition with engineering students in production operations, R&D, CRM and ERP development and other departments, for the positions of Junior Engineer, Process Engineer, Researcher, Plant head, Project Manager etc.
As per the level of qualification and expertise, management students are being hired in portfolio management, mergers and acquisitions, consulting, supply chain management and human resource divisions, among others. They can find positions as factory manager, manager procurement, business development manager, regional sales manager, business analyst et al.
Degrees required
Qualifications sought from engineering students in the manufacturing sector include B.Tech or BE degree in Mechanical Engineering, Industrial & Production Engineering, Electronics, Metallurgy, etc. Besides that, graduates with B.Tech or BE in Information systems, IT, Computer Science degrees can find employment in the IT division which is flush with opportunities since manufacturing companies are now highly focussed on maintaining a robust IT department. To get an edge in the industry, engineering students can also go for Six Sigma Black Belt certification from institutions like ASQ, BMG, ISI, etc.
Management students are expected to have a basic understanding of the technicalities involved in the manufacturing sector along with the knowledge of the supply market. Undergraduate students with BBA degrees would typically be required to top up their education with industry experience before they formally begin their career. Students can go for internships to become industry-ready as it would help them make the right transition from university life to the corporate world. For mid-level positions, it becomes necessary to possess either significant years of experience or an MBA or PGDM.
Essential skills
There has been a shift in the type of skills demanded by the industry, with more focus on tech talent. For all positions, a keen interest and understanding of IT will help aspirants carve a successful career path. Engineers, managers and business developers with a digitisation drive, and engineering and management principles at their core are majorly in demand. Besides that, analytical, communication, problem-solving, ability to learn are some skills which have become the essential prerequisites of an ideal candidate. "Often, the difference between a candidate's success or failure at an interview depends on soft skills. Design Thinking is an emerging field of knowledge and is the order of the day. Through design thinking modules, students learn and develop the necessary skills required for problem-solving, constructive and analytical thinking, and development of knowledge through creative learning experiences. Students can attend design thinking workshops or enrol themselves in the course which can enhance their job-preparedness," says Dr. Jha.
The demand is also up for specialised skills in consonance with Industry 4.0 such as knowledge of cloud computing, Internet of Things (IoT), developing algorithms and computer powered processes. Most industries are shifting their processes towards these technologies, and possessing these skills will be advantageous.
Career progression
With 3-4 years of experience, engineering students can go on to become team leaders and thereupon managers in their respective areas of expertise. Going for advanced degrees, i.e. M.Tech, MSc and PhD will help students progress in their careers. Those from IT backgrounds can go for MCA degree. Similarly, management graduates who have the knowledge of their domain and advanced qualifications can easily climb the career ladder in the manufacturing industry.
Salary
Depending upon the qualification, institution one has studied from and level of knowledge, a fresh engineer can earn between Rs. 2.7 to 5 lakhs per annum in the industry, while a fresh management undergraduate is likely to start with a salary ranging between Rs. 2 to 4 lakhs annually. Experienced professionals can easily fetch a salary of Rs. 7 lakhs per annum and upwards.
Column by Dr Yajulu Medury, Director (Mahindra École Centrale)
The engineering space has changed drastically in the last decade or two. From a limited number of courses to a current vast variety of disciplines, today Engineering education space is multi-disciplinary. 50 years ago engineering was more manufacturing oriented. Today the services sector has grown from 10% to over 60%. The application context of engineering has changed, but our education still lacks the dynamism to evolve and cater to what market forces are demanding. With the regulators dictating the syllabus, even good colleges that could provide an education on par with global standards are being held back.
As a concerned educator, I believe that the focus should be on creating an unparalleled global engineering education system that focuses on topical curriculum and equipping students with the globally required skill sets for not just today but also tomorrow. I have been a part of leading engineering schools for a long time and witnessed the issues of the syllabi not being in sync with the ground realities across the Engineering Education sector first-hand. Periodic revision of the curriculum after benchmarking it with the top global schools and taking inputs from industry and practitioners will ensure that our education remains relevant. Faculty and Student exchange programs not just with academic institutions, but also with corporate and research labs can help propagate the concept of global values and ways of working.
Interview of Milind Apte, Senior Vice President- Human Resources (CEAT Ltd.)
Careers360: What do you look for in a candidate when you recruit for India positions?
M. Apte: We look for people who dream big, are challengers, result oriented along with being open. We are a people-centric organisation. Hence, we have created a CEAT persona, of which being a cultural fit is critical. We believe that a team makes a difference and not individual rock stars. Hence, individual rock stars also have to be team players. The values, attitude, customer-centric mindset and reaction patterns across pressure situations are critical to us.
Careers360: What are the HR perspectives you keep in mind while going for campus recruitment?
M. Apte: We look for people who are keen to experiment and try new things, want to step out of their comfort zone and challenge the status quo and who will infuse energy into our organisation. This means they have to be go-getters, risk takers, flexibility to move across values and check if one makes individual achievement prime.
Careers360: Could you briefly outline your India recruitment policy?
M. Apte: We believe in proactive talent acquisition – meeting current needs and investment for future. We have decided to be diverse in our talent hiring as we feel there is value to differentiated thought. Our overall primary source of hiring is our own internal talent. Campus recruitment is core to our talent pipeline. This includes our engineer trainees, management trainees and diploma engineers. We then use other mediums like references from our own employees for which we have a formal platform in CEAT and also at the RPG Group level. Placement consultants also have been a backbone to our hiring and we are looking to increase our hires through social media too.
Careers360: Do you have any training programmes to make them job-ready?
M. Apte: In order to be a fit one needs to have functional competent and assimilate the culture. We have a competency framework, which is used to assess candidates. If selected, we refer to the assessment of these competencies and provide training inputs to strengthen them. We have a robust six-month plan for people who join the organisation. After this, there are regular touch points to ensure a smooth transition into new roles. For our engineer and management trainees, we have a year-long program which prepares them for their specific roles.