Last week preparation tips for JEE Main 2021 by Prof Uma Shankar Manchella
JEE Main preparation requires students to be determined and dedicated to studies. The syllabus for the exam is vast covering the entire Mathematics, Chemistry and Physics part of Class 11 and 12. The questions in JEE Main are framed tough which tests the basic understanding of aspirants in Mathematics and Science. Students are thus advised to prepare for the exam in a strategic, planned and effective manner to crack JEE Main. To help students prepare for JEE Main, Careers360 interacted with expert faculties of Sri Chaitanya Educational Institutions through a live webinar with students. Candidates are provided here the last week preparation tips for JEE Main by Prof Uma Shankar Manchella who is the All India IIT Coordinator and Senior Maths Lecturer at Sri Chaitanya Educational Institutions.
Latest: JJEE Main 2021 Application form to be released soon. Check JEE Main 2021 exam date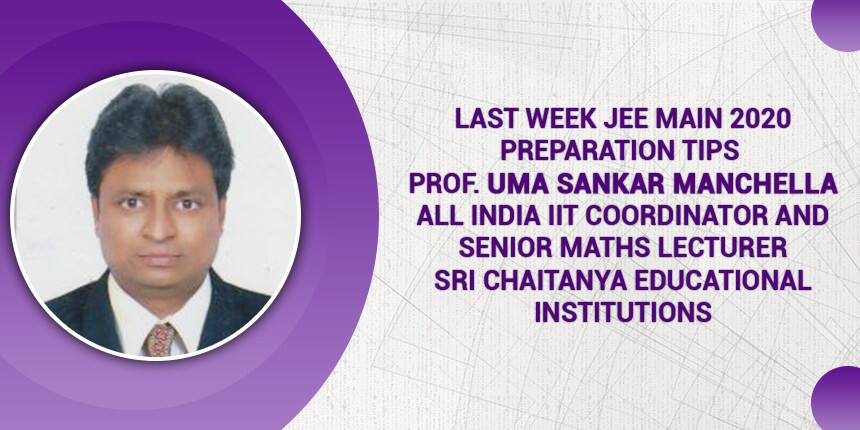 Last Week Preparation Tips for JEE Main 2021
Assuming that the student has completed the entire syllabus of JEE Main 2021 before reaching the last week of exam, here is the last week preparation tips by Prof Uma Shankar Manchella. Last week preparation for JEE Main plays a very important role in a candidate's performance during the exam. The one most important thing which applies for all is to stay calm and do away with anxiety about how the exam would go. Students only need to focus on their study and give their best in exams to crack it with a good score. The preparation tips for last week are as follows
Concentrate on Important Topics
Students must prepare flash cards or small notes for all the important topics from all subjects of JEE Main 2021. There are certain topics in every exam which have more weightage over others. All such important topics must be continuously studied and revised. To make it easier, make small notes for all important topics and stick on the wall in your place of study. Revise them whenever you get extra time for effective JEE Main 2021 preparation.
Prepare Flash Card for the Important Formulas
Important formulas for all the topics in each subject should be noted in flash cards. Formulas are something which students often forgets or applies in a wrong manner. When students put all the important formulas in flash cards and stick them on the walls where they study, it gets revised every time they look at it. In exams like JEE Main, many questions are asked which can be solved with the right implementation of formula.
-->
Don't Study New Topics
It is strictly advised not to study any new topic in the last week of JEE Main preparation. Studying any new topics may create confusion which would affect the entire study. It is thus advised to only revise the topics which you have studied and do not take up any new assignment. Also, keep study to a minimal level in the last week as it is the time when anxiety and stress peeps in. Excessive thinking on revision can also lead to confusion so study hours should be less in the last week.
Revise Studied Topics and Solve Numerical Questions
Numerical questions are a very important part of the exam. Infact, most of the questions in the exam are analytical in nature, demanding calculations at some point to come up with a solution. Try to solve as many numerical problems as you can to make concepts more clearer. Also, revise the topics with more weightage on a regular basis, topics which you often forget or have confusion should also be studied but do not take anxiety if you forget it again. Try to be more clearer on topics which are your strongest and avoid topics which create confusion.
Eat Properly, Sleep Properly and Drink Lot of Water
This is the most important part of preparation beside your studies. If you do not eat properly and sleep properly, all the hard work you have put in your preparation may result in nothing. Sleep enough, at least 8 hours every night in the last week of JEE Main preparation. Avoid eating junk food and eat healthy food items to remain healthy. Remember, improper food and sleeping habits in the last week can lead to infections or any disease.
In the last, it is advised to stay motivated, practice meditation and keep yourself away from any kind of stress and anxiety to perform well in the exam.
Questions related to JEE Main
Showing 112398 out of 112399 Questions