Last minute revision tips for JEE Main 2020
Last minute revision tips for JEE Main 2020 - The National Testing Agency is going to conduct JEE Main April 2020 session between July 18 to 23 after being postponed due to COVID-19 pandemic. The time left for JEE Main revision in this last phase is not too less but can be said as the deciding factor for many of the aspirants who are going to appear. For such candidates looking on how to utilize the time left for JEE Main, Mr. Pramod maheshwari, Chairman and Managing Director at Career Point Group and chancellor at Career Point University shares the last minute revision tips for JEE Main 2020 candidates. The article below provides on what the 60 days revision plan should be, mistakes made by candidates during JEE Main revision, separate tips for students who were focussed into board exam preparation, and much more.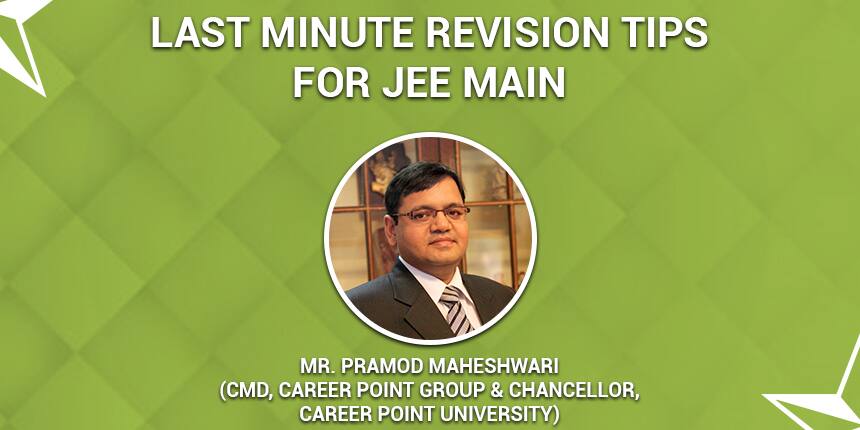 Watch this video on last minute preparation tips by Mr. Pramod maheshwari
60 Day Revision Plan
For those candidates who have gone through the syllabus and have been preparing for JEE Main 2020 for a year or two, Mr. Pramod Maheshwari suggests for such candidates to have a 60 day revision plan for JEE Main. They should make a plan for each of the three subjects of JEE Main wherein they aim to read a part of the theory and solve a few questions followed by taking a test for certain topics so studied. This routine should be followed on a regular basis. Mr. Maheshwari also suggests that this 60 day plan should be distributed on an everyday basis as well which will enhance the candidate's efficiency.
Chapter wise mock test practice
Those students who follow the above and divide their syllabus for a particular term, as the time period is available. If one starts with reading theoretical concepts followed by going through the solved examples and exercise sheet, there should be a chapter test for that particular chunk of concepts. This will help him or her in understanding the minute points of understanding in that chapter which might go unnoticed in case of full syllabus mock tests. However that chapter might get 1 or 2 questions in the exam, but if those questions belong to the minute points so referred to, it will be difficult to solve in the final examination if missed out during JEE Main last minute revision .
Mistake to avoid while Revising for JEE Main
According to Mr. Maheshwari, the mistake most of the students make during JEE Main revision of the whole syllabus after studying hard is that they focus completely upon the theoretical part. The reason being that they are in the habit of memorizing the theory because the education system, i.e. the board examination involves direct questions from theory like definitions, characteristics, etc. The formula of memorizing works for the whole of school life, which is not the case with JEE Main. In such entrance examinations, questions involve more focus upon the practical application of the theoretical concepts.
Plan for Last 15 days of JEE Main preparation
As Mr. Maheshwari suggested a 60 day plan that has been explained above, the last 15 days of that period before JEE Main examination, candidates should strive for an exam-like environment at their home only. They should start taking full syllabus mock tests at this time while with the limited time of 3 hours as will be provided in the final examination. This will help them build the right temperament required for appearing in the examination. Candidates will understand the various ways of keeping themselves calm during the examination while focussing upon the accuracy and speed.
Board students not prepared for JEE Main
There are many students who dedicate themselves fully preparing for the 10+2 board exams while completely neglecting the entrance examinations like JEE Main. Such students should not be bothered if they have not prepared for the entrance examination because as per Mr. Maheshwari, they must already be aware of the 70-80% of the syllabus and all they need to do is practise accuracy and speed. They should work upon understanding the practical application of the theoretical concepts as well.
Self Analysis
Mr. Maheshwari suggests candidates to practice more and more JEE Main mock test papers for practice and then analyze their performance. This will let them understand what kind of mistakes are occurring repeatedly. After that, they need to focus upon that area if it is a matter of not reading carefully or a particular topic that is yet to be understood in depth.
Revision Tips for students done with JEE Main preparation
For candidates who have completed the whole of JEE Main syllabus and are looking forward to last minute revision tips for JEE Main, Mr. Maheshwari advises to read the theory completely once again while not getting into memorizing. Go through the personal notes, if any, and solve chapter wise as many questions as possible. Such students should work on their momentum bringing their performance at peak by the time passes
Questions related to JEE Main
Showing 97785 out of 97786 Questions