Chitkara University - The Punjab State Legislature established Chitkara University in 2010 under "The Chitkara University Act." According to the University Grant Commission Act of 1956, the institution awards UG, PG, and PhD degrees. In order to help students get exposure to other cultures, Chitkara University offers them the chance to participate in the student exchange programmes. Most of the major cities including Chandigarh, Mohali, Ambala, Panchkula, and Patiala are within equal driving distance of the university. The university offers undergraduate, postgraduate, and doctoral degree programmes in subjects including management, applied health sciences, design, and engineering, among others.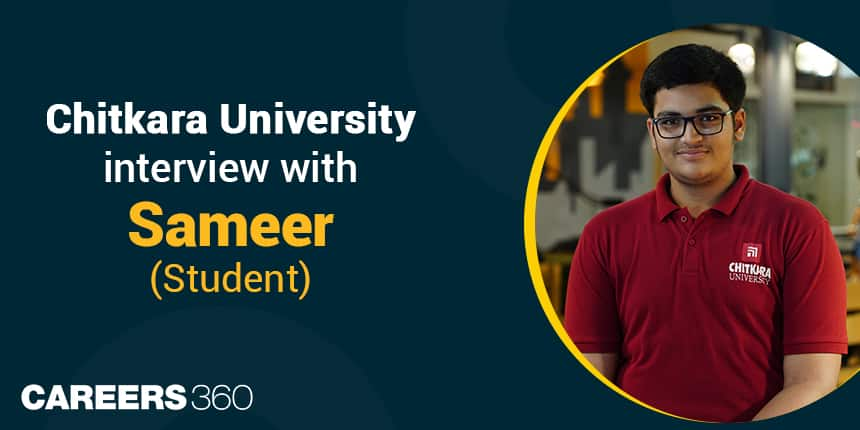 Know about Chitkara University from Sameer (Student)
Careers360 brings you an interview with Sameer, 2nd year student, pursuing his Bachelor of Engineering in Computer Science and Engineering from Chitkara University. In his interview, Sameer shares his experience of life inside the university. How did he choose the BE in CSE programme? And other important things about the university. To know more about Chitkara University from a student's perspective read the full interview of Sameer with Careers360 in the article below.
Careers360. Tell us something about yourself such as from which place are you from?
Sameer. I am Sameer from Pundri, Haryana
Careers360. Presently which course are you pursuing and in which year are you?
Sameer. I am in 2nd year pursuing my Bachelor of Engineering in Computer Science and Engineering degree
Careers360. Did you face any difficulty in the initial months when you joined the institute?
Sameer. No, I did not face any difficulty in the initial months when I joined the university.
Also Read:
Careers360. What activities are offered in the institute? Are there any clubs etc for the various extracurricular activities? Which ones have you taken up and are a part of?
Sameer. There are many activities here at Chitkara University and there are many clubs such as BNB, C2S2, GFG student chapter and many more.
Careers360. Describe a typical day at your institute – what do you do from the time you wake up till you go to sleep?
Sameer. From waking up to going to bed I do so many things: breakfast, attending lectures, lunch, then some more lectures, playing badminton, self study, dinner
See Also:
Careers360. Tell us about the faculty-student ratio here and about the teacher-student relationship in your understanding.
Sameer. There is a good number of faculty – student ratio. The teachers are friendly.
Careers360. What facilities do you have on campus? What do you like here the most which you feel is unique and differentiating?
Sameer. All the major facilities are available here at Chitkara and the infrastructure is also very good
Careers360. How comfortable are your hostels and how about the cleanliness factor over there?
Sameer. The hostels are very comfortable, I have a room with a cooler and it is sufficient to live in. The cleanliness is also very good in hostels.
Quick Links:
Careers360. What about the medical facilities? Can you avail requisite medical attention if needed in an emergency?
Sameer. Yes we can avail medical facilities such as ambulance in the university and there is a dispensary in the campus itself
Careers360. How do you balance your studies, projects, exams and other activities?
Sameer. We have classes from 9 AM to 4:30 PM and we need some time to refresh ourselves but somehow, I manage to complete the portion on time either by late night studies or by waking up early in the morning.
Careers360. Tell us about the clubs and societies at the campus and how significant are they from your point of view or students point of view?
Sameer. There are a lot of clubs here at Chitkara and it depends on students' interest in which club he/she has to join.
Careers360. Is there any in-house magazine or journal for the latest events or happenings at the institute?
Sameer. es there is an in-house magazine at the University
Other links: Chitkara University Q&A
Careers360. What are the popular hangouts at the institute? What, according to you, are the most-visited places nearby?
Sameer. Popular hangouts at the university are Tree house, Square 1, Square 2, Circle 1, Alpha Zone, Omega.
Careers360. How do you spend your leisure time at the campus?
Sameer. In Square 1 and in my room.
Careers360. Do you have any Facebook page of your campus where the students express their views, jokes or ideas, or maybe even a blog where they write about their experience of life at campus?
Sameer. There is a facebook page and also there is an Instagram page of the university.
Careers360. What type of companies come for campus recruitment and what percentage of students get placed every year? How is the recruitment process here?
Sameer. Many companies like Jupiter, Adobe, Goldman Sachs, Google, IBM, Infosys come to the university and the percentage of placements is 100%.
Disclaimer: This content was distributed by Chitkara University and has been published as part of Careers360's marketing initiative.
Other Popular Institutes: