KCET 2021 Preparation Tips By Expert - To crack the State level entrance exam KCET 2021, you need to prepare well. And this can be done more effectively if you get some preparation tips by expert for KCET 2021. With the help of the KCET 2021 preparation tips by expert you will able to make your study plan more effective, know the areas where you need to focus more, will get an idea about the topics weightage, books you can refer and much more. So, to help our budding engineers in cracking KCET 2021, Careers360 interacted with Vishnu Dev, Academic Head (Karnataka), Avanti Learning Centres Pvt Ltd to get some preparation tips for KCET 2021. Under the guidance of Vishnu, Debarsho Sannyasi bagged rank 3 in KCET 2018. Vishnu, through this article has shared some important preparation tips for KCET. Read the full article to know what are the KCET 2021 preparation tips by expert.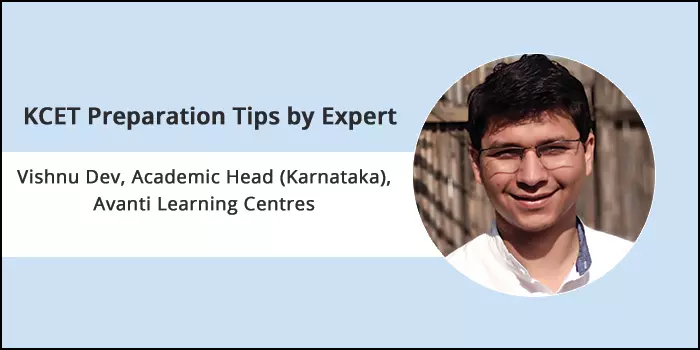 KCET 2021 Preparation Tips By Expert: Vishnu Dev (Academic Head Karnataka), Avanti Learning Centres
Difference in preparation for KCET 2021 from Boards and JEE
I wouldn't say that the preparations for both exams are completely different, rather the syllabus is quite the same for both since every engineering competitive exam is based on CBSE/NCERT syllabus. The major difference lies in the type of questions asked in both the examinations, as well as in their difficulty level.
The Analysis of JEE Main and KCET exams are as follows:
Parameters

JEE Main

KCET

Number of Question Asked

In JEE Main, there are 75 questions ( 25 each PCM ) to solve in 180 minimum, that is students get 2 minimum for each questions.

Questions are mostly application-based and some require critical thinking, as less number of direct formula-based questions are asked.

There are 60 questions to solve in 70 minutes in each of the four subjects: physics , chemistry , maths and biology, out of which students need to write only PCM for engineering and B Pharma.

Difficulty Level

The difficulty level of questions is as follows: easy 30-35 %, medium 35-40 % and hard 25-35%.

The difficulty level of questions is mostly easy as compared to JEE mains, as mostly memory-based and application type questions are asked.

Scoring

A student can get a good rank (below 15000) by scoring 50% + marks.

A student needs to do well both in 12th boards as well as KCET, as 90% + and 150+ can get you rank below 2000 in KCET

Weightage

Both 11th and 12th syllabus have equal weightage with negative marking scheme.

More weightage (around 80%) is given to 12th syllabus as compared to 11th and there is no negative marking.
Hence students who are doing well in their JEE mains preparation will likely to do well in KCET, and students preparing specifically for KCET will have to prepare in a bit different way such as:
1) Focus more on 12th syllabus and try to remember all the formulae, short cut tricks and reactions.
2) Time is one of the key factors as students get around 1 minitue per question. A lot of practice is required in order to increase both the attempt rate as well as accuracy.
Subject-wise Strategy For KCET 2021
Since time allotted for each question is less, mostly memory-based and application-based questions are asked in all the three subjects which makes physics and mathematics easier in comparison to chemistry, as there is a lot to remember in chemistry. Otherwise all the three subjects have almost equal difficulty level.
The subject wise analysis is as follows:
1) Since 70-80 % questions are asked from 12th syllabus, students can make a priority list of chapters for each subject.
2) In physics, all the chapters of 12th are relevant and nothing should be skipped. As far as 11th syllabus is concerned, heat and thermodynamics, waves and fluids should be given priority over mechanics.
3) In chemistry, Organics is one section which students generally find difficult and a lot of practice is required to improve organic along with concept knowledge. Students need to remember Inorganic and all the formulae of Physical chemistry in order to score good marks in the subject.
4) In mathematics, students are requested to prepare calculus and algebra first as most of the questions are asked from these two sections, with less number of questions from co-ordinate geometry and trigonometry.
Books to be Refer
Since NCERT is the reference material for all the examinations, going through NCERT is a must for each and every student. Apart from that, students have to solve all the previous year KCET question paper by either Arihant or MTG publication.
For further reference, subject-wise text books by Dinesh publication for KCET as well as books for CET by Cengage publication are good for practice
Role of Sample Papers in KCET 2021 Preparation
Since the KCET 2021 exam is more of a test of speed and accuracy, enough test practice is key factor in acing the examinations. Students should solve all the previous year KCET 2021 sample papers within the stipulated time as a test and analyse their performance after every test. Since the questions in KCET are of repetitive types, students will get the idea of types of question asked in the examination.
Till now, there is no proper test series for KCET that is quite effective. Hence, students may use model test papers by either Arihant or MTG publications.
A Study Schedule for KCET 2021 Preparation
After teaching for around 7 years, I have realised that timely revision of concepts is much more important than learning new things which generally students don't do. Students need to make a balance between revising what they have been taught as well as learning new concepts.
They can make a revision schedule once in a week and focus on their weak areas first instead of just following others as two years is more than enough time to prepare for any competitive examination.
Students should stop studying anything new around two-three months before the examination and should focus only on revision and testing.
Exam Day Strategy
On the day of the exam, one can just see the paper at a glance to get the idea of easier problems and can solve them first, then medium level questions and lastly attempt hard ones as one should avoid wasting time in solving hard questions in the beginning. Keep your calm and try to remember all the formulae correctly as remembering all formulae and tricks is the key to solve problems fast.
Pearls of Wisdom In-regards to KCET 2021 Preparations
Being a mentor of KCET 2018 3rd topper, I just want to suggest students that no exam is difficult or easy, it's just the preparation of the student which creates all the difference. A student can score a good rank in CET even if they study for 1 year with proper study plan and revision.
You just have to believe in yourself as I always keep saying to my students "No one is born genius it's just one's hard work and never giving up attitude that creates all the difference ".
Karnataka Examination Authority (KEA) will be conducting the KCET 2021 for admission to various engineering undergraduate programmes offered by government and private institutions of Karnataka. The state level engineering entrance exam, KCET 2021 will be conducted separately for Physics, Chemistry, Mathematics and Biology on two alternate days. So to prepare for Karnataka Common Entrance Test (KCET) 2021 candidates must make a strong study plan to crack it. To do so, follow the expert tips for KCET 2021 preparation and come out with flying colours.
Hope for the best in KCET 2021.