JEE Main Preparation Tips for Self Study during Coronavirus lockdown
JEE Main Preparation Tips by Vidyamandir Classes - Students stranded at home due to lockdown might be facing so many difficulties for their JEE Main preparation. Questions like how to prepare for JEE Main during lockdown due to coronavirus is common. Vidyamandir Classes, a premier institute for JEE Main preparation is sharing the quick yet beneficial tips for home study of JEE Main during lockdown. The guidelines are prepared by Vishnu Datt Sharma, academician and CEO of Vidyamandir Classes. Read on the JEE Main preparations tips and do not let anything hamper your preparation.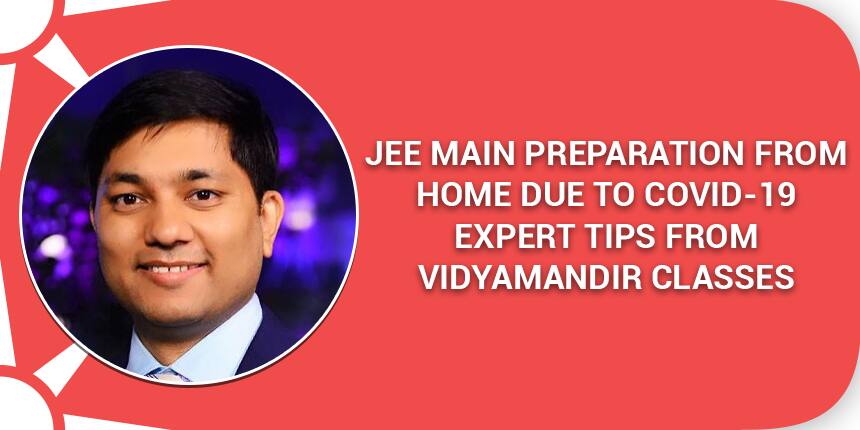 JEE Main Preparation Tips
By now your syllabus is obviously complete so you need to revise and take mock tests. The method of revision should be to start revising from class 11th topics first as because of board exams you have been away from these topics for a large number of days. Start taking a mock test on a daily basis either offline or online. Revisit your copy or notes and see all important formulas and concepts and try solving or revising unsolved questions from your study material which you have already done. You can also solve previous years papers of your respective exams which are easily available on the internet or on bookstores but the internet is preferred at this time of lockdown.
You can also access free online content for the topics mentioned above like solutions of previous years papers and lectures etc. BUT there is a caution in this because of this situation lot of people have come online and started delivering whatever they have in stock but a very few say 2 to 3 are serious content provider so when in this crucial time when students are going online to find some help they should also understand that they should not learn anything wrong. Or useless as it is seen that a lot of invalid and wrong things are circulating online. "Please follow your current system in which you have studied, don't hop on here & there" So, it's better to be safe from this also as it might hamper your preparations & you might cause a major loss.
VMC has developed a strong digital offering aimed at providing the same rigorous and stress-free VMC pedagogy to students who want the flexibility of learning from anywhere – VMC GURU. In this time focus on the following topics and make the most out of it.
Maths :
Complex Number

Conic Section

Circle

Calculus

Vector & 3 D

Probability

Trigonometric Equation

Properties of Triangles

Quadratic Equation

Sequence and Series

Permutations and combination
Chemistry
Chemical bonding

Electrochemistry

Coordination compound

Salt analysis

Ionic equilibrium

Thermodynamics & thermochemistry

Aldehydes and ketones

Aromatic hydrocarbons

GOC isomerism

Liquid solutions

Alkyl halides and aryl halides
Physics
Rotational Motion

Thermodynamics (Thermal Physics)

SHM

Electrostatics

Optics

Modern Physics
Questions related to JEE Main
Showing 97786 out of 97787 Questions