JEE Main 2020 Preparation tips by Saurabh Kumar, Director Academics, Vidyamandir Classes
Preparing for JEE Main exam requires sheer determination and strong will to clear the exam. Students who would be appearing in the JEE April must have already begun with their preparation, but, as no preparation is a final preparation, Careers360 brings to you JEE Main 2020 preparation tips by expert Saurabh Kumar, Director of Academics, Vidyamandir Classes. These preparation tips for JEE Main 2020 by experts provide the much needed guidance about the preparation strategy, important topics and books and most importantly the guide on how one can prepare effectively for the exam without losing their hope. JEE Main preparation tips provided here will help students to prepare well for the exam and score good marks. Read on the complete article below for JEE Main 2020 preparation tips by experts.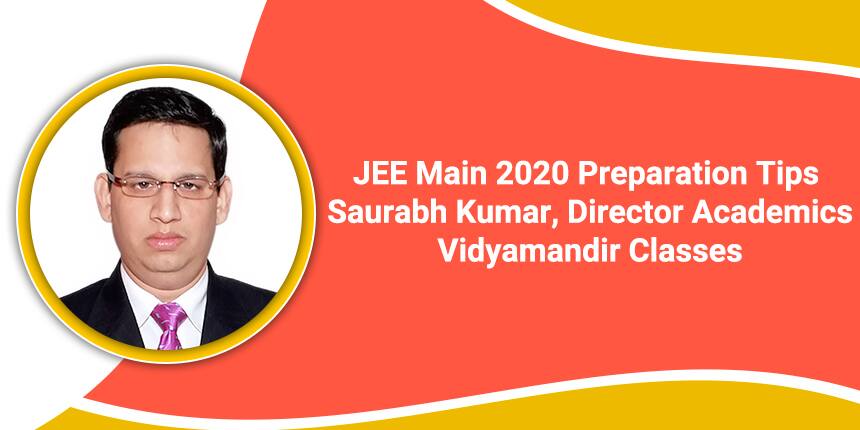 Careers360: What would you advise to the students who are preparing for JEE Main 2020 April exam?
Saurabh Kumar: This is the high time for the students who are appearing for JEE main April session. Firstly, students should not think too much about the January result if it has not met your expectations. Keep yourself motivated & I am sure you will do wonders in April session. Board exams have almost started & now your focus has to be such that it should be a win-win situation for both the exams the board & JEE. Now let us divide the remaining time span in two parts.
First from now till the end of board exams say 21st March
In this span I would suggest focussing completely on class 12th board exam syllabus. This will help you both ways scoring good percentage in boards as well as good percentile in JEE main. As the paper of JEE Main has about 55% of questions from class 12th syllabus. If you find some spare time between exams or elsewhere take a mock test of JEE Main.
Second after board exams till JEE main exam.
This is the core time where you really need to slog for the JEE exam as there is only 15 days' time from now and in this time, you even do not require to read English & fifth subject. Here I would advise that one should study 9 to 10 hrs per day. During these days one should regularly take a mock test and after the test you need to spend at least 30 minutes analysing it so that you can understand your strength & weakness & take care of the same in next test & the JEE exam. You can also try attempting any subject first and see which subject suits you best to start with. Remember every student is different if starting with chemistry works well for friends may be starting with Maths works for you so don't copy the strategy of others in your strategy.
In the remaining six or seven hours divide it into two or three slots for two or three subjects Ideally one should give equal time to all subjects but you can give a little more time in the subject which you feel is weak. Normally chemistry is the most scoring followed by physics followed by maths. In this time span you should focus on class 11th topics because right now you will be afresh with class 12th topics as board exams has just passed.
Careers360: Books play a very critical role in the preparation; Kindly name some books which students should follow.
Saurabh Kumar: In my personal opinion it's too late to suggest books for the students who are appearing for April session of JEE main. Still if you want something right now purchase previous year JEE Main papers or any objective question bank. I would highly recommend revising topics of class 12 and practicing sample papers, mock tests and sample papers and not study new books.
Careers360: What is the best method to study according to you?
Saurabh Kumar: Study two subjects in a day. If you can wake up early to study chemistry or any topic in physics which has a theory part, clear your doubts & give a lot of test analyze them & correct your shortcomings.
Careers360: Which of the topics you will suggest as important; Please mention it for Physics, Chemistry and Mathematics separately?
Saurabh Kumar:
Physics:
• Thermodynamics
• Kinetic Theory of Gases
• Oscillation and Waves
• Units & Measurements.
• Rotational mechanics.
• Optics
• Modern Physics
Chemistry:
• Hydrogen
• S-Block Elements
• P-Block Elements
• D & F-Block Element
• Classification of Elements and Periodicity in Properties
• General Principles and Processes of Isolation of Metals
• Compounds containing nitrogen & oxygen
• Ionic & Chemical equilibrium.
Mathematics:
• Coordinate Geometry
• Sets, Relations and Functions
• Complex Numbers and Quadratic Equations
• Matrices and Determinants
• Permutations and Combinations.
• Definite integration
• Differential equations
• 3D & Vectors
Careers360: Students rely hugely on coaching study material, where do you extract that from; which books are used for the purpose?
Saurabh Kumar: Generally multiple books per subject are used to prepare the material. It's very difficult to list all but few of them are as under.
Physics
• I E Irodov
• Resnik & halliday
• H C Verma
Chemistry
• Morison & Boyd
• Narendra Awasthi
• NCERT
• J D Lee
• O P Tondon
Maths
• S L Loney
• I A Maron
• A das
Careers360: JEE Main is now conducted twice a year. How do you find it from the student's perspective?
Saurabh Kumar: As per NTA norms JEE Main is now conducted twice a year once in January & again in April and the best of two scores is considered so it becomes very important to write JEE main April because there is nothing to lose.
Careers360: What role do coaching institutes play in the preparation of JEE Main exam?
Saurabh Kumar: They train students in best of subject knowledge with very clear fundamentals, make them practice their weakness, give them enough testing on similar platforms. World class mentors & doubt clearing at every moment, guide & motivate them for the span of preparation & help them with test taking strategies.
Careers360: A lot of students find themselves nowhere citing the difficulty level of the exam, either in between their preparation or at the beginning; what would you say to encourage them?
Saurabh Kumar: Students might face problems in the starting of class 11th as the level of the course increases from 10th in a big leap. Some students find it difficult to cope up with the increased level of curriculum but they are adjusted to it maximum by September month of class 11th if the student can try to make a right balance till this time then there is no difficulty in the preparation but if he loses before this then its difficult. I would suggest to keep studying and not stop because of hopelessness.
Careers360: As an expert, what would you suggest as a thumb rule to follow for JEE Main preparation?
Saurabh Kumar: Clear your fundamentals, never pile up your doubts, give a lot of tests, study 5 hrs daily , do maths & physics on paper & pen, Do test analysis regularly & identify your weakness.
Questions related to JEE Main
Showing 97785 out of 97786 Questions