JEE Main Preparation Tips by Expert
National Testing Agency will soon announce the JEE Main 2021 exam dates. Students who would be appearing in the exam must have already finished their JEE Main preparation by now. But, as no preparation is the final preparation, expert suggestions and tips to crack JEE Main can bring the much needed confidence in students. Here in this article, we're providing JEE Main preparation tips by expert Saurabh Kumar, Academic Head of Vidyamandir Classes. The preparation tips include best books for JEE Main, how to manage the exam preparation in last week of JEE Main and how students can stay motivated throughout the preparation to get a good score. Students are advised to follow these measure of JEE Main preparation tips by experts and crack the exam
Latest: JEE Main 2021 Application form to be released soon. Check JEE Main 2021 exam date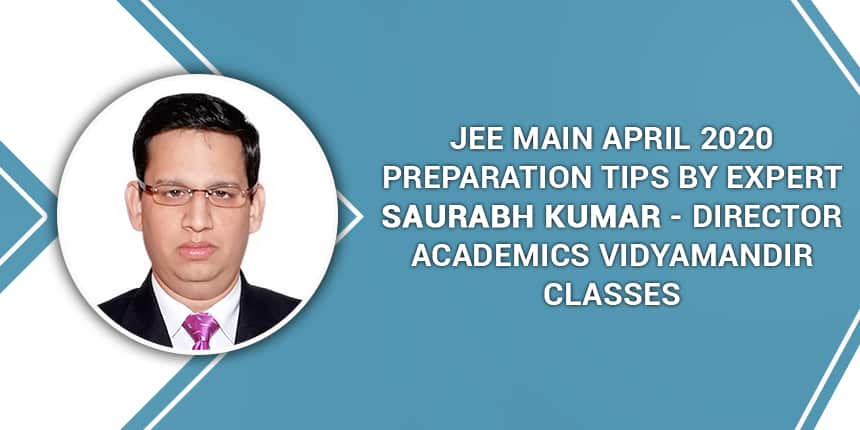 Careers360 - Dates for JEE Main 2021 will be announced soon, what should be the preparation strategy for students?
Expert Answer - As students have got much extra time due to the lockdown, the time period has to be used effectively with the help of below mentioned three points strategy plan:
Study all topics conceptually

Revise all subjects and topics you have studied

Identify the weak topics in each subject and work on them.

Try to give at least one JEE Main mock paper daily and analyze them for your mistakes

Don't study any new topic
Careers360 - Students have been absent from school and have to study at home, how students must utilise it?
Expert Answer - The focus of your study should be on your weak areas in each subject, to increase your question solving speed with accuracy, to remove the mistakes which you commit during the exam. For example: to give too much time to a particular question, to do calculation mistakes etc.
Careers360 - Suggest some good books for all three subjects
Expert Answer - The following are some good books for preparing JEE Main/Advance:
Physics - VMC Module, Concepts of Physics by H.C. Verma, Problems in general Physics by I.E. Irodov
Chemistry – VMC Module, NCERT books, Organic Chemistry by Morrison & Boyd, Inorganic Chemistry by J.D. Lee, Physical Chemistry by P. Bahadur
-->
Mathematics – VMC Module, M.L. Khanna, TMH
Careers360 - Students are in lockdown and coaching institutes are closed. How should they prepare for the exam in this situation?
Expert Answer - Although coaching institutes are closed but your teachers are in your reach via phone call, whatsapp, skype or zoom, you can contact them for clearing your doubts or get the right direction. Also, some institutes are launching short term online crash courses which can be opted for systematic revision and testing.
Careers360 - Can online learning for JEE Main be as effective as offline classes?
Expert Answer - Absolutely, Online learning is an effective supporting tool in JEE preparation. Although it can't be a substitute for offline classes, but, it is very helpful because of the learning flexibility in time and place and study material it offers. Both have their pros & cons, I think in future the hybrid model which will combine the best of two worlds will be more effective in JEE preparation.
Careers360 - Students might be facing hardship being continuous in home for 2 months and possibly more to come. What is your advice to reduce stress or anxiety in this situation
Expert Answer - We all are going through tough time due to covid-19, to reduce stress or anxiety in this situation I will suggest you :
Do some yoga, especially relaxation exercise for your eyes

Take short break during study

Listen to spiritual music

Be in touch with your teachers for moral support
Careers360 - Many students prepare for other exams like BITSAT, VITEEE, SRMJEE. Give some advice to accommodate preparation for these exams in between JEE Main preparation.
Expert Answer - The syllabus of BITSAT, VITEEE, SRMJEE or any other engineering exams is almost same as of JEE Main. When you are preparing for JEE Main, BITSAT, VITEEE or SRMJEEE are also covered. But there is a difference in pattern i.e. number of questions, level of difficulty and to adjust with this you should try some previous year papers of these exams.
Questions related to JEE Main
Showing 112402 out of 112403 Questions