JEE Main Paper 2 Analysis 2020: January 6
JEE Main Paper 2 Analysis 2020 (January 6) - Students can check here the JEE Main 2020 paper 2 analysis for the both forenoon and afternoon shift. National Testing Agency (NTA) has conducted the JEE Main 2020 paper 2 exam on January 6. The JEE Main 2020 has been conducted in online mode in two shifts with morning session from 09:30 to 12:30 and afternoon session from 02:30 to 05:30. Students are provided the JEE Main paper 2 analysis 2020 based on students' reactions. The analysis of JEE Main paper 2 helps students understand the difficulty level of exam and get an idea about expected cutoff. JEE Main paper 2 analysis 2020 is prepared on students' reactions and also on the basis of coaching and subject experts feedback about the exam. Careers360 is providing this exclusive coverage of JEE Main analysis right from the exam centres directly from students reactions after the exam. More information about the JEE Main paper 2 analysis 2020 is available in the below article.

As per the official statistics released by NTA, a total of 1,38,409 students registered for B.Arch paper while 59,00,3 students registered for B.Plan.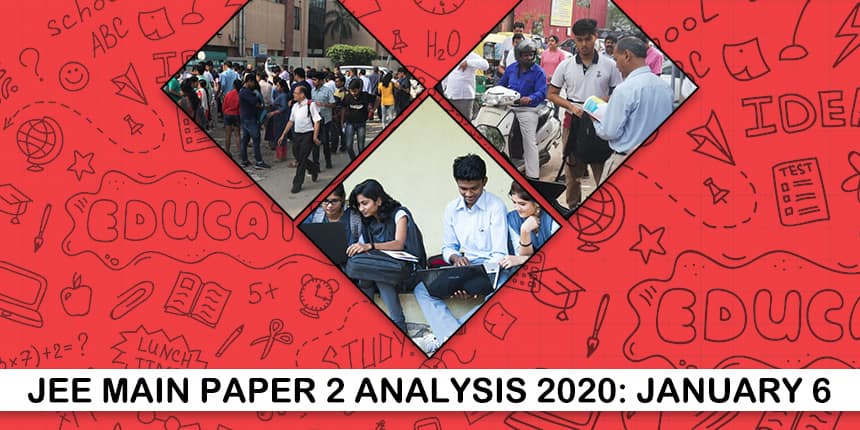 JEE Main 2020 Paper 2 Student Reactions Afternoon Session
JEE Main 2020 Paper 2 Student Reactions Forenoon Session
JEE Main Paper 2 Analysis : January 6 (Afternoon Shift)
JEE Main Paper 2 afternoon session has been concluded. Students are coming out of the exam centres. Candidates can check below the analysis of afternoon session JEE Main Paper 2 based on reactions of students coming out of the exam centre. more updates about JEE Main Paper 2 analysis. As per reactions of students coming out of exam centre, the Mathematics section was tough, aptitude part was easy and the drawing questions were difficult. Questions from Mathematics were from topics like Binomial and Calculus.
Samiksha Chaubey - She appeared for B.Plan and she found paper to be moderately easy. Questions were easy and aptitude questions were having designs and students have to decipher the view from different angles.

Dhruv Sharma - Dhruv appeared for both B.Arch and B.Planning. Questions were quiet easy and overall paper was easy. He is expecting good marks in the exam.
Prachi Tiwari - Prachi appeared for both B.Plan and B.Arch. Questions in aptitude were easy about symmetry. In drawing symmetric sketches were asked.
Manav - Paper was normal, moderate in difficulty level, questions in numerical value were tricky. She is expecting good score.
Rishi - Paper was easy, drawing questions were difficult and Mathematics questions were easy.
Shreya - Paper was good and moderate difficult. Mathematics was difficult and aptitude was moderate.
Pranjali - She found drawing and planning section easy while Mathematics was tough. Questions in drawing was drawing a portrait and aesthetic value of equilateral triangle. Overall, paper was moderate.
JEE Main Paper 2 Analysis : January 6 (Morning Shift)
According to the students who attempted the examination, the paper was of moderate difficulty. There were more questions from 11th standard syllabus in comparison to class 12 topics. Mathematics was easy and questions from aptitude section was difficult. In the General Aptitude section, there were questions explaining 3D image, viewing the structure of a building from the top and matching it with the options. Mathematics was a bit tricky but not tough. Coordinate Geometry and Sets & Probability questions were there in the paper. General aptitude had questions on mental ability and there were only a few questions from theories. In the drawing section, the students had to draw a gymnast and then use cylinders to make a composition. Reactions of some students who wrote the exam are provided below
Harshita : Questions were asked on explaining the 3-D images. Questions from Maths were quiet easy
Prateek Yadav: Questions from Calculus in Mathematics was tough, overall the difficulty level was moderate.

Anuj: Mathematics questions were easy while aptitude and drawing questions were easy. Questions were mostly from class 11. Numerical value questions were easy.
Anubhav: Questions were easy from Mathematics, aptitude part was a bit difficult. He is expecting 180-200 marks.
Ananya: Difficulty level of paper was moderate.
Questions related to JEE Main
Showing 97783 out of 97784 Questions