JEE Main 2021 Physics Preparation Tips By Mr. Amit Verma
JEE Main 2021 Physics Preparation Tips By Mr. Amit Verma - Joint Entrance Exam Main (JEE Main) is conducted by the National Testing Agency (NTA) for admission into the undergraduate engineering courses. The validity of the test remains for one year. A student can give JEE Main exam six times over a period of three consecutive years and can appear two times in a year in January and April. Many top engineering institutes in India like National Institutes of Technology (NIT), Indian Institutes of Information Technology and the Govt funded Technical Institutes accept JEE Main scores. It is also the qualifier test for JEE Advanced (IIT JEE). JEE Main exam consists of three subjects – Physics, Chemistry, Maths.
Latest JEE Main Update: NTA JEE Main 2021 exam date announced; JEE Main 2021 Registrations has started.
Important: Also check, JEE Main 2021 Syllabus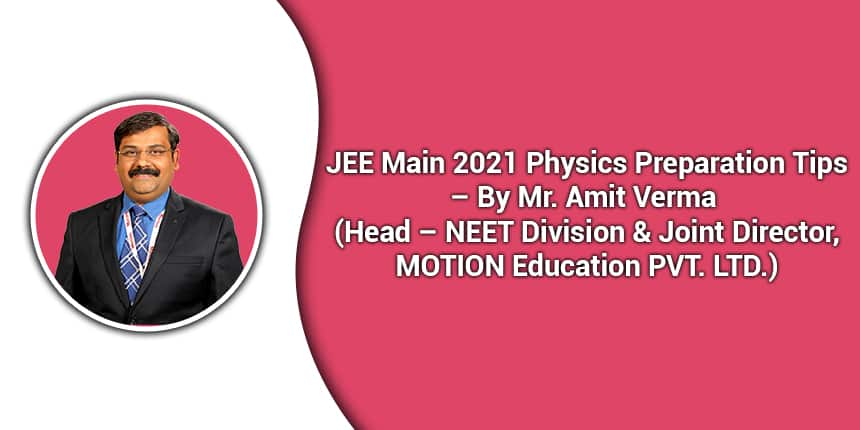 JEE Main 2021 Physics Preparation Tips By Mr. Amit Verma
Physics section in JEE Main Exam is considered as the key subject. It consists of theoretical as well as numerical questions. It consists of topics from Class XI and XII as specified by NTA. It is necessary to know about the important topic's fir JEE Mains exam to score good marks.
Subsequently, the JEE Main Physics syllabus is vast and you should start the preparation earlier and with complete focus. The preparation should be made goal-oriented knowing the important topics, most occurring questions in the exam and how to solve the numerical. In this article, we have included topic-wise weightage and tips to make the study process easier.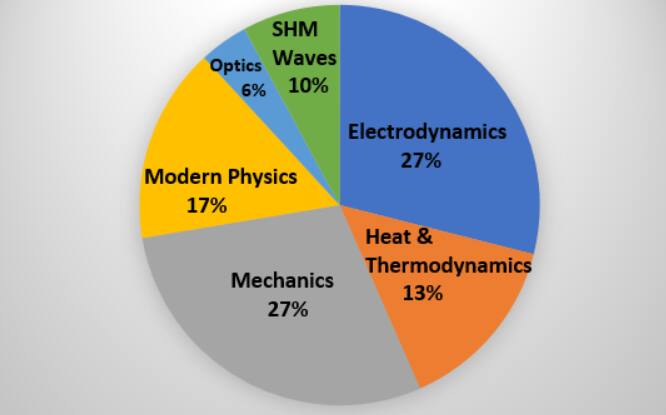 Electrodynamics:
It is the highest scoring topic in physics. For scoring good marks in this section you need to learn the theoretical concepts first. It is a big topic and requires time to understand the basic laws and concepts.
It contributes 3 to 4 questions in JEE Main exam. Thermodynamics is a topic common in both physics and chemistry but you need to know the difference between the energy released and absorbed in both the subjects.
-->
The questions are mostly application based. For a good understanding of questions, you should have good knowledge of theoretical concepts as well as the laws of thermodynamics. Use approximation value such as the value of R can be taken as 8.13 in place of 25/3 and vice versa to make calculations easier.
Mechanics:
The questions from this section are mostly law-based and consist of laws such as laws of gravitation, Newton's laws and laws of conservation. The basic concept of these laws should be understood clearly and applied to practical problems so you can solve the numerical easily.
Some of the important topics in mechanics are:
Circular Motion

Centre of Mass and Energy

Rotation

Unit & Dimension
Modern Physics:
Mostly theoretical based questions are asked from this section in the exam and are a scoring topic. The questions are direct formula based, you just need to apply them carefully in calculations and score full marks. Some important sub-topics are:
Bohr Model from atomic structure

Nuclear Physics

Alternating Current

Photoelectric Effect

Semiconductors from electronics
It is the easiest as well as the highest-scoring topic in physics. Some important sub-topics are Huygen's principle, Law of reflection & refraction, Young's double slit experiment, Lens Formula & Magnification. For being faultless in numerical you need to practise them as much as you can as they are a little difficult than others.
This topic should be studied in detail as it consists of theoretical concepts and every year around 3-4 questions are asked in the exam. Some of the important sub-topics are Simple Harmonic Motion (SHM), Principle of superposition of waves, simple pendulum. These topics are huge and will consume a lot of time so you need to start the preparation for this topic earlier only.
Also Read
JEE Main 2021 Physics Study Tips
With years of experience teaching our experts at MOTION have come up with strategies to help you score well in JEE Exams:
1) Short Notes
Another mistake a lot of students make in the JEE Main entrance test is that they don't memorize the formulas beforehand and instead try to derive them during the examinations. Don't do this as you will run out of time before you get to attempt all the questions.
Instead, make sure to prepare short and concise notes consisting of all the formulas and concepts, written in brief, which will not only help you revise right before the test, but it'll also help you memorize the formulas well and before you even step foot in the examination centre and this can be a major difference-maker while preparing for physics for the JEE Main entrance test so make sure you don't forget to do this!
2) Time Management
Don't let the question paper tell you what to do! Find your way through it.
The questions given in the JEE Main entrance test can be answered in any sequence of your choice. This will establish two things. One, you will get in a steady rhythm during the exam. This will make the examination jitters go away and boost your confidence. Two, it will save you enough time to go through the paper again at the end so you can fix all the silly mistakes.
3) Practice with the previous year's question paper
JEE changed their question paper pattern last year. They shifted to more diverse and concept-based questions, and they also introduced a normalizing procedure for paper correction. This took a lot of students by surprise as they were suddenly brought face to face with an unfamiliar question paper. However, you are in luck as you have the opportunity to study and digest the pattern from last year's paper. We advise you to thoroughly go through the previous year's JEE Main question paper, making sure to solve them multiple times. This will not only prepare you for what is to come, but also give you a lot of confidence to deal with the exam.
With enough practice and concentration, you can not only qualify for the JEE advanced test but also, secure a spot in one of the top-ranking engineering colleges in the nation. To all the students who will be attempting this year's JEE Main entrance test, best of luck!
Also Read:
Questions related to JEE Main
Showing 112401 out of 112402 Questions