JEE Main 2020 Preparation Tips in Lockdown by Mr. J.C Chaudhry (Chairman & MD, AESL)
Having the right strategy to prepare for any entrance examination is as important as the exam itself. The ongoing COVID-19 pandemic has created an uncertainty regarding the future, resulting in the build up of a lot of doubts and queries among the students on how they should be preparing for the upcoming JEE Main examination during the lockdown. Students have started believing that this situation doesn't seem to be ending soon and many changes in the preparation strategy is required. To resolve these doubts, Careers360 had conducted a live session with Mr. J.C Chaudhry (Chairman & MD, AESL) on Youtube where he discussed the right strategy to prepare for the JEE Main 2020 and handle the ongoing situation in an appropriate manner.
Stay up-to date with JEE Main News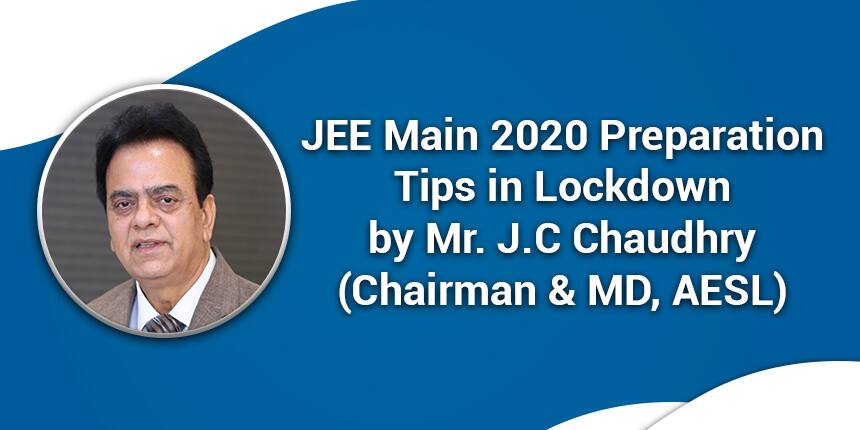 According to Mr. J.C Chaudhry, we all need to face this situation with a positive mind. The postponement of exams is for the betterment of students. Now they have more time to study and make their preparation stronger. Also, he believes that there is a need to change the strategy as per the situation. It's only us who need to change, situations never change.
How much time should a student invest to have a reasonable chance of qualifying an exam?
Mr. J.C Chaudhry says that the total time spent on studying has nothing to do with the chances of qualifying examination. It is the amount of time spent with concentration that matters. If a student studies for five hours a day but does not focus much then this is completely wasteful. So, students should not focus on hours but on the output.
How to prepare for the entrance exams during the lockdown?
Candidates can find some of the ways and tips given by Mr. J.C Chaudhry to prepare for the upcoming entrance exams in the best possible way. One of the most important pieces of advice given by him to all the students is that the thought process is very important and it should be positive. Students should have enthusiasm towards studies which will lead to good preparation.
Stay Motivated
It is extremely important for students to have control on their nerves and keep their mind calm. At the end of all this, the exam has to be given. Therefore, the preparation has to be accelerated and followed through religiously. Students are advised to stop worrying about it or getting demotivated. Instead, focus on your goals and study hard. Utilize this extra time to the fullest and prepare for the exam with a positive mind. Just remember, what cannot be cured must be endured!!
Work on Knowledge & Speed
Exam is a competition of knowledge and speed. To qualify any examination, it is important for candidates to have a hands on both, knowledge and speed. If a student will lack any of them, he will not succeed. Knowledge is gained through study and speed is gained through practice. Students should study as well as practice what they have studied. For this mock tests and sample papers have to be attempted. JEE Main mock tests should be done within the time limit of 3 hours. All mistakes should be checked and worked on so that it is not repeated. Also, a proper time table should be followed. There is no other method .
Know Strengths & Weaknesses
Worrying about the situation is not a solution. Every student should know their strengths and weaknesses. Prepare a timetable accordingly and stick to it. Understanding of the strengths and weaknesses will enable students to make their preparation stronger.
NCERT is the best book to study
NCERT books are the most important. Students are strongly advisable to read NCERT books word by word. It covers the entire JEE Main syllabus. Along with the NCERT books, different author books for each subject should be studied.
Revise Regularly
Regular revision is important. Keep revising the topics on a regular basis.
Prep up a strategy to follow during the exam
During the exam, it is always advantageous to have a strategy. Students can start with the subject in which they have done mastery. Being able to solve more and more questions will boost the overall confidence level. Also, skip the questions where you face difficulty. Do not struggle with it. Attempt all the other questions and then get back to the difficult ones at the end.
Questions related to JEE Main
Showing 126201 out of 126201 Questions