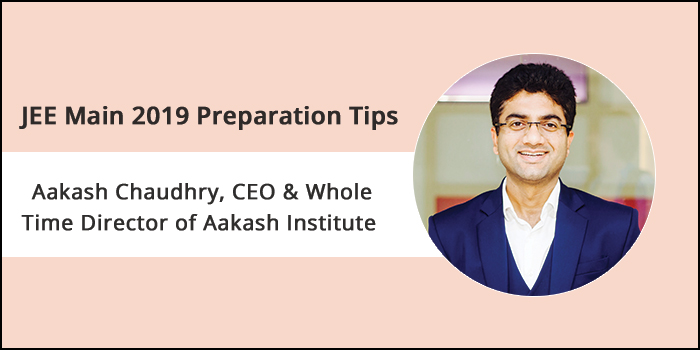 B.Tech Admissions Open 2019
SRM University AP-Amaravati
JEE Main 2019 Preparation Tips by Expert- National Testing Agency (NTA) will be conducting JEE Main 2019 twice a year that too in computer-based mode. With the change in the entrance examination, candidates preparing for JEE Main 2019 have come up with a lot of queries related to its preparation. Questions like how to tweak the preparation strategy as the exam are being conducted twice a year, what things to keep in mind while preparing for JEE Main 2019, do different strategy need to be adopted for both the attempt, is it beneficial to conduct exam twice a year and so on. Therefore, it becomes important for them to have some JEE Main preparation tips by experts. To find the answer to all these questions Careers360 interacted with Aakash Chaudhry, CEO and Whole Time Director of Aakash Institute. During the interaction, Aakash shared the preparation tips for JEE Main 2019 for all the aspirants. JEE Main aspirants can go through the detailed interview to know the JEE Main 2019 preparation tips by an expert:

Latest: Registered candidates can check their allotted JEE Main 2019 exam cities now. 
JEE Main Sample Paper
Download Free Sample Paper For JEE Main
Download Now
IMPORTANT - JEE Knockout Crash Course Available for JEE 2019 Aspirants
[A personalized course to clear IIT / JEE 2019 with the access of Mock Test Series ( Subject & Topic Wise ), Video Lecture, Most Asked Questions, Prep Boosters, 17 Years Solved Papers, Personalized Strength Sheet and more. Get Now] 
Careers360: What is the role of National Testing Agency (NTA)?
Aakash Chaudhry: NTA would work as an autonomous and self-sustained premier testing organisation to conduct all entrance examinations for higher educational institutions. It would start conducting NEET and JEE Main from the upcoming academic session. NTA researchers will pioneer, in the Indian context, computer-based testing, which will permit innovative test items, more than once testing for JEE, NEET, etc examinations, convenient scheduling and faster marking and score reporting for students. NTA will also introduce researched based more advanced versions of computer-based tests, including multimedia questions and simulations, thereby will move beyond the boundaries of traditional paper-and-pencil tests.    
Careers360: Is it good to conduct JEE twice a year? 
Aakash Chaudhry: The decision to conduct JEE Main 2019 twice in a year now has doubled the chances for students as they can appear twice without wasting a year. It is definitely going to benefit a lot of students as it will give them an opportunity to identify their weaknesses and rectify their mistakes and learn from them before the next sitting as only the best score of the two will be taken into account for admission.
Careers360: Please share some advantage or disadvantage of conducting JEE Main 2019 twice a year.
Aakash Chaudhry: The exams are timed in a way that now students will be able to devote time to both boards and entrance exams and pace their preparations accordingly. Moreover, the exams will be spread across multiple dates rather than being held on a single day. JEE  Main 2019 will be conducted in computer-based test mode only which will save precious time during exam and will also result in faster declaration of result. This method will ensure more security, transparency and will be similar to international practice. It will help avoid leakage of exam papers. This would also bring in digital revolution in the rural areas as students will now be able to practice free of cost in centres set up by NTA.
On the other hand the new method may invoke additional investment on the student to buy devices and online tests to practice the new pattern. Furthermore, there could be incongruity due to different set of question papers given to different students, unlike offline exam where same test paper is given to all. Lastly, students of class XII will have to finish their syllabus well in advance to be able to take advantage of JEE Main 2019 January attempt that may result in early preparation pressure at their end.
Careers360: How useful is attempting JEE Main 2019 mock test and solving sample papers?
Aakash Chaudhry: We believe JEE Main 2019 mock test and sample papers will help in following things:
Develops conceptual understanding

Familiarises with JEE Main 2019 exam pattern

Aids in better time management

Increases speed and accuracy

Helps evaluate preparation level

Identifies strengths and weaknesses

Exposes to real exam like scenario when attempted in a proctored environment

Acquaints with Important questions
Careers360: What exam day strategy a candidate need to adopt to be successful in cracking the entrance examination?
Aakash Chaudhry: According to me mentioned below are the pointers that candidates need to keep in mind on the exam day:
Read the instructions carefully and skim through the paper before beginning to attempt.

Carefully read the questions, understand what is asked and then answer.

Manage your time well. Do not spend more time than planned on a particular question. Do not get stuck and move on if you are unsure of the answer.

Focus on the exam and stay clear of distractions.

Do not freeze by looking at the paper. Keep your calm. Breathe in and out if you feel stressed.

Review your answers carefully before submitting your paper.

Do not jump to conclusions in a hurry.

Plan your order of attempting questions. You can first attempt all the easy questions and then solve tough questions.

Do not guess the answers as it can result in negative marking.

Maintain a positive attitude.
Careers360: What should be the daily schedule of a candidate preparing for JEE Main 2019 should look like?
Aakash Chaudhry: The daily schedule depends of the candidate to candidate. No two students can follow the same daily schedule as everyone as its own style of studying. However, candidates preparing for the entrance exam must make sure that they add following things in their daily schedule:
Stick to a well planned time schedule

Study every day and go through whatever is taught in the class.

Develop note taking habit

Alternate between subjects while studying

Adopt effective study techniques

Set daily and achievable goals

Learn from NCERT

Never skip your homework

Sleep well, eat healthy and engage in extracurricular activities
Careers360: Please share other important tips and tricks to crack JEE Main 2019
Aakash Chaudhry: Here they go:
Get an insight into the syllabus and exam pattern and plan your preparation accordingly

Plan well by setting achievable targets

Get your fundamentals clear

Evaluate your preparations regularly

Refer to video lectures and online tutorials

Go for digital preparation

Practice hard. Solve as many sample papers and previous year papers as you can online

Attempt online mock tests and in a proctored environment

Prepare thoroughly from the NCERT and then from other reference books

Talk to the experts and be in touch with your teachers. Get your doubts clarified in time.

Form a peer group and surround yourself with focused and goal oriented students

Focus on weak areas and work on them

Learn from mistakes and refrain from repetition

Focus on conceptual and application based learning

Have faith in your abilities
Questions related to JEE Main
Related E-books and Sample Papers