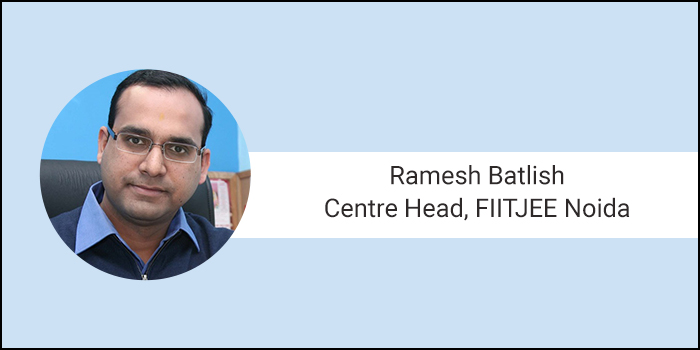 JEE Main aspirants must be putting in their best efforts to prepare for the test, however, they may not know what elements are crucial from the preparation point of view in these last 3 months. The remaining 90 days are very crucial as far as JEE preparation is concerned and this time must be largely utilised for quick revision and for taking lots of Mock Tests. Each test must be followed by an in-depth analysis to identify the weaker sections to focus on for rectification. Taking help from subject experts for working on the weaker areas will surely benefit the students in improving. Ideally, by this time all serious aspirants of JEE Main 2018 should have completed the syllabus. Making a strategic plan for preparation will help the students achieve better outcome. Ramesh Batlish, Centre Head, FIITJEE Noida shares tips on what should be the strategy at this time for candidates preparing for JEE Main 2018.
B.Tech Admissions Open 2019
SRM University AP-Amaravati
JEE Main Sample Paper
Download Free Sample Paper For JEE Main
Download Now
JEE Main 2018 Month-wise Preparation Tips
Make a month wise plan
Segregate the remaining preparation strategy into three phases of 30 days each that will ensure to cover the entire syllabus of JEE Main 2018 with apt training.
Phase 1 (January) – The first 30 days are very crucial and must be effectively utilized for revision.Subject-wise planning by identifying all the important chapters shall be made with the help of subject experts. This will ensure better understanding of the concepts and plug the remaining loopholes in the preparation. This phase requires essential time management skills.

Phase 2 (February) – For students taking up board exams, the time should be efficiently utilized for taking up mock test on lines of JEE Main 2018 & JEE Advanced 2018. Analysis of each paper is important to check the mistakes and to avoid repeating them in the actual JEE. For students who are repeaters, may join a crash course for topic wise revision along with several Mock Tests on current pattern of JEE.

Phase 3 (March) - The time gap between the Board Exams should be smartly utilised subject-wise catering to the needs of both Boards and Entrance Exams. Make a systematic revision plan involving with rigorous testing concept-wise/chapter-wise along with several mock Tests from reliable sources as per current pattern of the JEE.
Referring to NCERT may not be sufficient enough
Adequate attention must be given when preparing for each of JEE Main & JEE Advanced and not only by solving NCERT books, may be sufficient enough to crack the conceptual problems asked in the entrance exams.  Every Entrance Exam is designed with a particular goal and the Syllabi may look similar but the pattern and level of questions differ in some way or the other. Having familiarity with the pattern of each Exam will only make it easier to crack. The questions in NCERT Books are Board Exam oriented. Entrance Exams ask objective type questions with questions involving intermingling of concepts and are generally of higher difficulty levels. For JEE, practice as much as you can from well-known sources. That will help in strengthening all important concepts.
Preparation for JEE Main and JEE Advanced vary
For JEE Main, many students tend to think that preparing for JEE Advanced exams will be sufficient enough for Mains as well, which is not true at all. While preparing for JEE Main, they will have to cover additional topics from CBSE syllabi as well. Also, JEE Main tests the aspirants for their speed and accuracy. Proper training for online & offline modes of answering the exam is also important.
Know the important topics from each subject
The questions asked in the JEE examination includes 45% from XI class and 55% from Class XII syllabus. Some of the following topics from each subjects, Physics, Chemistry and Mathematics may be stressed upon -
Mathematics - To excel in this subject enough practises is required and hence try to do as many quality problems as possible. This will develop a sound confidence level. Focus on the topics like - Quadratic Equations & Expressions, Complex Numbers, Probability, Vectors, Matrices in Algebra; Circle, Parabola, Hyperbola in Coordinate Geometry; Functions, Limits, Continuity and Differentiability, Application of Derivatives, Definite Integral in Calculus.

Physics: Practising quality problems is the key to success in this subject. If concepts are clear, then this subject becomes all the more interesting. Focus on - Kinematics, Gravitation, Fluids, Heat & Thermodynamics, Waves & Sound, Capacitors & Electrostatics, Magnetics, Electromagnetic Induction, Optics & Modern Physics.

Chemistry: Just go through the periodics in general and read NCERT for Inorganic Chemistry. For Organic part, first build up your basic concepts and then practise a lot. And for Physical part, practise as many numerical problems as you can. Some of the important topics are - Coordination Chemistry & Chemical Bonding in Inorganic Chemistry, Electrochemistry, Chemical & Ionic Equilibrium, Mole Concept in Physical Chemistry and Organic Chemistry.
Students are advised to avoid selective study in Physics, Chemistry and Mathematics. The reason being, the number of questions is more in the objective papers where there is intermingling of concepts from various topics.
What should be the strategy in last 3 months?
The remaining time must be used wisely to perfect problem-solving with understanding of concepts involved, improving the time needed to solve a given problem, identifying the weaknesses and correcting them. This time should generally be utilised to consolidate one's preparation by focusing on problem-solving and overcoming the weaker areas in preparation. If you are a serious aspirant and have been preparing for some time and covered most part of the JEE syllabi, then the following tips will be of help.
Develop speed by solving JEE level problems, while learning the art of time management.

Refer to mock-test series to build a winning exam temperament. Sample papers give a fair idea about the pattern of questions and help one improve time management.

Focus on your weak areas and improve your concepts.

Practice of JEE level questions is necessary as it improves your reasoning and analytical ability. Solving previous Years' JEE papers will surely give a fair idea of the kind of questions that will be asked and also familiarise you with the pattern of the paper.

Remember it is the quality of time spent and not the quantity alone. Hence, take short breaks of five to ten minutes after every one or two hours of serious study. Relax completely when you take a break.

Practice meditation to develop inner composure, poise, confidence and power of concentration. These matter a lot and will help you on the day of examination.
The key to right preparation is proper and timely planning. Toppers learn from their weak areas and practice well in time to improve by all possible means. Correct attitude and acute focus is the key to be a topper. Toppers divide their preparation time accordingly. They stick to a single system of preparation and have faith in themselves. Thus, they gradually build up their confidence level and are geared up to crack any difficult question. They ensure solving all previous years' papers keeping their concepts crystal clear.
Finally, it is the relative performance that will matter on the exam day. Gather and implement tips, gain confidence, be positive, and you will ace JEE Main 2018.
Questions related to JEE Main
Related E-books and Sample Papers