Jaypee Entrance Exam 2013
Conducting Institute: Jaypee group of Institutions
About Jaypee 2013:
Jaypee Istitute Of Information Technology (JIIT), Noida, U.P.(Jaypee Institute of Information Technology (JIIT), deemed to be University u/s 3 of the UGC Act, 1956.)

Jaypee University Of Information Technology (JUIT), WAKNAGHAT, H.P(Approved by UGC under section 2(f) of UGC Act 1956)

Jaypee University Of Engineering & Tchnology (JUET), GUNA, M.P (Established under Madhya Pradesh Private University (Sthapana Avam Sanchalan) Samsodhan Adhiniyam 2010 vide Act No. 23 of 2010)
Above three institutes are sponsored by Jaiprakash Sewa Sansthan, (JSS) a not for profit trust, and fully backed by the Jaypee Group of Companies.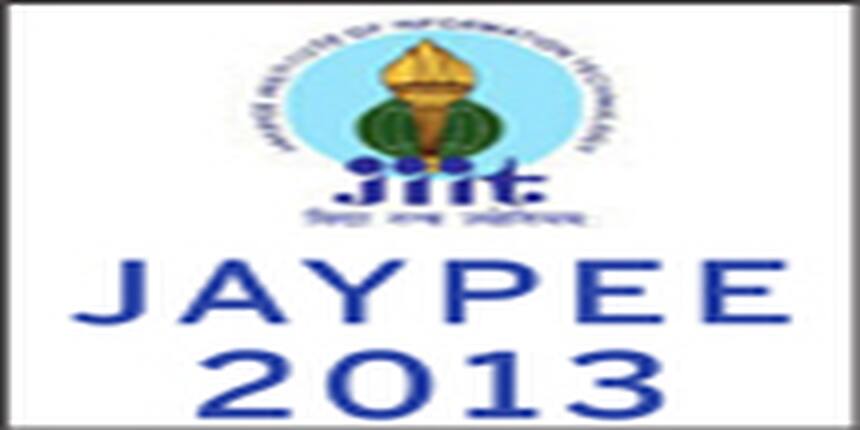 Jaypee 2013 Eligibility Criteria:
The minimum academic qualification for admission to any one of the programs is as laid down by JEE 2013 *. The candidate should have a pass in the 10+2 or its equivalent** with Physics and Mathematics as compulsory subjects and any one of Chemistry, Biology, Biotechnology, Computer Science as optional subjects.
**Equivalent Examination for 10+2
The +2 level examination in the 10+2 pattern of examination of any recognized Central/State Board of Secondary Examination,

such as Central Board of Secondary Education, New Delhi, and Council for Indian School Certificate Examination, New Delhi

Intermediate or two-year Pre-University Examination conducted by a recognized Board/University.

Final Examination of the two-year course of the Joint Services Wing of the National Defence Academy.

Any Public School/Board/University Examination in India or in foreign countries recognized by the Association of Indian Universities as equivalent to 10+2 system.

H.S.C. Vocational Examination.

A pass grade in the Senior Secondary School Examination conducted by the National Open School with a minimum of five subjects.

3 or 4-year diploma recognized by AICTE or a State Board of Technical Education.
Criteria for Date of Birth
Candidates whose date of birth falls on or after October 01, 1991 (Date of Birth as recorded in the High School/Secondary Education Board/University Certificate only will be taken as authentic) are eligible to apply for admission.
Jaypee 2013 Selection Procedure:
The admissions to the above programs shall be made on the basis of merit drawn on the overall ranking in JEE Main 2013 examination. Candidates must therefore appear in the JEE Main conducted by the CBSE.
Jaypee 2013 Paper Pattern: There will be no separate paper, based on performance of Jee Main. (in 2012 it was AIEEE )
Jaypee 2013 Application process: 
There shall be only one common application Form (OMR) for *JEE main rank based admission to all the three Institutes. The students may also register online and apply online through a common application form. For More details please visit official website here.

Students may obtain the Application Form from any of the Institutes/bank branches of IDBI Bank.
Jaypee 2013 Application Fees: Rs. 900/-
Application fee can be paid via: via online mode of payment or Demand Draft in favour of "Jaypee Institute of Information Technology" payable at Noida/Delhi.
Jaypee 2013 Important Dates:

Online Applications: March 11, 2013

Offline Applications: March 14, 2013

Last date for receipt of application: June 13, 2013
Website: www.jiit.ac.in, www.juit.ac.in, www.juet.ac.in
Jaypee 2013 Counselling Process: 
The merit list shall be drawn on the basis of the Overall All India Ranking in the JEE Main-2013.
Candidates, who apply in the prescribed form for admission and whose applications are found valid, and who fulfill the eligibility criteria, will only be invited for counseling through following ways.
A written communication in the form of counseling letter.

Details including dates and venues shall also be uploaded on the website.

Candidates shall also be informed through E Mails, Thus all candidates must mention their E Mails correctly while filling the application form.

Candidates whose names appear on the merit lists displayed on the website, but who do not receive the written communication for counseling, must also appear for counselling. on the date(s) notified.

The counseling will be conducted at all the three campus for all the three Institutes as per dates and order of ranking to be decided and mentioned in counseling instructions

Contact Info:
The Registrar
Jaypee Institute of Information Technology
A-10, Sector-62
Noida – 201307 (U.P), India
Tel: 0120-2400973-976
E-mail: webadmin@jiit.ac.in