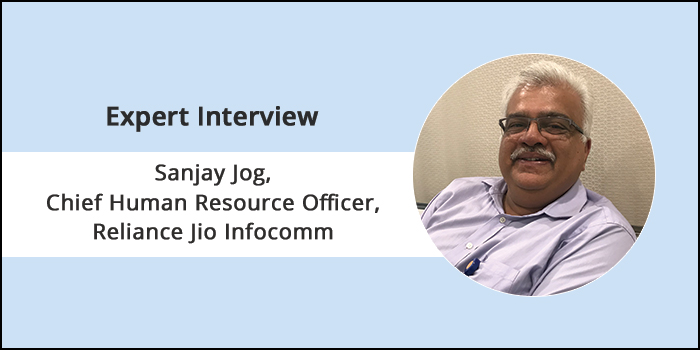 Sanjay Jog, Chief Human Resource Officer, Reliance Jio Infocomm shares with Triti Zalka the success mantra of the company's unprecedented growth and how it nurtures talent in an innovative way…
Careers360: Jio is constantly creating path breaking technology. How do you nurture talent for such innovations?
Sanjay Jog: We have a dream of connecting 90 percent Indians digitally. It is an encompassing vision for all of us. The kind of technology we are working with is cutting edge. That helps in attracting talent. If you look at customer acquisition, it is the young students from colleges who are behind it, an army of them. Today, the 200 million-plus customers that we have, in not even a year of operation, it is that young energy that is unleashed.
Careers360:  What are the opportunities for engineering students and graduates at Jio?
Sanjay Jog: We require freshers in putting up the network -those who are engineers in electronics or computer science. They are required in large numbers because the company is still growing. You get opportunities at fresher level to do things that probably take a couple of years for other companies.
Careers360:  What has been the response to the internship programme?
Sanjay Jog: We selected second-year students for humanities, and third-year students for engineering for a six-week internship programme. We ran the campaign digitally for 6,000 colleges across the country, it was not advertised. The pitch was, one, you will understand how the digital world works. Two, you will get a certificate at the end of the programme. The first batch had 20,000 students and the second had 25,000. They were taught what is it that connectivity can do for a business.
We have a data base now. We will go back to these colleges. We are now saying people who are interested in a career in networking, creating solutions or retail, these are the jobs that will be available. We have an online testing mechanism where students can give the test. My pre-certification process allows me to almost have people on call, on demand.
Careers360:  What are the various opportunities for engineering positions?
Sanjay Jog: In development, we take talented young engineers from the top educational institutions who bring in creative solutions. We also run a Hackathon where problems are presented and solved on the go. Our structure is one local head office for a region, in 28 states, further divided into 93 areas, which manage 1,072 Jio centres or offices. Further down they manage currently about 6,000-plus Jio points (which will grow to 11,000 soon) each servicing an area of 40km radius, servicing 50-60 retailers. Jio points are also responsible for customer acquisition, directly or indirectly, and solving customer problems.
They are also responsible for upkeep and maintenance of the network, which is physical in nature.
Careers360:  What about management roles?
Sanjay Jog: We need to manage customers and production. We started taking people with experience. Then we realised that developing our own staff is far better. These are MBA graduates, after about six months of orientation or training, they can start managing a Jio point. It is a fairly significant size of business. We have inducted a fair number of management trainees.
What we have done differently is the opportunity they get to do something meaningful quickly, which very few organisations can offer today. More importantly, we have opportunities for people to find jobs in the town that they were born or live in.
For us it is important that somebody understands the place.
We have an online testing mechanism where students can give the test. My pre-certification process allows me to almost have people on call, on demand. Because the organisation is in a phase where you suddenly need 10,000 people, we can return to them