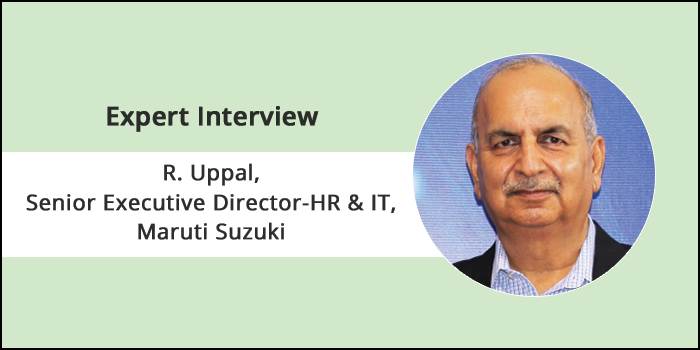 R. Uppal, Senior Executive Director-HR & IT of Maruti Suzuki, whose iconic 'Maruti 800' became the 'common man's car, speaks to Triti Zalka on hiring trends at the car manufacturer.
Careers360: What are the various opportunities for engineering graduates at Maruti Suzuki?
R.Uppal: We hire about 250-300 GETs (graduate engineer trainees) every year. The trend will be increasing in the future as we plan to ramp up for Vision 2030. These GETs are hired from premium colleges across the country like NITs, NSIT, DTU, PEC, Thapar etc. Most of these GETs are hired for domains like Engineering, Production, Service, Quality Assurance etc.
Careers360:  Which departments are hiring aggressively?
R.Uppal: As per business requirements, maximum hires are from mechanical background as they suit most areas of work. Other important streams of hiring are—Electrical, Electronics and Communication Engineering and R&D, of course, require a talent pipeline as Maruti Suzuki is the largest subsidiary of Suzuki Motor Corporation, en route to becoming the R&D hub for SMC outside Japan. There is a lot of work share between Suzuki and Maruti on global models.
Careers360:  Who is an ideal fit for Maruti Suzuki?
R.Uppal: An ideal fit for Maruti Suzuki is a candidate having the right mix of capability and commitment. Capability encompasses good functional and technical skills, besides commitment towards company's vision, core values and business goals is a desired skill set.
Careers360: Key qualities you look for in a candidate?
R.Uppal: Given the fact the company is working towards the mission of attaining two million annual sales by 2020, we are looking for energetic employees who are fast learners with the ability to grasp new skills, able to adapt to work in a manufacturing set-up, have a positive mindset, good communication skills, and are team players.
Careers360:  What are the perks of working for a company that has been 'defining the way India drives'?
R.Uppal: There are many growth and learning opportunities—a positive, supportive and transparent work culture with tremendous opportunities to learn and grow; flexibility and empowerment to take decisions and develop new things. As business environment changes very quickly, the only way for survival is to create a 'learning organization'. Our efforts are invested in training and development and we complement that with a strong culture of empowerment.
Careers360:  What kind of career growth can be expected? Rewards?
R.Uppal: Majority of our senior leadership had joined the organization as a Graduate Engineer Trainee or Management Trainee directly from campus. So, it can only be imagined the kind of career growth that youngsters can achieve in this company. With our exciting career paths coupled with hard work and dedication from employees, we believe that our talent will keep on creating success stories.
Careers360: How can the work culture be attractive to young graduates?
R.Uppal: Borrowed from our parent company Suzuki, we encourage work culture which is open, engaging, participative and collaborative. The company has a systematic approach to performance management and professional development. We offer equal opportunity and respect for all individuals and encourage a listening and appreciative culture thus bringing in a sense of purpose and belongingness for high performance.
Careers360:  Gender diversity and equal opportunity is critical in the modern workplace. What are the initiatives?
R.Uppal: We are an equal opportunity employer. In terms of salaries, career growth opportunities, or any other area, there is no question of any disparity on ground of gender. We do have some specific facilities for women employees, like a crèche facility, flexi-time and convenient car park areas. Apart from the regular learning and development initiatives which are common for all, we do organise special professional development workshops for women employees.
Our employee referral policy has an additional 'diversity bonus' to promote women employees coming in the organisation.
Careers360:  Can you elaborate?
R.Uppal: Maruti Suzuki is committed to a policy of equal employment opportunity so as to assure that there shall be no discrimination or harassment against an employee or applicant on the grounds of race, colour, religion, sex, age, marital status, disability, national origin, or any other factor made unlawful by applicable laws and regulations. This policy relates to all phases of employment, including recruitment, hiring, placement, promotion, transfer, compensation, benefits, training, educational, social and recreational programs and the use of company facilities.
Careers360: What matters most in the selection process?
R.Uppal: To ensure we have a robust people pipeline in place, we follow some strict guidelines. Irrespective of the function or area, we hire strictly, considering: academic proficiency of 60% and above marks in all educational qualifications, and stability, with average industry experience. All candidates need to undergo an online test and minimum cut off needs to be cleared.
Careers360: What is the focus on training for new recruits?
R.Uppal: We do not look at the cost of training as expense, rather it has been viewed as investment for building talent pool for future. Induction of new team members—entry level as well as laterals — is handled with tremendous planning, effort and involvement to ensure that we cascade key elements of our vision, core values and work culture effectively. These youngsters undergo basic on-the-job training in the shop floor and off–the-job training, including classroom training. This comprehensive training program caters to skill enhancement and making them industry ready. They also learn key processes related to 3G, Kaizen, MOS, safety measures, etc.
Careers360:  Are engineering graduates job-ready? What needs to change in the education scenario?
R.Uppal: The ability to apply the concepts learnt to constantly develop innovative things and find solutions to complex problems are the main factors behind the employability of an engineer. Sadly, most of the engineers are not job ready. A few changes need to be made.
Syllabus needs to be updated regularly. The course contents do not focus on areas which will actually help in the job industry after employment. There is a big gap between what the market needs and what Indian education equips its future employees with. Despite exponential changes in science and technology round the world, the syllabus is hardly ever updated.
Careers360: What about innovation and research?
R.Uppal: There is a lack of innovation and research. Students must be given the space and scope to think and innovate, to question and come up with solutions. This applies to both school and higher education. Indian education is mostly rote learning which instils a sort of complacency in students.
Skill-based education is another immediate need. Engineering students need to have hands-on training on the basis of the problems they are likely to encounter in the real world.
The ability to apply the concepts learnt to constantly develop innovative things and find solutions to complex problems are the main factors behind the employability of an engineer. Sadly, most of the engineers are not job ready
We do not look at the cost of training as expense, rather it has been viewed as investment for building talent pool for future. Induction of new team members — entry level as well as laterals — is handled with tremendous planning, effort and involvement to ensure that we cascade key elements of our vision
The company is working towards the mission of attaining 2 million annual sales by 2020. We are looking for energetic employees who are fast learners with the ability to grasp new skills