"Ultimately, Passion for Solving Customer Problem Counts" says Shubhra Bhandari, Director, Human Resources at Texas Instruments India
In line with the global trend, the Indian semiconductor industry is on a high growth phase. Careers360 caught up with Shubhra Bhandari, Director, Human Resources at Texas Instruments India, to know the job prospects for Indian graduate.
Careers360: What are the HR perspectives you keep in mind while going for campus recruitment?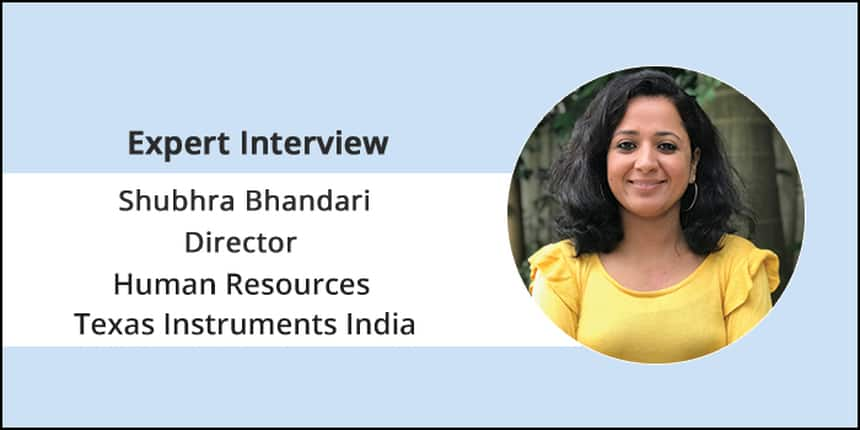 Shubhra Bhandari: For Texas Instruments, hiring from campus is central to our Talent Pipeline Strategy. We believe in hiring talent early on from colleges and grooming them to become future leaders. TI has been hiring from the best engineering colleges over the last three decades.
From an HR perspective, our first priority is for students to know about TI technologies, the opportunities available to them and the real-world challenges that they will work on once they join. We are the No.1 choice of engineers wanting to work in the field of Analog & Embedded Processing. Though we leverage different mediums of communication like guest lectures, social media, our most effective channel is the alumni network who shares their real experiences and is a strong brand ambassador for the company.
Careers360: What do you focus on while hiring from campuses?
Shubhra Bhandari: During the campus hiring process, we are keen that all eligible students have an opportunity to participate in the selection process and hence we would want to visit the college early on.
While students come with a fairly strong understanding of the subjects, TI gives a high weightage to strong fundamentals along with an intuitive approach to problem-solving — someone who goes beyond the conventional text-book approach and is able to think creatively, have a strong aptitude and learnability. Our talent selectors have been trained and oriented in assessing students through a guidance-based approach, which favours candidates who demonstrate the above traits even if they don't always get the exact answer.
Careers360: Do you keep in mind global positions while hiring from India?
Shubhra Bhandari: TI India is an end-to-end R&D site where engineers work on architecting, designing, testing and supporting customers through the product development cycle. While roles offered on colleges are based in India, employees collaborate with worldwide teams on different projects and functions.
Careers360: Do you have tie-ups with higher education institutions in India?
Shubhra Bhandari: Yes, we do have tie-ups with higher education institutions in India like IIT-Madras, IIT-Delhi and IISc, Bangalore. We are committed to creating world-class analog talent in India through close industry–academia collaboration. To this end, we have introduced Masters and Research programs in analog in the above universities. The programs are sponsored by TI and offer students interested in analog engineering an understanding of the latest trends and practices in analog technology. They are mentored by TI engineers and get an opportunity to work on complex, real-world problems through hands-on internships at TI.
TI's MS Analog Program at IIT-Madras, for instance, combines the rigour of research with in-depth practical experience at TI through a year-long internship in which they fabricate their own chip as well!
The program is meant for students, who love analog engineering, are keen to deep dive into technology challenges faced by the industry, work on live projects and think of innovative solutions that can even open the door to patents.
Careers360: How many institutions do you visit every year?
Shubhra Bhandari: We visit about 30-35 institutes that include IITs, NITs, IISc, BITS and several other colleges with strong electrical/electronics talent.
Careers360: Could you briefly outline your India recruitment policy?
Shubhra Bhandari: TI's recruitment approach is to bring the best talent from universities and experienced professionals from industry in a sustained manner to support overall business plans. Our mix has a higher percentage, about 60-70 percent, from college hiring. Within colleges we want a disproportionate number to come through internships at TI. In addition, we constantly look to strengthen existing skills or add new skills through experienced hires through the year.
Careers360: What do you look for in a candidate when you recruit for India positions?
Shubhra Bhandari: As mentioned above, at all levels, TI looks for candidates with strong fundamentals, ability to grasp and pick up fast, and ultimately, passion for solving customer problems.
Careers360: Do Indian candidates meet your expectations? Do you have any training programs to make them job-ready?
Shubhra Bhandari: Yes, the candidates do meet our expectations. India has a great talent pool at universities. TI has been hiring from colleges for more than 30 years and a lot of our senior technical leaders are from the same talent pool. They continue to be associated with and contribute to TI's success in several ways. Other than what students learn at colleges, we provide students with preparatory courses if they are interested to appear for TI's selection process. Once on board, we offer a signature year-long 'Make an Impact' training program to all new college graduates that helps them further strengthen fundamentals, apply their knowledge in practice, and hit the ground running on their assigned roles/projects.
Careers360: Lastly, how is India's semi-conductor industry doing?
Shubhra Bhandari: The semiconductor industry worldwide is witnessing an upswing as the number of electronic components across applications increases. For instance, in the 1990s, the dollar value of semiconductors in a car in the US was about 60. This went up to USD 324 in 2017 and is estimated to be USD 360 by 2021. And we are only talking about cars here, whereas semiconductors have become ubiquitous across industries – from power grids, motor drives, medical to your EV and phone batteries!
Mirroring the worldwide trend, the Indian semiconductor industry is also experiencing a high growth phase. As per India Electronics and Semiconductor Association (IESA), the trade body representing Indian electronic system design and manufacturers, the Indian semiconductor component market is expected to be worth USD 32.35 billion by 2025, growing at a CAGR of 10.1 percent between 2018 and 2025.
From a careers perspective, there couldn't have been a better time to join the semiconductor industry. It's an industry of the future, the opportunities are plenty, the jobs are well-paying, and the work is very challenging.