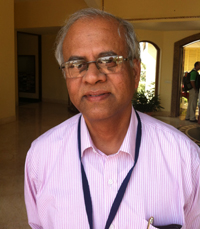 Ex-Dean Of Faculty Affairs and Former HOD of Chemistry at IIT Kanpur, Prof. N. Sathyamurthy shares his views on what it takes to be the founding director of IISER Mohali and to create a World Class infrastructure to facilitate research and education in the area of Science.


Interview:


Careers360: What according to you is a 'World Class University'? What can India do to have one?
Prof. N. Sathyamurthy: Creating world-class universities is a possibility and an achievable goal. When centuries ago students visited Takshila, why can we not have institutes of world-class excellence? In the past universities like Punjab University (now in Lahore), Madras university, Calcutta University and in recent times institutes like IISc and TIFR have been attracting academic talent from across the world.
As the President of India remarked that we as a nation must strive to rank our institutes among top 100 in the world. In my view, quality in infrastructure, faculty and students and intellectually driven environment is essential for evolving into a world class university based in India. It is important to conduct frontline research areas with publications in quality journals.
We don't necessarily require huge funding rather a research conducive environment to sustain excellence in research. A community of academically motivated professionals who can channel the funds and research in the right direction is required.


Careers360: What are the challenges you face as the founding Director of a promising institute? Where do you think there is a scope for improvement?
Prof. N. Sathyamurthy: With authority also comes great responsibility to take initiatives and drive them to successful completion. Since the institute was still in nascent stages of development, a lot needed to be done from getting land allocated to telephone line connection to bring it functional within a time frame.  Although the senior officials and government agencies are committed to the national cause of education, we still have a long way to go in expediting these formalities.


 

 

 

 

"Quality in infrastructure, faculty and students and intellectually driven environment is essential for evolving into a world class university based in India."



Prof. N. Sathyamurthy Director IISER Mohali

 

 

 

 
Careers360: Could you brief us on any unique academic practice being followed at your institute?
Prof. N. Sathyamurthy: All IISERs follow the same curriculum which was developed before the IISERs came up. In this the first two years are devoted to learning of basic sciences, next two years to specialize in major science streams and the final year is solely based on research work. After a five year course, graduates are encouraged to pursue research.


At the same time, the curriculum sensitizes students towards social problems by incorporating courses like humanities and sociology. Students at IISER Mohali are taken for trips to migrant laborers with the objective of understanding their problems and come up with scientific solutions for them. Computer education and English communication form a part of the learning here.


We at IISER Mohali, are focused on creating an ambience of science. We work in a borderless fashion where a mathematician interacts with a physicist during public lectures hosted by the institute. For instance, a deliberation on Genetically Modified crops is incomplete without taking into account the social impact of such an innovation.


The students are therefore motivated to conduct research on the forefronts of science relevant to Indian problems. They must be trained to imbibe scientific approach to contemporary problems.


Careers360: Could you tell us about the institute's key future initiatives?
Prof. N. Sathyamurthy: The institute is built on the philosophy of recruiting good faculty, facilitating them and give them freedom to pursue their research interests. The infrastructure is built to support the research ideas of the faculty. I as the director, sensitize them to identify current problems to enable an innovative solution to them.


Careers360: How can India's higher education system become more robust?
Prof. N. Sathyamurthy: It is necessary to discipline ourselves to make progress in India's Higher education system. The presence of a number of regulatory bodies cannot alone bring out excellence. It is necessary to increase the number of quality institutions in the country that will raise the bar of excellence in education and research. Quality cannot be quantified all the time by setting guidelines. Rather discipline is more important.


Careers360: What problem areas in higher education in India, do you consider are most daunting for students?
Prof. N. Sathyamurthy: We need teachers who are motivated towards mentoring students as they learn at the graduation level and at their workplaces. Students may be allowed to take transfers across universities in relation to their academic needs.


Careers360: What is your view on the current regulatory regime as far as India's education system is concerned?
Prof. N. Sathyamurthy: To start with schools, students need constant counseling after class 10th as they make a choice between science, humanities and commerce and also after class 12th where they decide the institute they go to. Students are not ready to make such career decisions at that age. IISERs admit students right after their class 12th where first two years are devoted to the study of basic sciences that gives them flexibility to identify the subject of interest to further their academic learning. In United States, students have the freedom to choose between scientific and social streams even after graduation. The Indian education system will also benefit from being as flexible as possible.


Careers360: In what ways can India make a mark in the area of research publications?
Prof. N. Sathyamurthy: In my opinion, our five storied academic block will be symbolic of an intellectually enriched environment where lights never went off. The culture and environment of the research and education should be collaborative and nourishing.


Careers360:Can you name three universities (apart from yours) in your region that are remarkably good?
Prof. N. Sathyamurthy: In the geographical region comprising Punjab, Haryana and Humanities, Panjab University in Chandigarh and GDU in Amritsar have great potential.


Careers360: How different is IISER model of research and education from IIT model? Since both are MHRD funded technical institutions.
Prof. N. Sathyamurthy: There is no difference between the two models in terms of quality and perspective towards education. However, IISER is more committed towards undergraduate research. Undergraduates work hard towards their research so that they are able to publish by the time they graduate. Almost half a dozen out of 30 graduates in 2013 had at least one publication to their credit. We nurture fertile minds and guide them towards quality research.  


Careers360:The position of Director involves more of administrative responsibilities, how do you balance them with your research interests?
Prof. N. Sathyamurthy: I would be lying if I say my research interest have not suffered as building an institute from scratch to where it stands today involved tireless effort and sleepless nights from allocation of land to recruitment of a highly motivated faculty. I believe if my faculty staff and students are able to pursue their research interests in an unhindered manner, I have discharged my duties well. Optimization is the secret to succeeding at administrative positions as I try to guide final year research students and take up at least one course for teaching every year at the institute.


Careers360: IISERs were created on the recommendations of Prof. C.N.R. Rao solely for research and education in basic sciences, do you foresee industry-institute interaction taking place at IISERs ?
Prof. N. Sathyamurthy: I can see it happening in the near future. When the patented research output with social impact is considered worthwhile by the commercial units, they collaborate with research institutions.
We are fortunate to be located in the neighborhood of National Agri-Food Biotechnology Institute (NABI), Indian Business School (ISB), Institute of Nano Science and Technology (INST) and Biotechnology Park of Mohali Biotechnology Cluster at Knowledge City, Mohali (Punjab) as this fosters collaboration for development and commercialization of technology and  its transfer.
Careers360:  Why are IITs still not called "World Class"in spite of admitting the best of talent across the country?
Prof. N. Sathyamurthy: Any institution is known by the people it produces. Most of the IIT Alumni are not known as scientists rather by the kind of capital they have made by being at the senior executive positions of their companies.
IITs are recognized for their education and training but not necessarily for their research output excellence in research on a global scale.
With time the system of evaluation has undergone a change where the class size has grown from 200 to 800 in number that admits students through a very competitive examination. The process engineering students are first prepared to write the competitive examination to gain an entry and once admitted they target the MBA entrance examinations and pay packages. Whereas, science graduates are recognized only when they make a breakthrough in the world of science changing the course of accepted theories and models.
So for institutes like it's the focus needs to be on maintaining research output in engineering and science as much as in training and education. It is important to make an all-round progress where prominent science problems that have social impact are chosen for research and development.
Compare Colleges
College Comparison based on Courses, Placement, Rank, Fee
Compare Now