Interview with Mr. Mohan Lakhamraju and Mr. Mayank Kumar on Online Certification and Skill Programs
Mohan Lakhamraju, founder of Great Learning, a leading d-tech company that offers programs in career critical competencies and Mayank Kumar, founder of Upgrad, one of the leading platforms for online courses & Educational services were live on Facebook and Youtube with Maheshwer Peri, Chairman and Co-founder of Careers360. In the live session, both of the renowned people talked about credibility and the importance of digital certificate courses. The session was quite informative as it also answered the worries of students and graduates regarding what will happen next after COVID-19 in regards to employment and how getting certification will help them. Through the live interaction they tried to answer all the queries and give insight about the current situation. Here are the answers to some of the important questions answered by Mohan Lakhamraju and Mayank Kumar.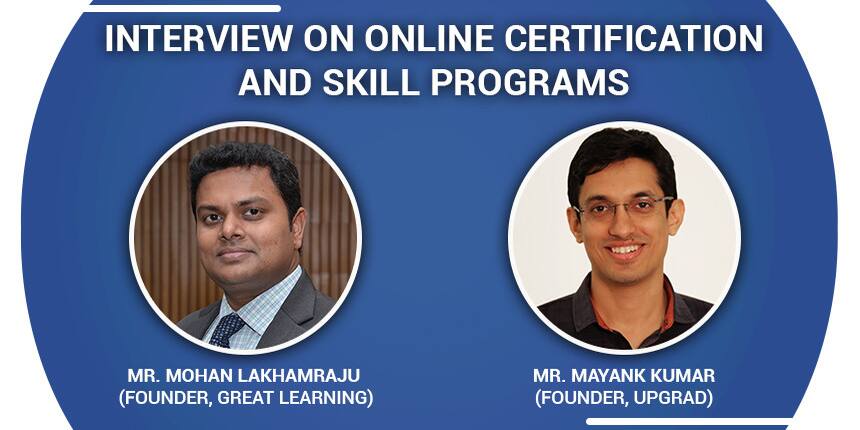 Interview Excerpt:
Careers360: What is the need to add a skill set like online courses into the formal education pack?
Mohan Lakhamraju : All of us are aware that our education system has been criticised for producing graduates that are not employable. This is reason number one. What we do in contrast to our education system is that our programs are very relevant and practical. They address the traditional aspect of the education system which is not very practical, not application oriented and doesn't teach students to solve practical problems. Our programs are created in coordination with the industry and therefore they help people to solve practical problems using application. By using technology, working with expert practitioners as faculty, we are . Everybody who wants to study, willing to spend time and effort should have access to high quality education and that is the second reason. Third reason is personalised attention. Technology gives the power to work with them and for them. Learning outcomes thus become far superior comparatively and therefore people are leading to better career outcomes.
Careers360: What are the leading outcomes promised by you?
Mayank Kumar: We try to bring a lot of application orientation. Students not only learn, they also apply those learnings in the right projects . Bringing that immersiveness is difficult. We started to be student centric which a large traditional education system doesn't allow. However, it has been possible only because of industry inputs.
Careers360: It is believed that offline brings competitiveness, it has a rigorous process and discipline. How do you manage to ensure that every student of yours actually has that rigour or discipline. What's the entire journey?
Mohan Lakhamraju: When people think of online, they think of distance education. The open universities like IGNOU have served some purpose but that is the reference frame from earlier. What we do right now is far more rigorous because we measure. You cannot improve or track if you don't measure. A very beautiful analogy is that if you go to a doctor or a blood test, you get a 8-10 page report with 100 parameters where as in 4 year of undergraduation all you get at the end is a marksheet, a 1 or 2 page transcript, that's traditional education, everything else is not measured. Whereas, in our case there is feedback of students taken regularly( every hour). In our case you only pass the course if you have done demonstrated learning. The other challenge is in a traditional classroom at the end of every year you have to pass a test to move out of the class whereas online, there is no such limitation. We are not optimising for time, we are optimizing for learning.
Careers360: While we talk of formal education, what do the collaborations bring to you?
Mayank Kumar: It is basically a business point of view, academic prodigy is important, user flexibility is also important. There is a lot of mindset shift that needs to happen.
Careers360: How do collaborations benefit and add to student outcomes?
Mohan Lakhamraju: It is letting everybody experience learning from the best sources of learning through the medium of technology. Best faculty is in the best universities. So we partner with universities to access the best faculty. These people are experts in their fields and they are actually amazing teachers. Learning from brilliant teachers is beauty and joy. Universities are the best places to find excellence.
Careers360: Is it learning that has a value or the certificate?
Mohan Lakhamraju: These are not two different things. Certificate is basically representing what you have learnt. Certificate without the learning is not good enough. If you have learning but don't have a certificate then the burden is on you to convince people that you have learnt. There are ways to get noticed even without the certificates like E-portfolios but having a recognized certificate from a good brand just makes it easier. Both are important, they are representing each other
Careers360: How does a student distinguish between a credible platform with others?
Mayank Kumar : It is not the entry criteria that matters as much as the exit criteria. What you carry out as projects, as final grades, they get a portfolio, choose me on account of that. Look at exit criteria.
Careers360: Can you convince students that if they choose a good institution that will add a lot of value?
Mohan Lakhamraju: Traditional recruiters are still going on the resume way. There, the certificate and degree absolutely matters because that's how they are shortlisting students but there is an increasing breed of recruiters going towards assessment based shortlists where tests are there or some demonstration of the problem solving ability or knowledge based tests. The world is in a process of credential to competence. There is a shift going towards competence. My advice is to don't get hung up on just the certificates, that's important but that's not enough. You need to have learning and knowledge of how to demonstrate that.
Careers360: What are your views on the courses offered by AICTE specially during this lockdown?
Mayank Kumar: AICTE is now recognizing these programs that have a lot to do with the online education space. There is larger acceptability for the same today. When students do these programs, it adds to their knowledge and learning and it comes part of learning. We also work actively building placement cells in online education.
Mohan Lakhamraju: We are here to get dreams come true. Our aim is to enable career success. We have above 450 corporate partnerships .They see us as a legitimate source of talent and because here are students finishing every month. Recruiters now don't have to visit campuses once in the year. They are doing time hiring. They need 10 people this month, they can hire 10 people this month and the students are going to join immediately.
Careers360: For an HR, skills are only viewed once the employee joins, till then it is the certificate. How does HR consider the value of the certificate a student is carrying.
Mohan Lakhamraju: At Great Learning, we have full time faculty members, the academic credibility is coming to the picture. Over 10000 people have graduated and over 50000 are going through the program. If there are 100 graduates employed by Cognizant. HR managers are being open minded, more innovative, companies have different spectrums of change. There are companies completely open, some are on their way.
Careers 360: This year the placements will be a bit shaken up because of the whole Covid-19 situation. What advice do you want to give students how they can upgrade their skills to be more employable?
Mayank Kumar: Everytime recession kicks in or a poor economic situation arrives, the entry level graduate salaries dip by about 10-15%. This time is going to be no different. If everyone can work towards creating the profile with the right credentials, right skills so that when the situation is right, the journey of coming back would be a bit easier and faster for them. Everyone will face a downward situation, though.
Careers360: There are students opting travel and tourism courses or hospitality and others. Those industries are going through crises. What is your advice to the graduates in sectors which will see a downfall for a long time in terms of adding some skills which will make them comfortable in opting some other profile?
Mohan Lakhamraju: Now when the degree is out of the way, you can actually start learning. If you feel that you are confident enough then work on demonstrating them, work on projects, and if you are not confident then this is the best time to learn. This is the time even if you have a gap in your cv, no one would question, everyone will understand. When the economy starts kicking back, India will pick up faster. So, people with actual skills will benefit. Be strategic about it. Look at the nearest niche. You can pursue a career in sales, products, online services. Try to add some digital skills by certification courses.
Careers360: Please throw some light on the most important skills needed by most of the industries post the lockdown.
Mohan Lakhamraju: Just like all individuals need certain basic necessities, all businesses have some basic necessities like IT, marketing, HR. Now, everything is on the internet. Once the Covid-19 situation is alright, basic things would be looked at. Immediately, every business would become a cloud business.
Careers360: What about the credibility of certification?
Mayank Kumar: Ultimately, students are the decision makers and they have to decide what works for them and what doesn't. There are many people working at the backend to provide the best to you. No one talks about if it's online or offline, what matters is your rigour, determination and confidence. If you have the right intent, you have a long way to go.