Interview with Mr. Manish Sabharwal on Economy, Jobs & Employability in a Post COVID World
Manish Sabharwal, Chairman and Co-Founder of Teamlease Services, India's largest people supply chain and HR services company, was live on Facebook and Youtube with Maheshwer Peri, Chairman and Co-founder of Careers360. In the live session, Sabharwal talked about 'Economy and Jobs post COVID and what students must do to be employable'. The session was quite informative as it answered the worries of students and graduates regarding what will happen next after COVID-19 in regards to employment. Through the live interaction he tried to answer all the queries and give insight about the current situation. This session brought some clarity among the young guns regarding their career choices and what can be done post COVID. Here are the answers to some of the important questions answered by Manish Sabharwal, Chairman and Co-Founder of Teamlease Services: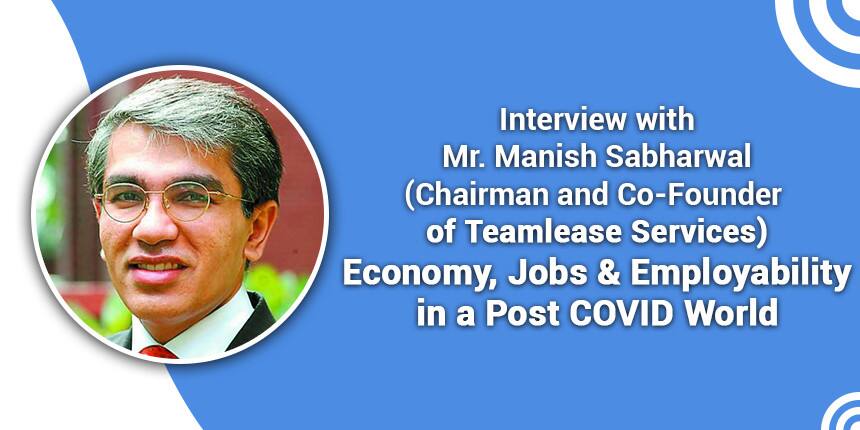 Watch the full live session here

Interview Excerpt:
Careers360. How do you think we as a country can kick start the economy, employability post COVID?

Manish Sabharwal: Most important and precursor to get the economy back on track is to control virus or atleast having some visibility of that. However, no one knows when the vaccine will be made, so we have to make alternative arrangements. In the next 12 months we will see changes like educational, labour and banking reform. Moreover we have already seen that RBI have reduced the interest rate, given the moratorium and more. So for a country like India I think cultural reform will be equally important along with labour reform, educational reform and more.
Careers360. How will we be protecting the economy or the people's livelihood?
Manish Sabharwal: I am not sure about the 25 percent unemployment because 50 percent of India is employed in agriculture which is not affected by the crisis yet. Though 25 percent of non-firm employment is the same across the world. So, in a pandemic like this 20-25 percent unemployment rate may be distressingly high numbers that we will test, which we are not testing yet. Primarily, because we can't define unemployment yet in ways we should. Therefore, I think we need to define unemployment better. You can't take jobs to people, you have to take people to jobs.
Careers360: India vs Global economy. How is it today?
Manish Sabharwal: India is much more globalized than it used to be but not even as globalized as China. However, in this crisis why the rupee is not that badly challenged even though foregin investors have panicked is because the oil price has done down and that's really improves what our current account deficit is. I think we will not be illustrated from the world. I think except for some challenges in the short run, this will accelerate India's willingness to goblazied faster, however, the question is will the world be ready.
Careers360: Post COVID-19 do you think countries will tighten the borders and movement of goods and people?
Manish Sabharwal: Absolutely. One of the causality of this will be not ending of globalization but will be slowing down globalization.
Careers360: Your advice for the student who has an option of studying in India and aboard?
Manish Sabharwal: My advice is to do undergraduation in India and go for higher studies overseas.
Careers360: What should students be doing right now to be skilled enough to deal with the post COVID world?
Manish Sabharwal: Knowing is useless. Learning how to learn is important. Soft skills matter more than hard skills, curiosity matters more than intelligence. So, focusing on soft skills over hard skills, figuring out your program for lifelong learning, and coming up with innovative ideas to grasp learning is important in today's time.
Careers360: Is it that we are not skilled enough or there are not enough jobs created for students?
Manish Sabharwal: This is a chicken and egg problem and the best way to solve this to become vegetarian, that is to do something different. Demand side will always be a constraint and so will the supply side. I don't think demand and supply will ever match each other.
With the outbreak of COVID-19, millions of people around the world have lost their jobs, offers from the number of graduates have taken aback. With the whole world at the brink of what could be the worst recession in ages, especially students are worrying about their career at risk of losing their job offers. Moreover, if you are a freshly graduate and looking for a job, searching for it in a recession is a herculean task and therefore you need a better plan to tackle the post COVID situation.