"Engineering graduates are not really job ready and it is a combination of many factors" says, Harpreet Kaur, Senior VP and Head, Godrej & Boyce Mfg. Co. Ltd.

In the final year of college, recruitment is what every engineering aspirant looks forward to. The right recruitment is the one that helps both individual and company grow in all possible aspects. Read what Harpreet Kaur, Senior VP and Head, Corporate Personnel and Administration at Godrej & Boyce Mfg. Co. Ltd. thinks of a capable person for recruitment.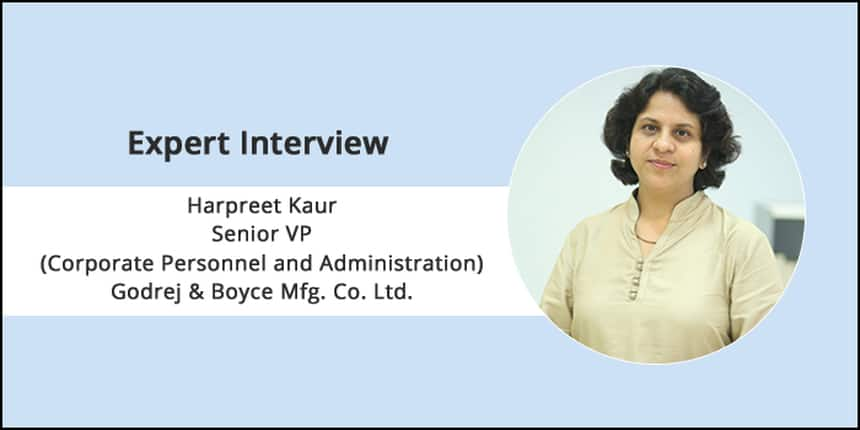 Careers360: Godrej offers a dynamic basket of careers for engineers. What are the various prospects?
Harpreet Kaur: Godrej & Boyce is a diverse company with a spread from consumer durables to industrial products, catering to a large basket of careers options. An engineer could look forward to working and contributing in the 14 businesses and functions like Design, Procurement, Manufacturing, Planning and Estimation, Sales and Service functions, including Sustainability, but are not limited to these. Most of our business leaders have progressed their career over the years being engineers either in factory, sales or service functions for various industrial products.
Careers360: Who is an ideal fit?
Harpreet Kaur: We look for candidates who are academically sound, able to express themselves and who have a drive for continuous learning through the solving of business challenges, whether technical, functional or administrative. Continuous learning and tenacity is very important for us. On the softer side, we look for people who are collaborative in nature and take the teams along as we strongly believe that it is teams and not individuals that deliver.
Careers360: Which domains within Godrej require the most talent?
Harpreet Kaur: Technology as we know is increasingly impacting the shop floor, work areas and the way we work. Hence, we continue to build capabilities in digital technology and robotics. All our business units, be it consumer facing or industrial, have plans to incorporate more of Internet of Things, both in our product offerings as well in making our factories 'smarter'. We will continue to recruit from Mechanical, Mechatronics, Electrical and Electronics domains.
Careers360: How can engineering education be more industry-oriented?
Harpreet Kaur: Engineering graduates are not really job ready and it is a combination of many factors. The engineering school curriculum needs to be more modern and industry-relevant. Their workshops should have machines that students are expected to work within the industry and modern factories. Presently, the world of classrooms is very different from the shop-floor, where practical knowledge rather than mastery on theoretical concepts, ability to work with one's hands and managing teams and individuals in a mature manner is a must. To make this possible, industry and academia should work more closely.
Careers360: How does Godrej develop professional expertise?
Harpreet Kaur: We offer fresh graduates an opportunity to continuously develop and build their competencies through early responsibility for functional results enabled by a very high degree of empowerment in a trust-based environment. Subsequently, given our diversity across various types of business contexts (B2C, B2B–Institutional, B2B–Industrial and B2B-Projects), employees have lifelong learning and development opportunities enabled by robust performance management systems, job enrichment programs and job rotation opportunities in contributing and making a difference to a better world.
Careers360: How many engineer graduates does Godrej recruit annually?
Harpreet Kaur: We have been recruiting graduate degree and diploma engineers that total a few hundreds. As our businesses grow, we see us recruiting similarly in the future.
Aspiring candidates must always embrace opportunities to widen and deepen their learning and build expertise going forward over the next 30-35 year of their active career and always follow their values.