Interview with BITS Directors on BITS Exam, Courses and Placements
The widespread outbreak of COVID-19 has led to the postponement of BITSAT 2020 exam and now the exam date will be announced after May 24. This situation has led to various queries by students about BITSAT 2020 exam date. We have received various queries like when the exam will be conducted? Whether it will be conducted after JEE Main or before that? And many more. In order to answer all such queries regarding BITSAT 2020, Careers360 team conducted a live session with the Directors of all the three campuses of BITS in India- BITS Pilani campus Director- Prof. Sudhirkumar Barai, BITS Goa campus Director- Prof. G Raghurama and BITS Hyderabad Campus Director- Prof G. Sundar. The session also included questions about the placements and courses offered by the institute. Read the excerpts of the live session below.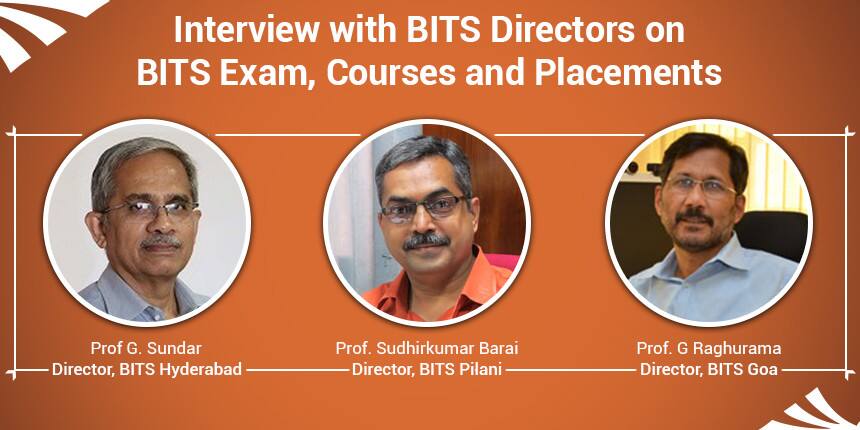 Careers360: How do you think IOE status will impact the student outcomes over the period of time?
G Raghurama: I think by this time, everybody knows that MHRD and UGC decided to give the Institute of Eminence (IOE) to ten institutes in India. Initially the expert committee selected only three public and three private universities and BITS was one of them. I will also say that without this rating by the government, we started a rigorous strategy, formed an internal team and set up things with certain consultancies to reach out the global status that we become one of the reputed universities in the world and along with this, the government announced IOE status to the University. We will be continuing with the path of innovation and introducing more degree programmes. So, IOE gives more freedom and autonomy to the university.
Careers360: Do you think BITS will expand from being a Science and Technology University?
G Raghurama: See, when we were given this IOE status, we were asked this question and we have also asked it to ourselves within our strategy. So, in future BITS will not only be a science and technology university and will expand in the areas other than science and technology. In the coming future, BITS will expand in terms of offering that it makes and in terms of areas it is not dealing at present. For example, we have started liberal studies program recently. So, as a university we want to be a full-fledged university but at present it is too early to say what new areas will be added.
Careers360: Will BITSAT 2020 be conducted before JEE Main 2020 or after it?
G Raghurama: Frankly speaking at present the BITSAT 2020 dates are difficult to be announced. We don't want to tie down to any exam. The exam dates will be decided after checking the flexibility of the candidates. We will keep in mind that candidates are comfortable in appearing for the exam at the time. So, at present no date can be declared. But, I will say the exam will be conducted in less days this time as compared to 10-15 days last year.
Careers360: Are you likely to accept SAT scores in future or are you accepting now?
G Raghurama: We accept SAT scores for International admissions. The students outside India get admission on the basis of SAT scores. We have three modes of admission- One is BITSAT, other is being a topper of a board and third is international student with SAT scores.
Careers360: What will be the difference between Pre COVID-19 vs Post-COVID-19 Placements?
G Raghurama: I think, the world has gone through crisis several times and this is also a passing stage. Like every crisis, we will handle it, the industrialists also learn to handle it. it is obvious that the way we work today will change but it will also bring new opportunities and experiences. For example, today a large number of people suddenly moved towards Work from home. In the same way, the world will change on the basis of crisis and the students who will adapt to the changes properly will not be affected much. This will be the ability that the companies will be looking for.
Careers360: As per normal understanding, students know that BITS only offers engineering degrees. So, can you elaborate what courses BITS Pilani offers?
Sudhirkumar Barai: BITS has a unique culture in terms of academic curriculum. We have Integrated first degree and higher degree programmes. In Integrated first degree programmes, we offer B.E. in Mechanical Engineering, Manufacturing Engineering, Chemical Engineering, Computer Science, Civil Engineering, etc. Apart from this, we have minors in arts like Film media, Finance, Economics, etc. In Master's we offer M.E. Programmes in interdisciplinary areas, like, Electronics and Control, Embedded Systems, Microelectronics, Software Systems, Biotechnology, Manufacturing Systems, Design Engineering, Materials Science & Technology, etc. Other than M.E, we have M.Pharm programmes. Apart from this, one unique thing is that BITS offer Practice Schools- PS1 and PS2 where a student has an opportunity to spend 2 months in PS1 and around 6 months in PS2 in an industry.
Careers360: BITS offer B.E. and other institutes offer B.Tech. What is the difference?
G. Sundar: Today, B.E. and B.Tech are virtually synonyms. So, whatever B.E. courses which BITS offer like B.E. in Computer Science is equivalent to B.Tech offered by other universities in the same stream. In terms of technicalities, there are not any major differences.
Careers360: Is there something in the Hyderabad campus, that BITS Pilani doesn't know?
G. Sundar: There is a little difference between B.E. courses that each campus offers. There are some B.E. courses that one campus offers and another doesn't. However, the basic canvas that is painted is the same, just simple variations where certain specializations are offered are not offered in any campus depending on the faculty expertise and directions that each campus has.
Careers360: BITS Dubai came before the Hyderabad and Goa campus. How does it happen?
G Raghurama: Till 2000, we were only in Pilani and we used to admit students on the basis of Class 12th marks and rejections we made were huge. So, we were thinking of expanding. In the meanwhile, the UAE government approached Indian government for help as a large number of CBSE schools are there. Then Indian government asked the universities if anyone is interested in expanding but expanding in the engineering division was not welcomed by other universities but we were ready to expand. So, we were also encouraged by the government to expand there in Dubai. After that we had many students coming from South India and Goa, so that's how we first started a campus in Goa and after that in Hyderabad.
Careers360: What is the kind of qualification the students who go to BITS Dubai have?
G Raghurama: First of all, I would like to make it clear that we don't admit any student to a dual degree program. When we went to Dubai, we committed ourselves to engineering programmes and not in sciences. However, students are admitted on the basis of Class 12th marks and no entrance exam is conducted.
Careers360: The choice of dual degree programmes is given to students at undergraduate level or only at master's level?
G Raghurama: No, not really. Let me clarify. There is a difference between dual degree and integration. The dual degree programme is offered by BITS only. The dual degree has programmes at the same level. For example, a M.Sc student doing B.E. or a B.E. student doing another B.E. This is dual degree. But Integration there is an undergraduate degree and a master's degree. So, that is the distinction between the two. Dual degree has nothing to do with integration.
Careers360: What is the scheme for NRI students in BITS?
G Raghurama: Any student who does not have Indian passport is considered an international student and SAT scores are used for their admission process.
Careers360: Can you elaborate on the certification program in distance learning mode or online mode?
G Sundar: These are education programs specifically for working professionals. They do not lead to any degree but aim at improving skills of working people. These programs are not open to students. Looking at the changes in the market and rapidly changing market, we offer certificate programs to provide rigorous foundation in a particular discipline. The duration of these programs is 6 months, 10 months to 12 months. Currently we are offering certificate programs like machine learning, data analytics, data engineering, etc. Very soon we intend to start a program in full stacking.
Careers360: Will the eligibility for BITSAT change this year as many boards are passing students without exams?
G Sundar: We have already made our announcement and we have to stick to what we have announced. It may seem unfair, but I think boards will also ensure that there is a way to distinguish a student's performance from the other. Also, the eligibility criteria of BITS requires a certain percentage in particular subjects and in aggregate. So, as long as that criterion is met, no other thing will matter.
Careers360: In terms of placements, everyone knows that it is easier to get Computer Science Engineering students placed but in case of other core streams like Civil Engineering, the data is not as good. So, what is your advice to students that would be the branch that will beat other rising sectors?
Sudhirkumar Barai: The curriculum at BITS is very flexible and students can also go for dual degrees. The second one is that students at BITS can join practice schools. Students here get jobs before the end of their sessions. So, in terms of BITS there is no such branch that is less in placements.
Careers360: What happens to a core engineering student. Does he get into a core engineering company or other companies? How is a core engineering student placed in BITS?
G Raghurama: As a progressive institute and looking at the way the world is changing, this notion of core electronics, core civil engineering does not really matter. I don't think this is a time to hold on to this. The second thing is that the skills that people should have today are totally that were required 10 years ago. For example, there are people who did M.Sc are today running a computer company; some did instrumentation and doing something else. So, what you do as a four year in an institute does not decide what you are going to do in the next 20-30 years. Students should just focus on skills. Parents should also take care about the interests of their children and do not force them into anything.
Careers360: What are the provisions of fee waiver, scholarships, fee concession, loans, etc. offered to the students who go admission at BITS but cannot afford it?
G Sundar: It is true that the cost of education has gone up. It is also with BITS, we have also not rolled down the fee to that level. One thing that characterizes BITS is our scholarships, today we have merit scholarships for students at the undergraduate level which roughly covers 30% of the fees. We have ensured that anyone who has been admitted to the institute does not have to forego the chance. Other than this, banks and other financial institutions readily offer loans to the students for our students.
Careers360: The cutoff marks for integrated courses at BITS is lower than that for core courses. Can you explain how a student should go about choosing a course at BITS?
G Raghurama: The cutoff is lower in engineering courses because of awareness. The dual degree is not very known. The second reason is society, everyone wants to send their children into engineering. My suggestion to students, if you are not interested in M.Sc science don't do that once you get it you should not feel that you are not interested in it. If I tell you that BITS used to get very bright students in engineering and left joined science. But let me tell you that science requires more knowledge. So, don't opt for a dual degree if you are not sure.
Careers360: Today we have JEE Main and BITSAT. What is the difference between them?
G Raghurama: I will start with a little history, earlier we used to give admissions on the basis of Class 12th scores but there were boards of different kinds and also geographical differences there were some disadvantages for some students. Then the government said that deemed universities can admit only through entrance exams so it was imposed on us. So, we were told to join AIEEE. So, we decided to start our own entrance test, initially it was opposed by the government and the matter went to court and finally the court said that deemed universities can conduct their own entrance exams and that's how BITSAT started.
Careers360: BITS offers MBA but still not to the level of what you are offering at undergraduate level. Can you explain why?
G Sundar: Several decades ago, BITS Pilani was offering an MBA then we consciously shifted to offering first degree programme i.e. Master in Management which led to an MMS degree. But about a decade ago, we found that the maturity level of students coming to the MMS programme was not good. So, we decided to redesign the course. So, we went back to offer a postgraduate MBA degree which we offer today also. Yes, it is true that we have not garnered the same reputation in MBA as we have in technology but will be working on it. We may start a school for this.
Careers360: It is coming up that in the post COVID world a lot of investment is expected in health and allied sciences. BITS M.Pharm course, so can you elaborate about health and allied science courses offered by the institute.
Sudhirkumar Barai: M.Pharm courses offered by BITS is one of the most sought after programmes. We offer M. Pharm. programs with specialization in Pharmaceutical Chemistry/Pharmaceutics. Also, because of the practice schools that provide industry knowledge to students at the institute, it will not be difficult for BITS students to get the emerging opportunities post COVID-19.
Careers360: How should one prepare for BITSAT when he/she is also preparing for JEE Main?
G Raghurama: We think anyone who wants to join BITS does not require any coaching. So, we have stuck to the NCERT syllabus. So, students should follow the syllabus we have provided and refer to their NCERT books. If someone is preparing for JEE Main, he/she does not require any separate preparation for BITSAT. Also, if I may add, I want to appeal to parents that they encourage their daughters to take part in the engineering stream also.
BITS Pilani Updates and Articles
Interesting Facts about BITS Pillani – Find here interesting f...
17 Feb 2016
Life at BITS Pilani - Sagar Arora, a student of Engineering, t...
10 Dec 2014
Questions related to BITS Pilani
Showing 1962 out of 1962 Questions