IISER Seat Allotment 2017
IISER Seat Allotment 2017 - The Indian Institutes of Space Education and Research (IISER) has released the result for all rounds of seat allotment of IISER 2017 for candidates who applied through SCB channel, KVPY channel and JEE Advanced channel. Candidates can check the seat allotment result through the links given below. The IISER 2017 seat allotment takes place through three channels i.e JEE Advanced 2017, Kishore Vaigyanik Protsahan Yojana, and SCB (State and Central Boards). The seven institutes of IISER where candidates could apply for admission are at Bhopal, Berhampur, Kolkata, Pune, Mohali, Tirupati, Thiruvananthapuram. Depending on the rank in the merit list, the candidates are given the institute and preferred branch of their choice. It was at the time of IISER counselling that document verification took place. Seats are allotted to the candidates depending on the choice of programme and institute filled by the candidates, rank in the merit list and availability of seats. In order to know other details about IISER seat allotment 2017, candidates must read the article given below.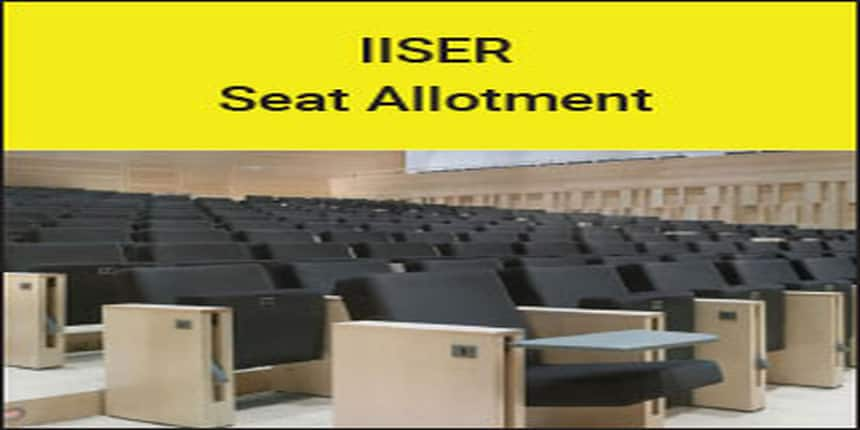 Only those candidates who meet the minimum cut-off aid down by IISER will be eligible for counselling where IISER 2107 seat allotment will take place.
IISER Seat Allotment 2017 Results for JEE, SCB & KVPY Channels
| | | | |
| --- | --- | --- | --- |
| Rounds | JEE Advanced Channel | SCB Channel | KVPY Channel |
| First round of seat allotment | | | |
| Second round of seat allotment | - | | - |
| Third round of seat allotment | - | | - |
| Final round of seat allotment | | | |
 IISER 2017 Seat Allotment-Important Dates 
The schedule for seat allotment of IISER through different channels is given below in the table.
Schedule of IISER Seat Allotment 2017
| | | |
| --- | --- | --- |
| S.No | Particulars | Dates |
| 1 | Allotment of seat through JEE Advanced 2017 | July 13, 2017 |
| 2 | Allotment of seat through KVPY | June 16, 2017 |
| 3 | Allotment of seat through SCB channel | July 5, 2017 |
IISER Counselling 2017
The counselling of IISER 2017 takes place for candidates who are applying through three channels which include JEE Advanced 2017, KVPY and SCB Channel. All the candidates whose names appear in the merit lists of IISER are eligible to participate in the counselling of IISER. At the time of the counselling, 50% of the seats are allotted to those candidates who had applied through JEE Advanced 2017 and KVPY channels. The remaining 50% seats are allotted to those candidates who have applied through SCB channel and have cleared the IISER Aptitude Test. Allotment of seats to IISER institutes is based on the ranks secured by the candidates in the respective exam that they had taken and the preference made by them at the time of filling the application form.
Number of Seats available
The number of seats that are available for allotment at different institutes of IISER in 2017 for the BS-MS programme is 1285.  The breakup of these seats is given below in the table.
Total seats at IISER institutes
| | | |
| --- | --- | --- |
| S.NO | Location of IISER institute | Number of seats at each Institute of IISER |
| 1 | | 100 |
| 2 | | 260 |
| 3 | | 200 |
| 4 | | 200 |
| 5 | | 200 |
| 6 | | 200 |
| 7 | | 125 |
Eligibility for IISER Seat Allotment 2017 through different channels
The three main channels through which candidates will be eligible for admission to IISER are given below in the table.
Details of different channels
S.No

Particulars about the channels through candidates can apply

      

JEE Advanced 2017- Candidates belonging to the general category and who will have a rank within 10 000 in the common rank list of JEE Advanced 2017 will be eligible to apply for admission at IISER. In the "float" option, if the candidate has opted for it, then, in that case, they will be able to either retain the seat that is offered to them or they could opt for change according to the preference made by the candidate.

Their names will appear in the IISER merit list only of they meet the additional cut-off criteria

2

KVPY- Candidates possessing a valid KVPY fellowship, which will be applicable from the academic session of 2017-20, they would be able to apply and additional cut-off criteria may also be applicable

3

SCB- Those candidates who have passed the 10+2 from science stream will be eligible to apply but they should have marks equal or above the cut-off percentage in their respective boards. However, those applying through the SCB channel, they would have to take the IISER Aptitude Test, which will be held in different parts of India.
IISER Fee Structure
On IISER seat allotment 2017, the candidate had to pay an acceptance fee of Rs 25,000, which is for general category and OBCNC. Those belonging to SC, ST, KM, PD categories will have to pay Rs 12,500. The acceptance of fee will enable the candidates who are allotted seats to IISER institutes to take the benefit of the "float option" if they have accepted it. 
If the candidate selects "no" under the float option, then the first choice made by the candidate will be final.
If the candidate selects the "yes" as the float option and if the candidate does not get the first preference during allocation, then the candidates will be considered in subsequent rounds.
Payment of Seat Acceptance fee
In order to confirm their admission, candidates belonging to the general and OBCNC categories will have to pay Rs 25,000 while those belonging to SC and ST category will have to pay Rs 12, 500. 
Withdrawal of seat
Candidates are able to withdraw their seats only through the application portal. They will be able to withdraw the offer till 5 p.m on July 26, 2017.  There will be no cancellation fees for candidates withdrawing from IISER 2017, if they do so within the given time frame.
Stay tuned to engineering.careers360.com for more news and articles on IISER Admissions 2017.
Get real-time alerts on exam & colleges at your fingertips with Careers360 App! Click Here to Install or Give a missed call on 08080944727 to get app link.
Questions related to IISER Aptitude Test
Showing 529 out of 529 Questions
Indian Institutes of Science Education and Research Aptitude Test (IISER Aptitude Test)