The National Testing Agency (NTA) will soon announce the JEE Main 2024 exam dates. The candidate's performance in the best of the two sessions shall be considered when preparing the final merit list for JEE Main. Moreover, top 2.5 Lac students through JEE Main 2024 from all categories would qualify to appear in JEE Advanced 2024.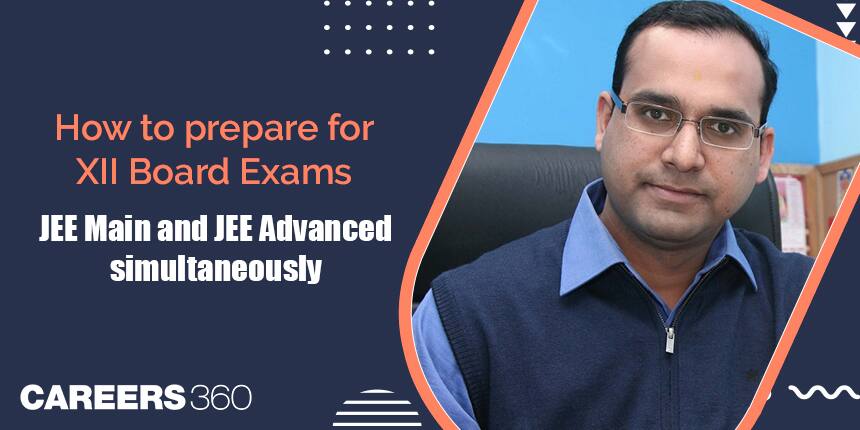 How to prepare for XII Board Exams, JEE Main and JEE Advanced simultaneously
Last year, the NTA has also restored the JEE Main 75 % eligibility criteria. In order to get admission into NITs, IIITs, and GFTIs, aspirants are required to obtain a minimum of 75 percent in class 12th. Since the gap between the class XII Boards, JEE Main, and Advanced exam is not much, one of the most sought-after queries of candidates seeking admission into top engineering colleges is how to prepare for Board, Mains, and Advanced simultaneously. Therefore, in this article, candidates can check tips to prepare for XII Boards, JEE Main, and JEE Advanced simultaneously by FIITJEE expert, Ramesh Batlish.
Also Check: JEE Main question paper
How to utilize the time now and later till JEE Advanced 2024?
It is advisable to prepare simultaneously for Boards, JEE Main & JEE Advanced and utilize the gaps between the exams effectively.
In December 2023 & January 2024:
The focus must be more on JEE Main & NCERT Textbooks. Take adequate no. of JEE Main mock tests to improve the exam temperament along with regular IIT JEE test analysis to know your weaker areas. In Physics & Chemistry get a good grip of chapters of NCERT as most fact-based questions are asked directly from NCERT. Aspirants who are taking the Board exams would find this method useful. while repeaters should take the January session to check their preparedness. It is advisable to appear in both sessions of JEE Main as the best of the two sessions would be considered.
In February & March 2024:
Students who are focusing on JEE Advanced must utilize this time from the actual date of the exam for JEE Advanced along with JEE Main and Class XII Board Exam preparation. They should continue their preparation with a foolproof timetable devoting equal time slots for each subject. Those who have planned to take both Sessions of JEE Main may take mock tests periodically to fine-tune their preparation for the same. Students taking XII Boards may additionally utilize the gaps between the Board Exams for mock tests. Test Analysis after every mock test will be the key to improving oneself before the actual Exam. Repeaters are advised to remain focussed for JEE Advanced during this time.
From April 2024 till JEE Advanced Exam:
The time after JEE Main (April) Session could be devoted only for JEE Advanced by taking IIT JEE mock tests followed by rigorous test analysis. Students are advised to revise from the notes made while preparing and stay connected with their respective subject teachers. Joining a Test Series with Concept Strengthening Sessions may be a good idea.
Preparation Strategy for both JEE Main & JEE Advanced 2024:
While JEE Main Paper-1 has only two types of questions MCQs with single correct answer and Numerical Answer type, the JEE Advanced paper has a mixture of various types of questions. There are questions of Multichoice type with either Single Correct answer or multi correct answers. There could be comprehensions followed by two or more objective type questions with single or multi correct answers. The matrix match type questions may involve matching two columns or even three columns. The Integer type questions may involve a subjective type question with the answer an integer or correct to two decimal places. Students are advised to be careful as the paper has negative markings.
The JEE Main 2024 preparation strategy should be built with effective time management and subject-wise planning. Here are some vital tips that will help you to prepare for both JEE Main and JEE Advanced 2024 in the remaining months.
Study Schedule - Students must follow the timetable strictly. Getting success in JEE Main/Advanced is not that easy but do remember with hard work and commitment you can achieve anything in life.
Mock test - Mock tests play an important role in making you familiar with the JEE Main 2024 pattern as well as checking your strong and weaker areas. To analyze your preparation and build the right examination temperament, students are advised to take mock tests. It is advisable to do Test Analysis after every Mock Test for improvement.
Time Management - Always remember all students have 24 hours in a day. Most of the students have queries about how many hours of studies can change the outcome? As per the experts, 5-6 hours of serious study in a day is vital to crack exams like JEE Advanced.
Speed and Accuracy - There would be limited time given to the students to complete the exam. You have to maintain a constant speed but don't forget accuracy will help you gain more marks. There is a negative marking in the exam. The accuracy will come with practicing the questions in a limited time.
Health- Don't forget to take care of your physical and mental well-being. In the end, good health is very important for any exam. Take a good sleep for about 6 hours in a day. This should be done a month before the exam. Keep your immunity strong as this will protect you from falling ill before the exam. Try to have home-cooked food as far as possible.
Study Material & Important Topics-One must not start any new books at this stage. However, one can still refer to standard books for concept clearing. This stage should be utilized more for problem solving, developing shortcuts, and memorizing formulae, and understanding one's strengths & weaknesses. Aspirants must take up mock tests in CBT (Computer Based Test) mode to develop ones' self-confidence & exam temperament. Time Management is crucial to score more marks. It is advisable to take at least 3 Mock Tests per week for JEE Main and at least two Mock Tests per week on the current pattern of JEE Advanced. All Tests must end with a Test Analysis session.
IIT JEE 2024: Important Topics in Physics, Chemistry & Mathematics:
The syllabus of class 11th & 12th is equally distributed across the question paper both in JEE Main and JEE Advanced. Infact, there are questions involving intermingling of concepts of two or more chapters in case of JEE Advanced. So, students are advised to avoid selective study in Physics, Chemistry and Mathematics. Generally, all topics are covered as mentioned in the syllabi. However, students may give more attention to the following chapters:
Mathematics: Quadratic Equations & Expressions, Complex Numbers, Probability, Vectors, Matrices in Algebra; Circle, Parabola, Hyperbola in Coordinate Geometry; Functions, Limits, Continuity and Differentiability, Application of Derivatives, Definite Integral in Calculus.
Physics: Kinematics, Gravitation, Fluids, Heat & Thermodynamics, Waves & Sound, Capacitors & Electrostatics, Magnetics, Electromagnetic Induction, Optics & Modern Physics.
Chemistry: Coordination Chemistry & Chemical Bonding in Inorganic Chemistry, Electrochemistry, Chemical & Ionic Equilibrium, Mole Concept in Physical Chemistry, Aryl, Alkyl Halides, Amines and Oxygen-containing compounds in Organic Chemistry.
Some Standard Reference Books:
Physics

Chemistry

Mathematics

Physics XI & XII by NCERT

Concepts of Physics Vol I and II by H.C. Verma

Fundamentals of Physics by Halliday, Resnick & Walker

Problems in General Physics by I.E. Irodov

Chemistry XI & XII by NCERT

Organic Chemistry by Solomon & Frhyle

Physical Chemistry by P.W. Atkins

Concise Inorganic Chemistry by J.D. Lee




Plane Trigonometry Part 1 by S.L. Loney

Plane Coordinate Geometry by S.L. Loney

Higher Algebra by Hall and Knight

Problems in Calculus of One Variable by I.A. Maron