How to revise Physics for JEE Main 2020 at home
Self-isolation has become the way of life for all people due to the ongoing crisis of COVID-19. While many are left stuck at home with nothing to do, the students are definitely left with a big question on how to revise for their upcoming examinations. Many engineering entrance exams, including JEE Main 2020, have been postponed, which has given the students more time to revise, but how should they utilize it? For JEE Main, Physics is one of the most scoring subjects and consists of usually moderate level questions. By revising Physics for JEE Main at home, you can definitely amp up your scores during the entrance exam. Careers360 has compiled a preparation guide on how to revise Physics for JEE Main at home.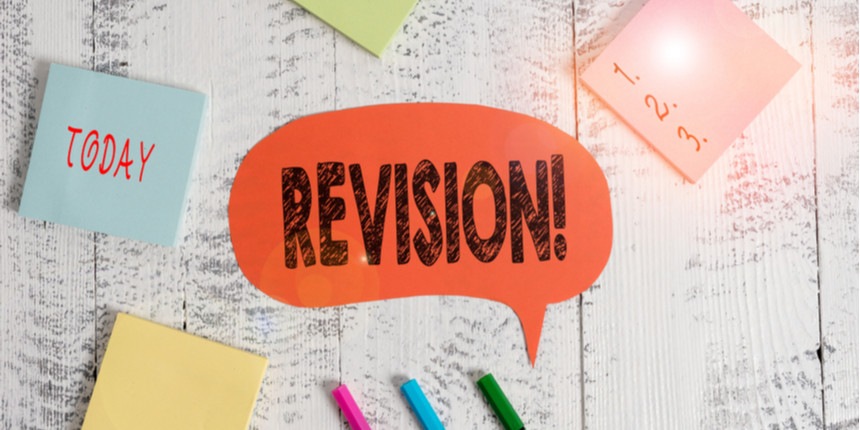 Tips on how to revise Physics for JEE Main at home
Understand the exam pattern and syllabus
The first and most important tip before starting off your revision for Physics is to check and understand the JEE Main 2020 exam pattern and syllabus. Yes, you may have checked it before but re-checking and making sure you are updated with all of the information is not time consuming and may benefit you. By being very familiar with the exam pattern and syllabus of JEE Main 2020, you may experience advantages during revision regarding which topics have to be focussed more on and what type of questions you can expect in the entrance examination.
JEE Main 2020 exam pattern for Physics
Particulars

Details

Total number of questions

75

Type of questions

20 objective questions having 4 options each with only 1 correct option

5 numerical questions with numerical value as answer

Marking scheme

Objective questions - 4 marks for every correct answer and 1 mark will be deducted for every incorrect response.

Numerical value questions - 4 marks for every correct response and no negative marking.
Prepare a schedule
Since the entire country is in lockdown, you will have more time on your hands to study. Therefore, preparing an entire day schedule dedicated to revision will be the best method to adapt. This will ensure you are on track and will lessen the chances of lagging behind. While preparing a schedule, make sure that a variety of topics are included throughout the day in order to make the revision process less monotonous. Do not forget to add small breaks in between to freshen up your minds before starting ahead with another topic of Physics.
Attempt online mock tests
At this time, mock tests are the best help that you can use to revise Physics for JEE Main at home. Make the internet your best friend during this time, in a positive manner. Check and attempt mock tests of JEE Main to know your current stance in terms of preparation. Mock tests will allow you to know what mistakes you are likely to make and let you solve them before the examinations. Along with the mock test, you can also solve sample papers of JEE Main 2020.
Always keep notes
Whenever you are revising, keep a small notebook where you can write down the formulas or terminologies which you find hard to remember. This will create a list of topics which you can check and keep studying anytime and anywhere in the house.
Take a well deserved break
While studying and revising is important, it is also essential to take breaks in between. During the breaks, try not to get involved in Youtube videos or games but instead take a nap, exercise to clear your mind or help your parents in the household work. By doing some physical activity, you will increase your brain activity which will lead to good retention when you are studying.
Know your important topics and books
Smart-studying is another method that you can adopt to revise Physics for JEE Main at home. While studying all of the topics mentioned in the syllabus is necessary, there are certain topics which have more weightage and should be given a bit more attention. Segregate these topics and revise them regularly for good preparation. Relevant books should also be referred to while doing the revision.
Important Topics for JEE Main 2020 Physics
Important Books for JEE Main 2020 Physics
| | | |
| --- | --- | --- |
| S.No | Name of the book | Author |
| 1. | Concepts of Physics | H C Verma |
| 2. | Problems in General Physics | I.E. Irodov |
| 3. | Arihant Physics | D. C. Pandey |
| 4. | Elements of Dynamics | S.L.Loney |
| 5. | Advanced level Physics | Nelson and Parker |
| 6. | NCERT Physics | Text Books for Basics |
| 7. | University Physics | Sears and Zemansky |
| 8 | Fundamentals of Physics | Resnick, Halliday, Walker |

All the best!
Also check: JEE Main Preparation Tips for Physics
Questions related to JEE Main
Showing 96701 out of 96705 Questions