How to prepare for MHT CET 2022 at Home - Check here
The State Common Entrance Test Cell, Maharashtra is going to conduct MHT CET 2022 for PCM and PCB groups. Maharashtra CET 2022 exam dates for the PCM group are August 5 to 11 and for PCB group, the exam will be held from August 12 to 20. Many candidates would be curious to know about how to prepare for MHT CET 2022 at home. Therefore, to help such candidates, Careers360 has brought a simple guide on MHT CET 2022 preparation at home.
Latest Updates for MHT CET
Stay up-to date with MHT CET News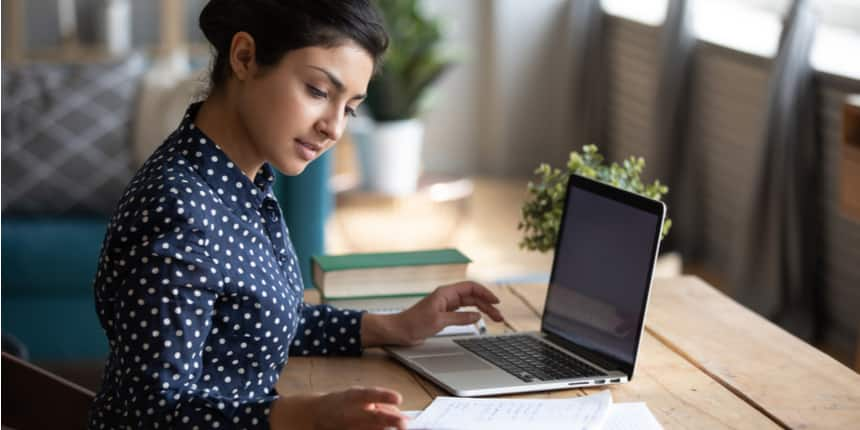 Candidates preparing for the MHT CET 2022 exam at home should check the complete article below to know the tips to crack Maharashtra CET 2022 exam with good scores. The below suggestions are prepared on experts and toppers tips. Hence, the strategy to crack MHT CET exam 2022 shall have relevance on its own. The MHT CET 2022 preparation at home includes preparation tips, MHT CET 2022 important topics, books to refer to and study time table. Read the complete article to enhance the preparation level for Maharashtra Common Entrance Test 2022.
Start preparation by knowing the MHT CET 2022 exam pattern and syllabus
MHT CET exam pattern 2022
Candidates can check the below table to understand the key highlights of Maharashtra CET exam pattern:
Particulars

Details

Mode of examination

Computer-based Examination

Number of Papers

There will be two papers-

Paper I – Mathematics

Paper II - Physics & Chemistry

Duration

90 Minutes for each Paper

Type of Questions

Objective (Multiple Choice Questions)

Number of Questions in Paper I and Paper II

Paper I – Mathematics – 50 Questions

Paper II- Physics & Chemistry– 100 Questions (50 each)

Total Marks

100 Marks (Each Paper)

Marking Scheme

Paper I- 2 marks will be allotted for each correct answer.

Paper II- 1 mark will be allotted for each correct answer.

Negative Marking

There is no negative marking in the exam.
MHT CET 2022 syllabus
Candidates are provided below with the MHT CET syllabus 2022 segregation for class 11 and 12 topics.
Subject

Chapters/Units from Class XI

Chapters/Units from Class XII

Physics

Magnetism

Refraction of Light

Friction in Solids and Liquids Force

Scalars and Vectors Measurements

Circular motion

Gravitation

Rotational motion

Oscillations

Elasticity

Surface tension

Wave motion

Stationary waves

Kinetic theory of gases and Radiation Thermodynamics

Wave theory of light

Interference and diffraction
Electrostatics

Current electricity
Magnetism

Electromagnetic inductions

Electrons and photons

Atoms

Molecules and Nuclei

Semiconductors

Communication systems

Chemistry

Solid State

Solutions and colligative properties Chemical thermodynamics

Electrochemistry

Chemical kinetics

General principles and processes

p-Block elements

d and f Block Elements

Coordination compounds

Halogen derivatives of alkanes

Alcohols

phenols and ethers

Aldehydes

ketones and carboxylic acids

Organic compounds

Biomolecules

Polymers

Chemistry in everyday life

Mathematics

Circles and Conics

Straight Line

Factorisation Formulae

Trigonometric functions of Compound Angles

Part 1: Mathematical Logic, Matrices, Trigonometric functions, Pair of straight lines, Circle, Conics, Vectors, Three-dimensional geometry, Line, Plane, Linear programming problems,

Part 2: Continuity, Differentiation, Applications of derivative, Integration, Applications of definite integral, Differential equation, Statistics, Probability distribution, Bernoulli trials and Binomial



Know the best books for MHT CET 2022 exam
The below table includes the best books for Maharashtra CET exam 2022. Candidates must check the below mentioned books and their author for MHT CET 2022 preparation.
| | |
| --- | --- |
| Name of the book | Author |
| 11th and 12th Mathematics | RD Sharma |
| Concepts of Physics | H.C Sharma |
| MHT CET Chemistry | - |
| Marvel Physics for Medical & Engineering Entrance Exam | A. J. Bapat |
| MH-CET Engineering Solved Papers 2019-2004 with 5 Complete Mock Tests | Various Experts |
| Pradnya's Objective Mathematics | C. S. Patil |
| Chemistry for MHT CET (MCQ) | Mayur Mehta and Chitra Joshi |
| XII- Sci. Triumph Physics/ Chemistry /Mathematics | Multiple Authors |
Solve MHT CET 2022 Sample Papers & Mock Tests
Candidates are suggested to practise as many sample papers and MHT CET 2022 mock tests as possible to increase their speed and time management. The sample papers & mock tests of MHT CET exam are based on the actual pattern of the exam and will help candidates to self analyse their performance by attempting them.
66666666666666666
Create MHT CET 2022 revision notes
For the purpose of preparing short notes, candidates must note down the important pointers like formulae, tables, reactions, derivations, etc. All this stuff will help them revise the whole syllabus in one go. Also, one should not take out time to make these notes separately. Rather, focus on creating these notes while preparing for a topic.
Questions related to MHT CET
Showing 196 out of 196 Questions