How to manage time in UPSEE 2020 Exam?
How to manage time in UPSEE 2020 Exam?- Time Management plays a very important role in any exam. If candidates are able to manage their time properly then they have a lot of time to answer questions in the exam. Here, in this article, we are providing a strategy on how to manage time in the UPSEE 2020 exam. Candidates can follow this strategy to increase their time management skills and speed in the exam. UPSEE 2020 is scheduled to be held on September 20 as a pen-paper based examination of 3 hours. The exam will have 150 multiple choice questions spread over the three sections of the exam- Physics, Chemistry and Mathematics (for Paper 1 B.Tech). For B.Tech Biotechnology, candidates will have to appear for Paper 2 which will have Physics, Chemistry and Biology as three sections. Candidates are awarded 4 marks for each correct answer and there is no negative marking. Read the full article to know about the strategy to manage time in UPSEE 2020.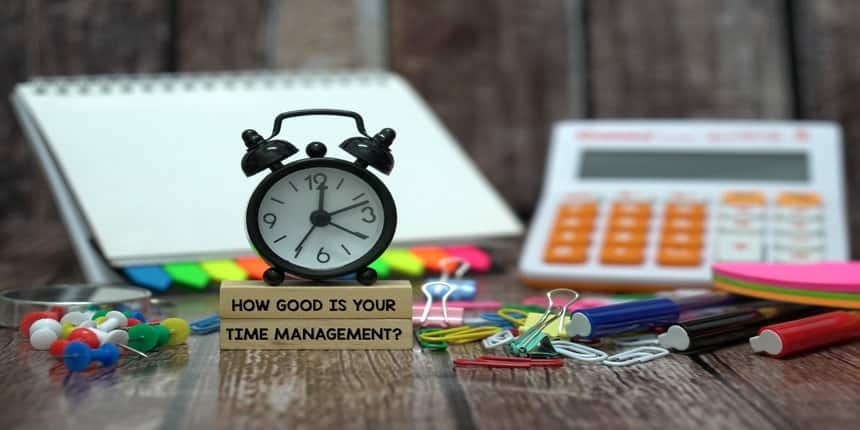 Also Read,
UPSEE 2020 Exam Pattern
How to Crack UPSEE 2020?
How to manage your time in UPSEE 2020?
Candidates are advised to attempt more and more UPSEE 2020 sample papers before the exam. Attempting these sample papers helps in increasing the speed of the candidates and aware of them with the difficulty level of the exam. Now, what should a candidate do while attempting the UPSEE 2020 exam to manage the available time of 3 hours in a proper way? Following points can be considered for that-
Decide time for each section- The first step is to decide how much time is to be spent on each section? As the exam is of 3 hours, it is simple to give 1 hour for each section. However, this can vary according to candidates. Some candidates may not need 1 hour for Chemistry, maybe they just need say 40 minutes for the section. So, the time for each section is to be decided accordingly.
Start with your stronger section- Candidates should start their exam with the strongest section. It is because candidates will be able to attempt maximum questions of their strongest section which will give them confidence. This confidence will help the candidates in attempting the rest of the paper properly. If a candidate attempts a section that is not his/her strongest section, he/she may get stuck in questions and lose confidence at the starting of the exam.
Attempt Easy Questions First- Candidates should try to attempt the easy questions first. By easy, we mean questions that are on direct concepts, formulas, etc. This prevents the candidates from leaving easy questions in case of less time.
Don't spend too much time on a single question- There are many questions that seem simple but somehow candidates are not able to solve them or it can be any question. In such a case when candidates have spent more than 5-10 minutes on a question and answer is still not available, it is advisable to leave the question. However, you can return to solve the question if you have time left.
Don't Panic- There are situations when the exam is very tough and candidates struggle to solve the questions in the exam. In such a situation, remember that the exam is tough for all the candidates and do not panic. Attempt whatever you can.
Questions related to UPSEE
Showing 8132 out of 8132 Questions