How to crack JEE Main 2024 without coaching? - Candidates searching for "how to prepare for JEE Mains without coaching?" can check tips to crack IIT JEE exam. To fulfill the dream of getting into one of the best colleges for engineering, a student must start the journey of his/her preparation much before the date of the exam. Cracking JEE Main without coaching is not an impossible task. However, it require proper dedication and preparation to ace the Joint Entrance Examination Mains. Aspirants should note that their are no tricks to crack JEE Mains without studying.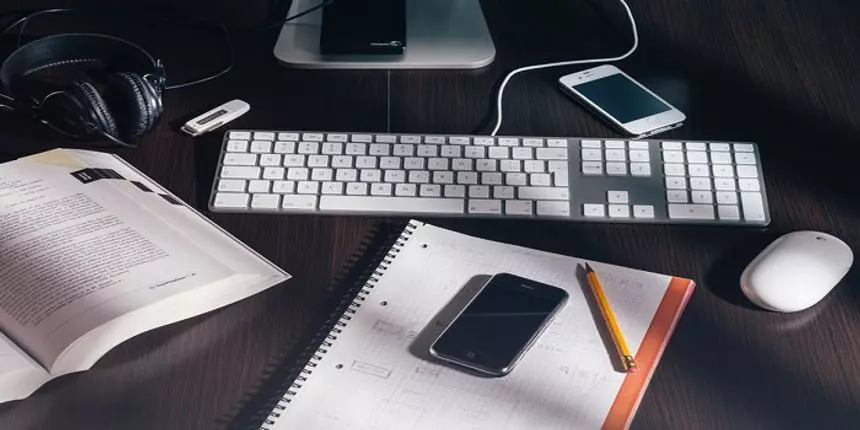 How can I crack the JEE Main 2024 without coaching? Know Tips and Tricks
There is a widely perceived notion amongst the students and their parents that students who cracked JEE Mains without coaching. Add to this peer pressure, many students fall into the trap of assuming that one cannot crack JEE Main without coaching. Is this true or a much-perpetuated hype? But the question is whether these coaching actually provide the required polish to every student or are their positions and success just a hype? Many hard-working students have asked this question in various platforms that how to crack JEE Mains without coaching in 1 year? In this article, Careers360 tackles this myth and shows the various tips and tricks to help answer "How can I crack the JEE Main 2024 without coaching?" The JEE Main exam dates 2024 will be released soon on its official website jeemain.nta.nic.in.
How to crack JEE Main 2024 without coaching
How can I crack JEE without coaching? Every year after the results, most coaching centres put up hoardings and advertisements proclaiming the success of their students and attributing this success to their coaching. What they fail to pronounce is that out of the many thousands that join, only the very dedicated few use the coaching material to ease their study and chalk their way to success. It does not necessarily mean that coaching is responsible.
It means that the student is dedicated and hardworking to use every means at his/her hands. If they can, so can you. The following tips and guidelines have been carefully crafted to help you chalk out the way to crack JEE Main without coaching.
Early start of Preparation
Candidates willing to know "can i crack jee without coaching" should know taht starting an early preparation of the exam is the first step to crack entrance exam. You should start preparing for JEE Main as soon as you step into class 11. Having a clear base of the syllabus of the preceding classes will add to the preparation. An early start with a foresighted vision will help you to crack JEE Main 2024 without coaching. It will also provide you ample time to correct yourself if need be in any area.
Concentration in class
The school is the first place where the subjects are taught in-depth with the focus on conceptual clarity. It is here that the first step is taken. To crack JEE Mains 2024 without coaching crack, you must study with full concentration in the school. Try to imbibe as much information as you can during the lessons taught in classes.
Making notes while studying can act as a key factor in preparing well. Do not skip classes as that would lead to an increased burden on your shoulders for the upcoming classes and you might also face difficulty in understanding the skipped topics. Most important revise what you learned in a day so that you can move forward to the next subject.
Self-Study
Self-study is often underestimated in the scenario where the hype of coaching institutes is increasing day by day. But self-study can prove to be a beneficial factor if you wish to crack JEE Main 2024 without joining any coaching institute. You must devote the maximum possible hours in self-study. Study every topic in detail and practice as much as possible. Revise everything that is learned in classes every day.
Get familiar with the exam pattern and syllabus
Knowing the JEE Main syllabus with weightage will let you segregate the important topics on which you can focus more. The JEE Main 2024 exam pattern will help you get familiar with the types of questions asked so that you can practice and prepare accordingly.
Solving Papers
Just learning the information and knowledge about the relevant topics is not enough. Try solving previous year question papers and mock test papers to keep a check on your preparation level. Make it a daily practice to solve papers. Solving JEE Main previous year question papers will boost the level of your preparation and will let you put a check on your mistakes.
It will also help you to get an idea that where you lag behind. Solving question papers will also boost up your level of confidence. As the exam is conducted online, attempting JEE Main mock tests will help you to be familiar with the exam environment and will also increase your speed.
Clear Doubts
Since you are not joining any coaching there is a possibility of your doubts being left unsolved. Do not let that happen. Clear your doubts and queries from time to time by consulting your school teachers, your friends, or any other person you think might be of any help. Make sure that all the concepts, formulas, and problems are solved and cleared.
Time Management
Time Management is the key to success. Divide your time to all the subjects and their respective topics according to the exam syllabus and pattern. Manage your time in such a way that all the topics are covered. Make sure that you do not forget to devote some time to relax your mind as well.
Online Study
The Internet is a hub for study material, question papers, tutorials, etc. Utilize this gift of the internet by watching tutorial videos and lectures by the talented professors and experts, downloading the study material to enhance your knowledge, downloading previous year question papers, etc. You can also give online tests to check where your preparation stands.
There are online forums for discussions where like-minded people ask their queries and side by side solve the problems of others. Experts and IITians are also available to help on online platforms.
Also Check
Daily Revision
Revise, revise, and revise more. Though a human brain can grab a huge amount of information every day yet it requires time to time reminder to remember the important stuff. Daily revision of whatever you have studied will help you remember it for a longer period of time. The revision will also help to get the important formulas or theories on your trips which will ultimately increase your efficiency and accuracy.
Weakness and Strengths
Nobody knows your strengths and weaknesses better than you yourself. Analyze your strengths and weaknesses to ensure a better strategic plan for JEE Main preparation. Work more on your weaknesses so that by the end of the preparation they become your strengths before the exam. Prior knowledge or weaknesses and strengths will help you to score high. All the eligible candidates will be able to check the JEE Main Result 2024 on the official website.
Do not let yourself get Demotivated
Even a positive soul needs the motivation to push himself forward. Even after devoting yourself completely to the preparation and studying for cracking JEE Main without coaching, there will be times when you will feel a lack of motivation and inspiration. Do not lose hope during such moments of despair.
Indulge yourself in activities that will relax your mind as too much pressure will burst your mind out of frustration. Remind your mind about the ultimate goal and motivate yourself to tighten up the seatbelt to ride the rollercoaster which will ultimately lead to the desired destination.
Success Stories
Dhananjay Tiwari, son of an auto-rickshaw driver scored AIR 515 in JEE Main relying completely on the self-study. Another student Abhishek Bhartiya, a Kanpur resident studied only at night as he provided a helping hand to his parents in their business during the daytime. His story of cracking JEE Main 2024 without coaching is a good source of motivation.
Also, Read