Tushar Karmakar cracked engineering's toughest exam GATE 2023 with 762 scores in ECE and 783 scores in IN. He secured AIR 20 in Instrumentation Engineering and AIR 139 in Electronics and Communication Engineering. For the past 3 years, he was working for his dream to get into IIT and this was his 3rd attempt. Tushar calls the GATE mock test, the most important pillar of his preparation. Read the complete GATE strategy of Tushar Karmakar shared with Careers360, his experience, advice for future GATE aspirants, and much more.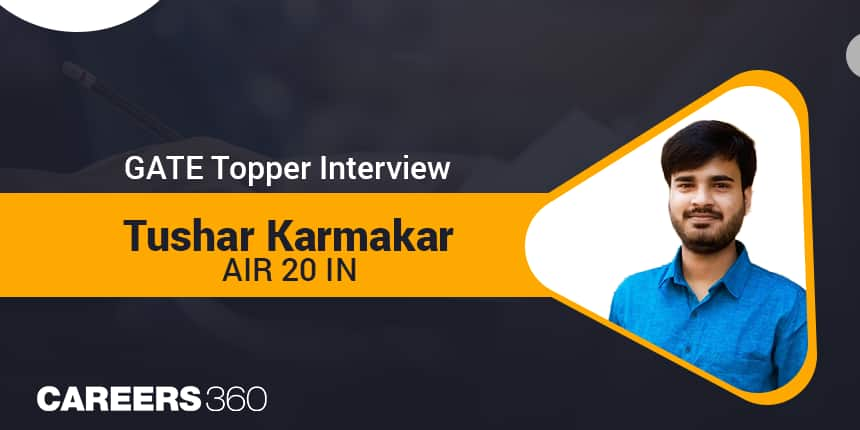 GATE 2023 Topper Interview with Tushar Karmakar
Careers360: Tell us something about yourself; Where have you done your engineering from and in which branch?
Tushar: I am Tushar Karmakar, secured AIR 20 in Instrumentation Engineering and AIR 139 in Electronics and Communication Engineering. I have done my schooling from Kolkata itself from the State Board in Bengali medium. Did my B.Tech in ECE from Calcutta University, West Bengal and secured 9.34 CGPA.
Careers360: What was the GATE Paper you appeared in? What rank did you get in GATE 2023? What is your GATE score and how many marks did you secure in the GATE paper?
Tushar: I appeared for two papers namely, ECE and Instrumentation Engineering. Secured AIR 139 in ECE and AIR 20 in IN.
Careers360: Is this your first attempt or did you attempt GATE earlier?
Tushar: No, this was my third attempt. I had my first attempt in my third year and secured 2005 rank in ECE, then I gave my second attempt in my final year and secured 2083 rank, maybe because I was overconfident. And after taking a drop for a year I gave my third attempt this year.
Careers360: What was the reason you appeared for GATE 2023? Pls elaborate.
Tushar: I was always inclined towards Physics and Mathematics and therefore I appeared for IIT but unfortunately could not clear the exam and my dream of studying from an IIT could not be fulfilled. At that time I was completely shattered but, during my engineering I decided to give another try to fulfil my dream and I started preparing for GATE. So, my biggest motive behind preparing for GATE was studying at IIT.
Careers360: Have you applied to any PSUs recruiting through GATE? Which ones?
Tushar: No, I didn't apply for any PSU, I will be studying M.Tech. As my core branch is ECE there are really less options available for PSU recruitment and therefore I will be first studying M.Tech and later I will appear for PSUs who conduct their own exams like DRDO, BARC, ISRO.
Careers360: When did you start your preparation? How did you prepare for the GATE exam ? How many hours did you put in per day as per the stage of preparation?
Tushar: I started preparing for GATE at the end of my fifth semester (2020). I did not follow any specified schedule, but on an average I regularly devoted 8 hours every day. Sometimes it increases and sometimes it reduces as well, actually it depends on your day and your occupancy. But a minimum of 7-8 hours must be devoted to the preparation and that is enough.
Careers360: Have you taken any coaching? If yes- From where? How did it help?
Tushar: Yes, I took coaching from Unacademy. I had Unacademy class subscription, in my sixth semester itself I got 75% scholarship when I appeared for the GATE Combat exam conducted by the institute. It is a great opportunity for those who are not financially that stable as they can prepare for exams for a really low fee. So, Unacademy educators are very good, they guide you on the right path, they tell you what to study and most importantly what not to study. As the GATE syllabus is very vast and you need to be specific.
Careers360: Can you share any preparation strategies with our readers? When should one start their preparation for GATE? How to schedule study time and make timetables?
Tushar: I think taking lots of mock tests is an important pillar of GATE preparation.
As of now you can appear for the GATE exam in your third year as well, so start your preparation as early as possible. Start your preparation from your first year only as Mathematics and aptitude will be prepared in those years as almost every college has mathematics in the first year.
Lots of people take offline coaching which in turn becomes hectic and therefore I suggest candidates should opt for online coaching as you can get recorded lectures as well whenever you are free study. This way you can utilise your time to the utmost level.
Careers360: How important do you feel mock tests are and why? Is it true that if one solves the previous year question papers, there is a good chance of cracking the exam successfully?
Tushar: Mock tests are very important and nobody should miss that at all. Give atleast 20-30 mock tests of any institute, so that you can adapt to the examination atmosphere and handle the exam pressure well. Pressure handling capacity plays an important role in the GATE exam. Accuracy is the main key, if you are attempting 50 out of 65 questions and all those are correct then it is confirmed that you are getting a very good score and rank. Apart from that, the test series helps you analyse your strengths and weaknesses so prepare a separate notebook and note down your weak areas and prepare accordingly.
See, every serious candidate solves GATE previous year question papers so this thing is true as well as false. But the difference is, when someone is solving the previous year paper and is unable to solve it in the first attempt they look for a solution directly and do not invest time on creating an approach and hence fail in the mail exam. Hustle for getting the solution first, if you can't get that for 2-3 days then ask for your faculty's help. As this thing will build problem solving techniques in your mind.
Careers360: Which books did you follow for GATE preparation? Pls name some very important must read
Tushar: For mathematics I followed B.S. Grewal textbook, for PYQs GATE Academy books are self sufficient, made easy books are also good but the solutions are not that good. Look for free sources available on Telegram.
Careers360: Which are the topics one should focus more on? Kindly give us some details
Tushar: I think it depends on your interest as I have interest in VLSI, I solved lot of questions from Analog one, but focus more on the core subjects and every year the marks are increasing for the core subjects.
Careers360: What was the toughest aspect in your GATE preparation?
Tushar: When I didn't secure any rank in the first two attempts I got demotivated and this was the toughest aspect as I started thinking I am good for nothing. In my third year I only prepared four or five subjects but my rank was very good I think as 2005 is not bad after preparing only four or five subjects. But in my final year due to some personal reasons and my project work, as my project work was to be completed just before the GATE 2022, I could not prepare well for the last 2-3 months.
But GATE is a moderate exam and you just need to develop problem solving skills and you are good to go.
Careers360: Name some important Topics that you feel are a must read for any student attempting the GATE exam?
Tushar: Candidates should focus more on the core subjects, focus on Communication, EDC, Analog. These three subjects are most important and consist of 40 marks.So, do not forget these.
Careers360: What did you do for leisure? Any specific activities that helped you unwind?
Tushar: I play cricket, I listen to songs and some audio books.
Careers360: How should you schedule answering the GATE exam – which section to attempt first and which next? Did you have any strategy? Kindly share your exam experience with us.
Tushar: Strategy may vary from person to person and my strategy was first to attempt the aptitude part in first 20 minutes only. Don't invest more then 20 minutes as it is worth that. Give 5 minutes to mark the questions you can solve just by looking at the once, then go for moderate questions and mark them review and mark red those questions which you find difficult and attempt those in the spare time you got after solving the whole paper.
Careers360: What did you feel was a tough thing for you in the GATE exam?
Tushar: Toughest thing was to solve the new tough questions as everyone is studying the same concept. But solving new questions is difficult so believe in yourself and go for it.
Careers360: Any advice for the future aspirants?
Tushar: If you are thinking of cracking GATE in your first attempt, you can but you need to start early, prepare Mathematics and Aptitude in your first year, and practice as many mock tests as possible. Go for both subject wise and topic wise mock test to strengthen your subjects, so don't ignore them.
All the best!