Sragdharamalini Das from Kolkata who has completed MA in English from Manipal Centre for Humanities, has cracked the most prestigious exam GATE with 845 GATE score in first attempt. Sragdharamalini secured AIR 6 in Humanities and Social Science. Her continuous hard work helped her to crack the GATE 2023 exam. The GATE mock test helped her in the aptitude section, to solve the question with confidence and accuracy. Read the complete conversation of Sragdharamalini Das with Careers360, she has shared her GATE preparation strategy, experience, tips for future GATE aspirants and more.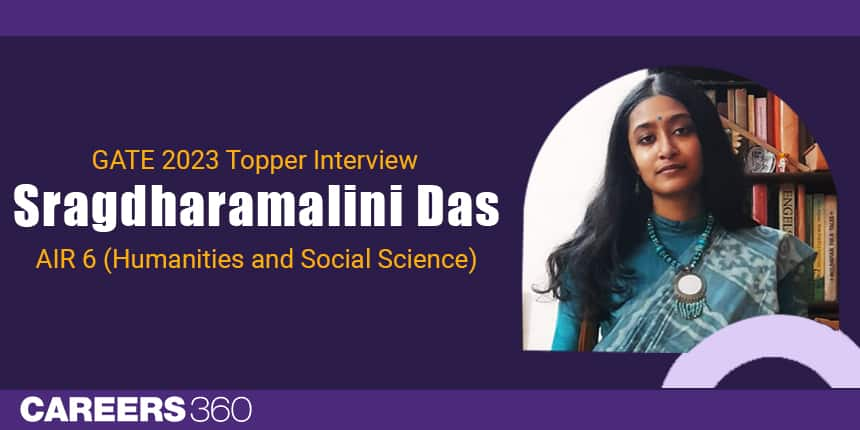 GATE 2023 Topper Interview: Sragdharamalini Das, AIR 6 (Humanities and Social Science)
Careers360: Tell us something about yourself; Where have you done your engineering from and in which branch?
Sragdharamalini: I am Sragdharamalini Das, secured AIR 6 in GATE 2022 (XH). I completed my MA in English from Manipal Centre for Humanities, MAHE.
Careers360: What was the GATE Paper you appeared in? What rank did you get in GATE 2023? What is your GATE score and how many marks did you secure in the GATE paper?
Sragdharamalini: I Appeared for the Humanities and Social Science (English) Paper. I secured an AIR of 6, securing 74.67 marks and a GATE score of 845.
Careers360: Is this your first attempt or did you attempt GATE earlier?
Sragdharamalini: Yes, it was my first attempt.
Careers360: What was the reason you appeared for GATE 2023? Pls elaborate.
Sragdharamalini: I intend to enrol in a PhD program in English. Besides NET, GATE is the other pathway to do the same in India in case one is aiming for the IITs. I registered for GATE as a fallback option. By the time GATE 2023 was conducted, I had already cracked NET with JRF. But I decided to sit for the exam since I had already registered and was ready for it because of my prior preparation for NET.
Careers360: Have you applied to any PSUs recruiting through GATE? Which ones?
Sragdharamalini: No.
Careers360: When did you start your preparation? How did you prepare for the GATE exam ? How many hours did you put in per day as per the stage of preparation?
Sragdharamalini: I have the habit of continuously updating my knowledge about my field and this is what helped me the most. I studied from both objective and subjective books and analysed the previous GATE papers. I studied for the aptitude section for 4 days prior to the exam, putting in 2 hours daily. For the English section I began my revision one week prior to the exam studying 3-4 hours daily. But studying for this short period of time worked for me only because I had my NET notes ready.
Careers360: Have you taken any coaching? If yes- From where? How did it help?
Sragdharamalini: No.
Careers360: Can you share any preparation strategies with our readers? When should one start their preparation for GATE? How to schedule study time and make timetables?
Sragdharamalini: Deeply valuing what one is learning is what helps in the retention of knowledge. I took GATE only for the experience and since I was busy with other academic commitments, I couldn't afford to spare too many hours for it. But I feel ideally if one's concepts are clear and one has a broad-based knowledge, 1 month should be more than enough for GATE (English).
Careers360: How important do you feel mock tests are and why? Is it true that if one solves the previous year question papers, there is a good chance of cracking the exam successfully?
Sragdharamalini: Previous year papers help students get an idea about the kind of concepts the examiners might be interested in testing which in turn helps them determine how many hours they should put aside for different topics. Mock tests might be helpful for the aptitude, but for the English section I don't think they are very helpful.
Careers360: Which books did you follow for GATE preparation? Pls name some very important must read
Sragdharamalini: The best books for GATE which I followed are:
Arihant NTA UGC NET English Paper-2
A Critical History of English Literature Vol- 1 and 2 by David Daiches
Careers360: Which are the topics one should focus more on? Kindly give us some details
Sragdharamalini: Indian Literature (Drama, Novels); British and American Literature (Drama, Prose, Poetry); Postmodern novels and theory.
Careers360: What was the toughest aspect in your GATE preparation?
Sragdharamalini: Unlike other subjects, there's no limit to the English syllabus. So choosing with authors to study in depth can be tricky. Analysing previous year papers helps with this.
Careers360: Name some important Topics that you feel are a must read for any student attempting the GATE exam?
Sragdharamalini: Literary Theory, British Literature.
Careers360: What did you do for leisure? Any specific activities that helped you unwind?
Sragdharamalini: I love to read, write, sing, watch movies, paint, sew. The list goes on.
Careers360: How should you schedule answering the GATE exam – which section to attempt first and which next? Did you have any strategy? Kindly share your exam experience with us.
Sragdharamalini: Attempt it in the order of aptitude and then subject paper but any question you find confusing or unsure about must be skipped in the first round of answering. Try them only after ensuring you've properly answered the rest. Never guess an answer. The negative marking can drastically bring your marks down.
Careers360: What did you feel was a tough thing for you in the GATE exam?
Sragdharamalini: Since everyone on the internet talked about the difficulty of even securing the qualifying marks for this exam, it made me anxious at times. Looking back now, I feel I would have been much better off had I not been paying too much attention to such comments.
Careers360: Any advice for the future aspirants?
Sragdharamalini: Prepare for GATE with the aim of gaining as much knowledge as you can about your field. The GATE rank and score will naturally follow.
All the best!