Mayukh Banerjee, a PhD Research Scholar from West Bengal secured AIR 7 in Sociology in his first attempt of GATE. Breaking the stigma of getting education from an open University Mayukh secured 891 GATE score and became a topper. Mayukh shared his GATE preparation strategy with Careers360 for future aspirants. Read this to know what Mayukh Banerjee says while sharing his experience of GATE.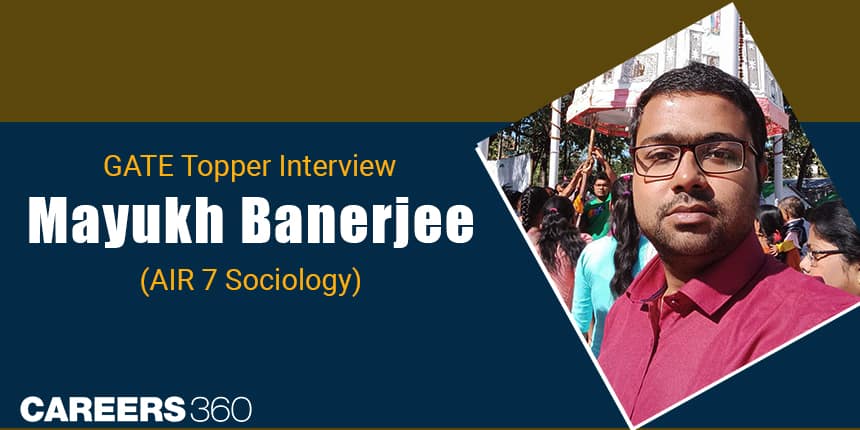 GATE 2023 Topper Interview - Mayukh Banerjee, AIR 7 in Sociology
Careers360: Tell us something about yourself; Where have you done your engineering from and in which branch?
Mayukh: Currently I am working as a Research Scholar at Assam University, and I already had JRF in the general category. I completed my entire graduation and post graduation from IGNOU. Initially, my stream was science but due to my colour blindness I had to change my stream and I opted IGNOU for my education. After completing my post graduation I appeared for UPSC Civil Services and West Bengal State PCS. I qualified UPSC prelims once and West Bengal State PCS three times in a row.
Careers360: What was the GATE Paper you appeared in? What rank did you get in GATE 2023? What is your GATE score and how many marks did you secure in the GATE paper?
Mayukh: I appeared for the Sociology GATE 2023 paper. I secured AIR 7 in sociology and scored 71 marks out of 100 and my GATE score was 891.
Careers360: Is this your first attempt or did you attempt GATE earlier?
Mayukh: Yes, this was the first attempt.
Careers360: What was the reason you appeared for GATE 2023? Pls elaborate.
Mayukh: Initially, I wanted to get into some IIT, but now I have changed my mind and now I will not join any IIT. My supervisor Dr Shailendra Kumar is very supportive and here I have more qualitative research work here as compared to IITs where they focus more on quantitative work.
Careers360: Have you applied to any PSUs recruiting through GATE? Which ones?
Mayukh: No, I haven't applied for any PSU's. But if I get any opportunity in my subject then I'll definitely apply for PSU.
Careers360: When did you start your preparation? How did you prepare for the GATE exam ? How many hours did you put in per day as per the stage of preparation?
Mayukh: In literal sense, I never started the GATE preparation nor for NET. People think studying from an open University is worth it and to break that stigma I was working really hard in my graduation and master's days and focussed more on the concepts rather than on getting good marks just by reading the books. I didn't give any extra effort to my preparation, it's just the consistency I had during my graduation and post graduation days.
Careers360: Have you taken any coaching? If yes- From where? How did it help?
Mayukh: No, I haven't.
Careers360: Can you share any preparation strategies with our readers? When should one start their preparation for GATE? How to schedule study time and make timetables?
Mayukh: Start from the first day itself. When someone enters the system of education, be it any medium, they should build the habit of studying consistently. Studying seriously during the graduation days is self sufficient for academic examinations and if someone is doing so, he/she will be able to crack the exam in the first attempt itself.
Careers360: How important do you feel mock tests are and why? Is it true that if one solves the previous year question papers, there is a good chance of cracking the exam successfully?
Mayukh: If GATE mock tests are designed in the same manner as the actual examination is, then it is beneficial. But if students are taking any random test which does not qualify the standard of the examination you are going to appear for then it may backfire you. So, avoid doing that and therefore I will advise students to first take the GATE syllabus, go through that and then pick previous year question papers.
Definitely, through syllabus only we can't get the entire roadmap of what questions can be asked in the exam and here the previous year papers comes into the picture. Solving GATE previous papers helps students to build the problem solving skills and creates a map in the mind. Solving previous year question papers creates a sense in the mind to detect the topics while studying that it is important, it is not worth reading, questions may be asked from this topic, and so on.
Careers360: Which books did you follow for GATE preparation? Pls name some very important must read books for GATE.
Mayukh: I had gone through each and every book provided by IGNOU for the five years I was studying. It gave me a lot of conceptual and theoretical clarity, then I followed books of Ritzer, and various other Sociologist thinkers and original texts of various other books like D N Majumdar, Essential Sociology by Nitin Sangwan.
Careers360: Which are the topics one should focus more on? Kindly give us some details
Mayukh: For subjects like Sociology, one should be clear with research methods and methodology, and they should be clear with Sociological theory, and who and when gave these concepts and theories.
Careers360: What was the toughest aspect in your GATE preparation?
Mayukh: There was no preparation for GATE preparation. But I'll suggest people to study consistently because it is not the hours you invest rather it is the quality of material you are reading. So, be consistent daily.
Careers360: Name some important Topics that you feel are a must read for any student attempting GATE exam?
Mayukh: Topics like development of Sociology, how Sociology emerged, other important theories are very important.
Careers360: What did you do for leisure? Any specific activities that helped you unwind?
Mayukh: I socialise with people around me as for people of Sociology it is very important to socialise with people.
Careers360: How should you schedule answering the GATE exam – which section to attempt first and which next? Did you have any strategy? Kindly share your exam experience with us.
Mayukh: Go for the subject questions first and after solving that I go for the general questions.
Careers360: What did you feel was a tough thing for you in the GATE exam?
Mayukh: I completed my GATE exam in 50 minutes so there was a surplus of 2 hours and 10 minutes so there was no time constraint and no question of time management arises. So, there was nothing like a tough thing.
Careers360: Any advice for the future aspirants?
Mayukh: Yes, I would like to advise students not to prepare the notes instead prepare from the books itself. Because when they make notes they skip many things and when they re-read these notes they are confined into a specific zone of knowledge that is harmful for them. So, I suggest no one should invest their precious time in making the notes instead read from the material, underline in it, and highlight the important points. And always go with the books and video kind of things. They can follow the institution's video but not the random one's from an open platform.