GATE 2016 Topper Interview Arpit Garg (AIR 11 MN) – Always Analyse Your Preparation as simply Preparing is not enough!


GATE 2016 Results have been announced on March 18, 2016. Mining engineering is one of the 23 papers of GATE 2016 exam. Careers360 talks to yet another GATE 2016 Topper – Arpit Garg who is studying at IIT (BHU) – Varanasi. An avid reader and writer, Arpit feels that mere preparation is not enough. A proper analysis of the preparation is crucial and more important acting upon the analysis thereafter. Read on to know more.


Stay up-to date with GATE News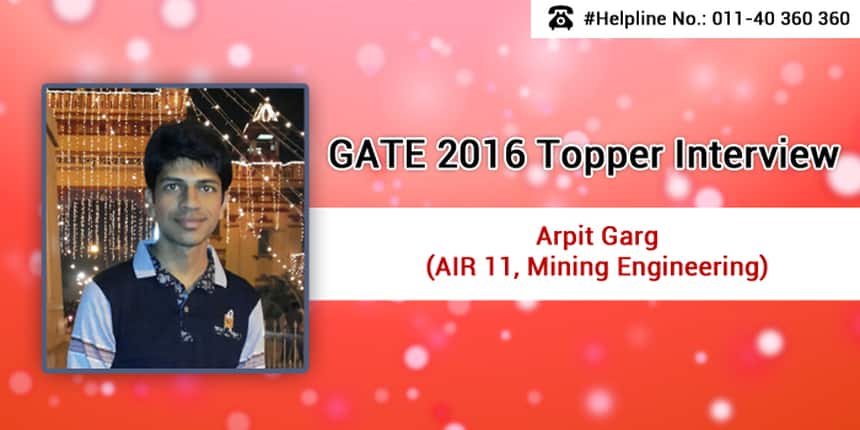 Related Posts:
Careers360: Tell us something about yourself; where have you done your engineering from and in which branch?
Arpit Garg: My name is Arpit Garg. I hail from Shivpuri, M.P. Currently I'm studying in the Pre-final year of my Integrated Dual Degree Course (B.Tech + M.Tech) in Mining Engineering at IIT(BHU)-Varanasi.
Careers360: What was the GATE Paper you appeared in? What rank did you get in GATE 2016? What is your GATE score and how many marks did you secure out of 100 in GATE paper?
Arpit Garg: I appeared for Mining Engineering in GATE 2016 and secured an All India Rank of 11. I scored 845 out of 1000 and got 60.67% marks in GATE 2016 MN paper.
Careers360: What was the reason you appeared for GATE 2016? PSU or further studies? Pls elaborate your reasons.
Arpit Garg: As I said earlier, I am studying in the Pre-final year of my Integrated Dual Degree Course (B.Tech + M.Tech) in Mining Engineering, it includes Masters too.  So I don't need to pursue Masters again. I appeared for GATE exam just to assess the level of my mastery over the subject.


Careers360: If PSU, have you applied to any and which ones?
Arpit Garg: I'm not interested in PSUs. Besides that I am still studying.


Careers360: Tell us, when did you start your preparation and how did you prepare? How many hours did you put in daily as per the stage of preparation?
Arpit Garg: To be truthful, I started my GATE 2016 preparation about a week before the date of the exam. Firstly, I analysed the previous year question papers, did self-assessment and figured out topics which were my strong zones, then my weak zones and the chapters which have relatively higher weightage in the GATE exam.


Then I sorted out the notes of my previous semesters at IIT and revised them in 2 days. I focussed on the chapters which have higher weightage in the GATE 2016 MN paper. Once my revision was done, I started with solving question papers from previous years. My aim was to solve as many questions as I could from the previous year question papers. I also tried to solve as many questions in all the important chapters from the book on Mining Engineering by A K Gorai.


Careers360: Have you taken any coaching? If yes - from where? How did it help?
Arpit Garg: No, I didn't take any coaching. I felt it was not required by me.


Careers360: The virtual calculator is the new feature introduced this year. How was your experience with it? Do you think it is necessary that students should practise with it to get acquainted with its working as most of the engineering students are used to the good old calculator?
Arpit Garg: We, as engineering students are more used to the physical calculator. We use that a lot. So to shift to the virtual one needs understanding of how it works. Definitely yes, students need to get familiar with the calculator. They have to practise with it otherwise it consumes a lot of time during the GATE exam.


Careers360:  GATE 2016 saw a substantial amount of numerical questions asked when compared to previous years. Were you prepared for this eventuality? How did you prepare for the numerical questions considering that they require speed in calculating the solutions?
Arpit Garg: I don't think engineers need to do anything special as far as numerical questions are concerned as they are already good in them. However, if a student is not that good with numbers, they will then need to put some extra efforts to prepare for these questions. If you know the subject well, you can answer the questions.


Careers360: Can you share any preparation strategies with our readers? How to schedule study time and make timetables?
Arpit Garg: I would summarize my GATE Preparation as follows:
Identify the important topics and your strong zones.

Focus on eliminating your weak zones in important topics.

Give mock tests and analyse them carefully. Remember analysis is as important as giving mock tests.
Careers360: How should one schedule answering the GATE exam – which section to attempt first and which next?
Arpit Garg: This was simple for me. I started with the sections I felt confident about. I think that is the best way to go about it because if you gain confidence in sections you solve well, your going can only get good.


Careers360: Name some important topics that you feel are a must read for any student attempting GATE exam?
Arpit Garg: For Mining Engineering students some of the important topics are:
Rock mechanics

Operation research

Mine ventilation

Mining methods
Careers360:  Since all the GATE exams are online now, how mandatory is it for students to practice online and how frequently?
Arpit Garg: It's good to be familiar with the online exam pattern. This allows you to understand the GATE 2016 exam format. I would also advise students to read the instructions carefully and understand them.
Careers360: In your view, what was challenging for you during GATE exam preparation?
Arpit Garg: For me, the tough part was during preparation when I had to study some boring topics and cramming some data. I can't think of anything else that seemed tough or difficult.


Careers360: How important do you feel mock tests are and why? Is it true that if one solves the previous year question papers, there is a good chance of cracking the exam successfully?
Arpit Garg: Definitely. Mock Tests give you a fairly good idea about where you stand in your preparation for GATE exam and also how you should strategize your time during the exam. If you attempt the previous 10 years question papers, there is a high probability that you would have already come across most of the questions that can be asked in GATE paper.


Careers360: Which books did you follow for GATE preparation?
Arpit Garg: I would suggest the book by A K Gorai – it's a good book because it contains most of the formulas and all the chapters in brief. It also contains many questions for practise but this book will be helpful only if your fundamentals are clear.
If you've time, you can also study elements of mining technology vol. (1,2,3) by D J Deshmukh


Careers360: What are the leisure activities that help you unwind?
Arpit Garg: I am an avid reader. I love reading in my spare time. I also write poetry and short stories when I can in my blog.
Careers360: Any advice for the future aspirants?
Arpit Garg: Trust me, GATE as an exam is not tough. Prepare well with your subject. Unless you know the subject, you won't be able to answer the questions. Yes, there will definitely be some questions in the exam that will be alien to you. Don't waste your time on worrying about them, just focus on the rest.


Careers360: Thank you for sharing your GATE experience with us. We wish you all success in your future!
Keep tuned to engineering.careers360.com for more GATE 2016 Topper Interview Experiences.
Questions related to GATE
Showing 16208 out of 16208 Questions