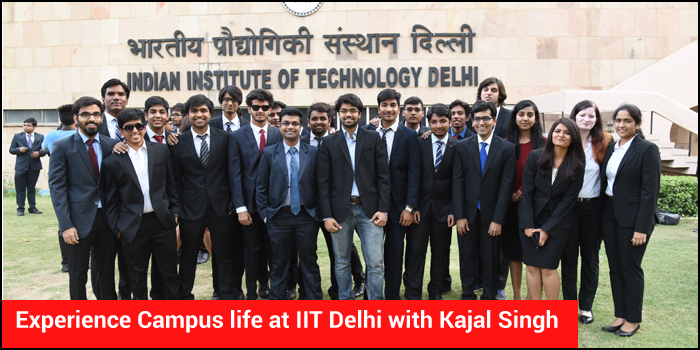 College memories never leave us and we never leave them, this mutual relationship goes on and on, strengthening with time. Each and every moment that one spends in his or her college is something that can be recalled anytime, anywhere. Good or bad, happy or sad, we all want to go back to our college days and relive them over and over again. Carrying a bag full of expectations, Kajal Singh moved to IIT Delhi in 2013 from Banasthali University, Jaipur. Kajal has recently completed her graduation in Electrical Engineering from IIT Delhi and has fresh memories of her days spent in the college. Being a recent alumnus, Kajal was full of enthusiasm and all praise for her college while sharing her campus life at IIT Delhi with Careers360. She is already missing her college and on being asked about how frequently she would love to visit her college? Kajal says, "No matter how far we reach in our lives, there are certain bonds which prosper with time, one such bond is with our college."
Compare Colleges
College Comparison based on Courses, Placement, Rank, Fee
Compare Now
Read the experiences of a girl's campus life who came all the way from Jaipur to study at IIT Delhi and fell in love with it. 
Careers360- Tell us something about yourself – what you have studied. When did you join IIT Delhi and when did you pass out?
Kajal Singh- My name is Kajal Singh. I graduated from IIT Delhi in 2017 in Electrical Engineering, Power and automation. I joined IIT in 2013.
Careers360- Was IIT Delhi your first choice and why, can you elaborate? If not, what was your first choice?
Kajal Singh- Yes, IIT Delhi was my first choice because I wanted to study Electrical Engineering and IIT Delhi ranks at the top in this branch. It has the best faculty and facilities, also it is closer to my home town as compared to other IITs.
Careers360- What was your initial reaction when you were offered admission at IIT Delhi? What were your expectations?
Kajal Singh-During my preparation days for JEE, I had IIT Delhi on the top of my mind and my happiness was at a peak when I got admission in my dream college. I was really happy and excited about this new journey of mine, though I had some fears which are obvious for a new comer. I didn't want to miss on any opportunity in the college, be it in academics or extra-curricular activities.
Careers360- How did things unfold in IIT Delhi? Also, did you anticipate how life would be in an IIT?
Kajal Singh-To be honest, things were not exactly the way as imagined but yes the environment to learn is the best one can get.
We had lots of assignments, projects to do, lectures to attend and work on which made the day hectic but now when I think of it, the pressure that we went through was all to prepare us for our journeys ahead. The competition that exists here, always kept us on our toes to learn even more.
Careers360- What were the challenges you faced in the initial stages and how did you overcome them? What was the support mechanism in the college?
Kajal Singh- While preparing for JEE, our way of studying was mostly spoon feeding by coaching centres and we got used to it. In the first semester, I realised that the way of teaching here was far different and better. You will have to figure out your own ways of learning but the fact that professors and seniors are there to help you through makes it easier for a new student.
There is a student mentorship programme in which you get a personal mentor who guides and helps you through your problems and that's a big help, one can ask for.
Careers360- Can you elaborate on how a typical day at IIT Delhi was? What were the recreational activities available at the institute and how sufficient were they?
Kajal Singh- In the morning, we had lectures and tutorials to attend, followed by labs in the afternoon. After 5 in the evening, we were free to be a part of any of the college clubs. I feel that the sport facilities at IIT Delhi are very good.
Careers360- Do you remember the faculty-student ratio in your time? Also how was the teacher-student relationship?
Kajal Singh- I don't remember the exact ratio, but certainly there was never any problem when it came to faculty so I think it was sufficient.
I believe that the relationship between a teacher and a student is mutual and that was already available here. We could go to any professor and they were always ready to help us.
Careers360- Was the infrastructure decent enough or they lacked in some areas? And, what about the labs, mess, hostels, and other facilities provided at the campus? How were the medical facilities? Was it easy for a student to get the requisite medical attention if needed?
Kajal Singh- As I mentioned earlier, the facilities at IIT Delhi are good and are easily accessible to all the students.
Careers360- Did you come across any point where you felt that the facilities in your campus could have been better? What suggestions do you have to make the campus more robust and student friendly?
Kajal Singh-You may think that I am obsessed with my college, but I truly feel that it has one of the best campuses with a robust infrastructure and accessible facilities – all that a student needs.
Careers360- It is said rules for the male and female students are different. Reports say, it is tougher for the girl students with strict hostel timings, guidelines about what to wear and what not to, etc. Was there any such discrimination and what do you think should be done about it?
Kajal Singh-No, there was no such discrimination or restriction regarding any of the issues you mentioned.
Careers360- Was safety ever an issue? What were the steps taken by the institute to make it safer for female students?
Kajal Singh- It is one of the safest places in Delhi, for boys as well as for girls. The security guards are deployed almost everywhere in the campus.
Careers360- The institute being a den of meritorious students, how was the academic environment like? Did you participate in group study, discussions, or rather preferred to study alone? 
Kajal Singh- The academic environment is very competitive here. Yes, I participated in group studies.
Careers360- How did you balance your studies, projects, exams and other activities?
Kajal Singh- Time management is something, IIT teaches you really well. You have no other option but to manage it prudently, in order to survive the competition.
Careers360- Were there any clubs and societies at the campus that you were a member of? How important are they according to you? Were you a part of any activity in your college fest, if yes, how did they contribute in your overall development.
Kajal Singh- I was a part of my college's dramatics society and I was also the representative of my department.
I think, it is important to participate in extra-curricular activities as they contribute to the overall development and build your personality.
Careers360- Were there any in-house magazines or journals for the latest events or happenings at the institute?
Kajal Singh- Yes, there is a Board for Student Publication (BSP) which is completely managed by students.
Careers360- What were the popular hangouts at the institute? What did you like most about these places. Any particular memory?
Kajal Singh- The campus is not that big as it is located in the heart of the city but like every college we did have our favourite places. Some places like Wind T as well as other cafeterias and canteens are places where students like to hang out.
Careers360- Do you think the institute has equipped you with the tools you needed to succeed professionally and in life?
Kajal Singh- Yes, I think IIT Delhi has all the facilities and it also provides opportunities to all its students for a better life.
Careers360- What according to you are the strong points of IIT Delhi?
Kajal Singh- I think it's the academic structure and exposure that students get here, especially those coming from small cities to study in Delhi.
Careers360- What type of companies came for campus recruitment and what percentage of students got placement every year during your days? How was recruitment process done?
Kajal Singh- Companies from diverse fields came to campus for recruitment and nearly 75% students got placed, although, I am not quite sure about the figures.
There is a Training and Placement Cell in the college that looks after the training and placement of students. This is again managed by students
Careers360- Once in the job market, did you find any mismatch between what was taught and the market demand?
Kajal Singh- Yes, there was a mismatch, because here we are exposed to various fields in our department and not all is job oriented knowledge. When it comes to companies, they don't have so many options to offer under the core jobs.
Careers360- Why do you think this mismatch happens and how it could be rectified?
Kajal Singh- I don't think there is any flaw in the system. It is upto the students themselves to figure out what they want. IIT Delhi is basically an engineering institution then why would they teach us about management ad finances and consulting?
Careers360- There is this misconception that IITs/ NITs follow predefined norms and maintain a status quo, thereby losing individual initiative many times. Do you feel this is true? What should be done to correct it?
Kajal Singh- No, I don't feel this is true. Nowadays, students themselves are losing interest in research work. This reflects in the lack of innovation.
Careers360- Research is something that has not been taken up by many students. Were you at any point encouraged to take up research and continue further? If yes, how and if no, what can be the reason?
Kajal Singh- Yes, our professors encouraged us to take up research and there were many workshops organised by famous people from the field. We also had to complete a B.Tech project in order to get our degrees.
Careers360- Start-ups and incubation cells are now being set up in most universities and institutes. Do you think this is an encouraging sign?
Kajal Singh- Yes, it is. There is a lot of potential in students and their innovative ideas. All they need is promotion and support in order to grow and further incentivise start-ups which in turn, can create much needed job opportunities.
Careers360- Why do you think students should choose IIT Delhi College?
Kajal Singh- Simply, because of all the points, I mentioned above.
Careers360- Finally, what changes the IITs must incorporate to become truly global institutes?
Kajal Singh- I think, IITs should incentivise and encourage world class research and promote exchange programmes. This will ensure overall usage of the best minds of the country.
Follow engineering.Careers360.com for all updates related to IIT Delhi.
Get real-time alerts on exam & colleges at your fingertips with Careers360- App!
Click Here to Install or Give a missed call on 08080944727 to get app link.