Experience campus life at IIT BHU with Sankalp Gupta
Experience campus life at IIT BHU with Sankalp Gupta - An important aspect of every student's life is the college or institute in which they have studied and have spent at least four years of their life. Once they leave the institute, it is the memories of the time spent at the campus, with friends and the faculty that they carry with themselves. These memories hold an important place in their heart as they pertain to that part of their life and people who helped shape them after their first step away from home and family. Studying at an IIT is a dream come true for an Indian student and a matter of pride. However for aspiring candidates wishing to study at the IITs, any information of what the campus is like, facilities available etc are a matter of curiosity. As part of its series on bringing such details to the future IITians, Careers360 presents an interview with Sankalp Gupta who is pursuing Chemical engineering at IIT BHU. A part of the Banares Hindu University campus, IIT BHU is nestled amidst the city of temples- Varanasi and the holy Ganges. Sankalp Gupta talks about the experiences that helped him evolve and life in general at IIT BHU in this candid interview with Careers360. Come experience campus life at IIT BHU with Sankalp Gupta…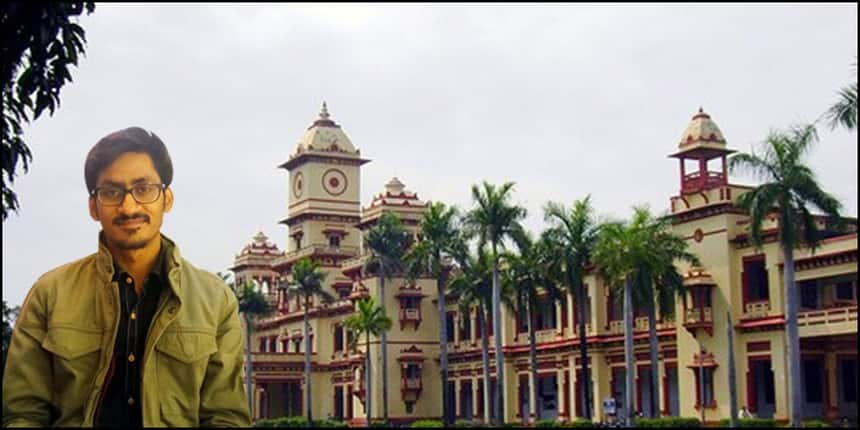 Careers360: Tell us something about yourself.
Sankalp Gupta: I am a senior undergraduate at IIT BHU pursuing Chemical Engineering. I like to play basketball. Being an automobile enthusiast, I spend quite some time looking up sports cars. I also happen to be very fond of chinese food.
Careers360: How have your journey been so far at the institute?
Sankalp Gupta: It has been an amazing journey so far. This institute has given me the chance to learn and experience numerous things. I got to know many people from different parts of the country and made some good friends here.
Careers360: Is there any difference in actuality about how you had imagined an IIT would be?
Sankalp Gupta: Leaving aside a few things and minor hiccups, it actually happened to be better than what I had originally imagined.
Careers360:  What all activities are you a part of in the campus?
Sankalp Gupta: I have been a part of the team that organizes the institute's annual cultural festival 'Kashiyatra' since the day I started college here.
Careers360:  Can you run us through a day at your institute (starting from how your day starts and how it ends)? Also tell us about your schedule throughout the semesters so far?
Sankalp Gupta: For the first and second year students, classes take place from 8 am to 6 pm including 2-3 hours of lunch break. Lectures, tutorials and labs are held during these hours. The number of lectures is lesser for the third and fourth year students. Labs may or may not be there depending upon the course. After the classes, one is free to do anything. Some people take up sports while some get involved in club activities (both technical and cultural). There are also people who just hang around with their friends in the campus or in the hostels. However, the final year students usually spend their time studying for placements and other competitive exams after the classes. Dinner is served from 8 pm to 10 pm.
Careers360: Tell us about the faculty-student ratio here and about the teacher-student relationship in your understanding
Sankalp Gupta: The faculty- student ratio varies according to the branch of engineering. Students are generally divided in two to four groups for tutorials as well as for lab work. Professors are very polite and supportive.
Careers360: What all facilities do you have in the campus? What do you like here the most which you feel is unique and differentiating? What are the challenges you had faced initially at the campus and now you might be facing?
Sankalp Gupta: IIT Gymkhana fulfills most of the requirements of the students but we have to share a few courts and fields with BHU. Unlike other IITs, our institute part of the University so we are connected to many other faculties and we have a vast green campus that lies in the centre of Varanasi. I guess this differentiates us from any other IIT.
Careers360: What would you say about the state of infrastructure, labs, mess, hostels, and other facilities at the campus?
Sankalp Gupta: Despite the fact that most of the buildings are old, the overall infrastructure is satisfactory. Lecture theatres, labs are well equipped. Old buildings are being renovated and new hostels are also under construction.
Careers360: Is there anything you miss here? What else do you expect from your institute? Any suggestions on areas where the institute must focus or work on?
Sankalp Gupta:The institute is situated in the heart of Varanasi so one is able to get whatever he/she needs without any difficulty. Most of the things that students need are available within or near the campus itself. The institute can certainly do better when it comes to developing the infrastructure
Careers360: How comfortable are your hostels and how about the cleanliness factor over there?
Sankalp Gupta: Two students share a room. The old hostels are quite open and there are large lush green gardens. The new hostels have bigger rooms. Every hostel has its own mess and at least one canteen. Maintenance work is carried out regularly and washrooms are cleaned every day.
Careers360: How do you balance your studies, projects, exams and other activities?
Sankalp Gupta: It can be managed easily if we have our priorities straight. One can focus, without difficulty, on projects and other activities but need to devote more time to studies when exams are about to approach.
Careers360: Tell us about the clubs and societies at the campus and how significant are they from your point of view or from students point of view?
Sankalp Gupta: We have five councils each having several clubs. The clubs are an integral part of the institute. They allow the students to pursue their hobbies, passions and it also helps them to connect with each other.
Careers360: Is there any in-house magazine or journal for the latest events or happenings at the institute?
Sankalp Gupta: There is one monthly magazine which is published by the Film and Media council. It keeps us updated about the events that are taking place in the institute.
Careers360: What are the popular hangouts at the institute? What, according to you, are the most-visited places nearby?
Sankalp Gupta: The most popular hangout places in the campus are Limbdi corner and VT. The most visited nearby place are the Ganga ghats.
Careers360: How do you spend your leisure time at the campus?
Sankalp Gupta: In my leisure time, I like to roam around the campus and explore the city. Sometimes I play basketball with my friends. In addition to this, I spend time discussing and planning the events leading to our cultural festival.
Careers360: Are you being equipped with everything at the institute that are required to meet your aspirations?
Sankalp Gupta: Yes, the institute is well equipped.
Careers360: What type of companies come for campus recruitment and what percentage of students get placed every year? How is the recruitment process here?
Sankalp Gupta: A good number of companies come for campus placements every year though the number of core companies that come is relatively less. The percentage of students placed again depends on the branch. Recruitment process usually consists of 3 to 4 rounds - Aptitude test, GD, technical and HR interviews.
Stay tuned to engineering.careers360.com for more news and feature articles on IIT BHU Campus Life
Get real-time alerts on exam & colleges at your fingertips with Careers360 App! Click Here to Install or Give a missed call on 08080944727 to get app link
IIT BHU Updates and Articles
IIT-Varanasi is looking towards 100% placement of the students...
30 Dec 2014
Questions related to IIT BHU
Showing 378 out of 378 Questions