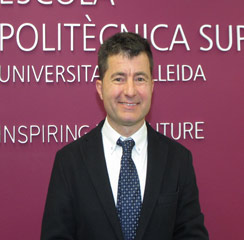 Dr. Francesc Giné, Director of the Polytechnic School, University of Lleida, Spain speaks to Careers360 on what the institution offers to international students. Dr. Giné also talks about the latest trends in engineering education. Read the complete write-up below.
Interview-
Careers360: Could you share some information about your institute?
Dr. Giné: The Polytechnic School of the University of Lleida is a medium-size institution focused on high quality teaching and research. It is recognized with the international Euro-Inf Quality Label awarded by Equanie to degree programmes at Bachelor's and Master's level that comply with the Euro-Inf Framework Standards and Accreditation Criteria.
Careers360: What are the popular engineering courses at your university?
Dr. Giné: The School receives many international students among the Erasmus programme or bilateral agreements with universities. Other international students come to study, attracted by the internationalization of our programmes, especially in the Informatics Engineering Master's programme.
Careers360: What makes them popular?
Dr. Giné: A lot of subjects are offered in English in various Bachelor's and Master's degrees, and the Informatics Engineering Master's is also offered in English. There is a dual training programme inside the Master's, consisting of studying and working at the same time in an IT company, be paid and be able to maintain by him/herself in the city. There are different double degrees with other universities. So, students can finally obtain our degree from our institution and also from the other institution through a mobility stay there of one year.
Careers360: What are the admission criteria?
Dr. Giné: The students coming through mobility programmes are selected by their home institutions. Those wanting to study as regular students should check the requirements on the web (https://goo.gl/ZLYJrH).
Careers360: Do students participate in internships as part of the curricula?
Dr. Giné: All the Bachelor's have a compulsory internship period of either 4 months' part-time or 2 months' full-time at the fourth course of the Bachelor's programme. There is also a dual path in the Master's. Master's students can participate in a dual training programme which is based on the complementarity principle of academic learning and training in a professional environment in a company. The student becomes an apprentice while studying. It is a form of training that takes place alternately between university and the company.
Careers360: What are the latest trends in engineering studies?   
Dr. Giné: Implementation of new technology-based enterprises with innovative ideas, use of agile project management methodologies, workgroups management and technological renewal are crucial aspects in IT and engineering studies. The Project Based Learning provides a chance to learn innovative IT technologies and fundamental skills, immersed in a working environment similar to the enterprise. 
Careers360: What are the job prospects of engineering pass-outs from your university? 
Dr. Giné: Our graduates are very well prepared for management of innovative IT projects, workgroups management and also the proposal and management of new I+D or entrepreneurship projects. The employability rate of our Master's degree students is 100% in the first year after graduating.
Stay tuned to engineering.careers360.com for more articles and interviews